Nintendo Switch Online is Nintendo's paid add-on service for the Nintendo Switch game console that allows players to access the following features: online play, NES game library, using mobile app … In the first year The first of the Switch series, Nintendo allows users to play online for free, but starting from September 2018 Here, this service needs to pay fees to improve the quality even more (Like Sony's Playstation Plus).
1 / Nintendo Switch Online Features:
class = "videorespon">
| | |
| --- | --- |
| Online Play | The main feature of this service, you need to join Nintendo Switch Online to play online games like Arms, Splatoon 2, Mario Kart 8 Deluxe, Mario Tennis Aces … |
| Nintendo Entertainment System – Nintendo Switch Online | Enjoy 52 NES titles added online for the first time. More games will be added |
| Super Nintendo Entertainment System – Nintendo Switch Online | Enjoy 32 SNES titles added with online play for the first time. More games will be added |
| Save Data Cloud Backup | No more worrying about lost save or other problems as your save game is now on the cloud |
| Nintendo Switch Online App | Enhance your game experience through apps on your smart phone |
| Special offer | Always have good prices, the best deals for members of this service to buy digital games |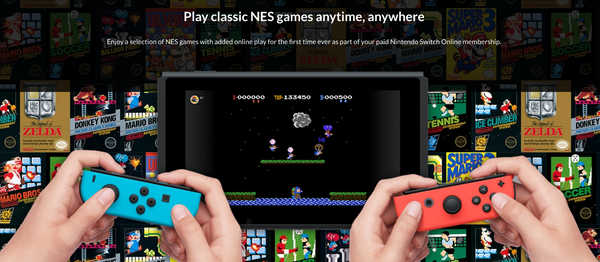 2 / Nintendo Switch Online service price:

– Get price reference from Nintendo website in the Americas:
In which Individual Membership is the price for individuals who play retail according to 1 Nintendo account / 1 Switch and Family Membership is the price for families that can share and invite 7 more people to share the service. (8 sharing total).
It can be said, Nintendo sells "wholesale price" cheaper "Retail price" so many, so much. If you and your family or friends want to save, you can buy this $ 34.99 package and share it with each other. Only 1 person buys, all 8 people in the group can use the Nintendo Switch Online service. Family Group manager (must be over 18 years old) You can invite others to join the group or kick (to exclude, to expel) an account is out of the group.
3 / Difference between free Nintendo Account and Nintendo Switch Online (NSO) subscription:
| | | |
| --- | --- | --- |
| | NSO Switch Account | Free Switch account |
| Play online game Switch | x | |
| Use the NSO App Nintendo Switch | x | |
| Play game NES – NSO | x | |
| SNES – NSO game play | x | |
| Save data cloud backup for Switch | x | |
| Special offer when buying Switch game | x | |
| Update game and system of Switch | x | x |
| Use online eShop game store | x | x |
| Register and manage your friends on Switch | x | x |
| Use the Nintendo Parental Control App | x | x |
| Share screenshots & videos online | x | x |
Thus, the basic features of the machine such as uploading photos, videos on social networks, making friends, managing friends, updating game … are still usable. Only the first 5 items are available only "VIP member" just used.
Hope the above information is useful for you in preparing Nintendo to enter a new online horizon with better services and better quality. If you still do not know how to create a Nintendo Account, you can check out the following article:
If you want to recharge into eShop to buy the Nintendo Switch service, don't forget nShop also sells recharge cards in denominations of $ 10, $ 20 and $ 50 for the Nintendo Switch!


Source link: What is Nintendo Switch Online and why is it charged?
– https://emergenceingames.com/