The Nintendo Switch account or more precisely the Nintendo Account has just undergone a major feature upgrade based on the addition of the Nintendo Switch Online service and support from firmware 6.0. However, not everyone who owns a Switch has the same understanding of a Nintendo Switch account. nShop would like to give you tips share digital games through your accountSmall, but extremely cool!
Nintendo Switch account: 1 account to play on multiple devices
If you used to buy Switch tapes to play and exchange for friends to borrow, now the Nintendo Switch account policy in firmware 6.0 may make you think again. Nintendo has started to split up Primary and Non-Primary (Or called Primary Attached Account and Secondary Attached Account). Lending games, sharing games Switch now is no longer a constraint on each physical tape, but even digital games you can still share with your friends and brothers.
Mechanisms of Primary and Non-Primary on Nintendo Switch
On Primary machine (Account attached to device 1 – main device or rather your device), any account on your Switch can play Digital games on that device. You don't have to worry about it.
The secondary machine can still play the game of the main machine to buy – A form of "borrowing game"
On the Non-Primary machine (Same Account but on device 2 – Your secondary or the one you share with), to play the game "borrow" For the main account, you need to be connected to the Internet to play.
The difference between Primary and Non-Primary
Primary Switch Machine:
Primary is considered the primary device account and when activated, you will be able to play all the games purchased from that account without any problem.
A Nintendo Account only attaches the Primary label to only one Switch
When you create Nintendo Account (See also instructions for creating Nintendo Account of nShop ), the first Switch that logs-in to eShop will be enabled by default to Primary.
You can change the Primary account to another device, but have to deactivate Primary in the old device first.
Non-Primary Switch Machine:
Non-Primary is considered the secondary machine account and you will get "play" game from that account on the secondary computer but has limited features.
When using a non-primary device, you can still go to eShop and buy and download games, but there are some limitations included.
When playing on a non-primary computer, you need an internet connection to play the game "borrow".

In process if you are playing, if you drop the network, the game will automatically pause and wait until the life returns. No matter whether your game is playing offline or online, that's the same – because this is Nintendo's way of limiting you from sharing too many people.

Download Content (DLC – Additional purchases) games on non-primary computers will not be playable, only accounts that buy DLC can be played.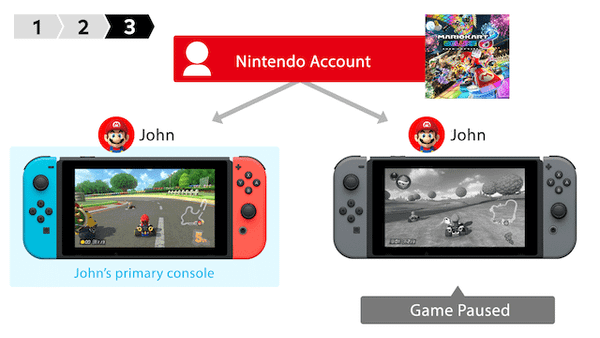 When another computer plays the game, the "non-primary" account will be pause the game
When you are playing a loaned game on a Non-Primary computer and another computer is playing that game, you will also be stopped to pause.
How to use this feature on Nintendo account
Activate the primary machine:
Link Nintendo Account to your Nintendo Switch.
Access eShop with that account.
If the Nintendo Account has not activated Primary, the device will automatically assign it to the Primary device for that account.
Change the Primary account for another device:
Access eShop on the primary device and select deactivate the console Nintendo Account from the Menu

If for some reason such as losing your device, if your computer is broken and you cannot deactivate it on the old computer, you can deactivate it on the web via the website Nintendo Account (Click), login then select "Shop Menu", choose "Deregister Primary Console". Note that this can only be done once in a year.

After deactivated, on the other computer you just need to log-in to eShop with the Nintendo Switch account, the device will automatically activate.
With this new feature, playing Nintendo Switch games is now more economical than ever. Besides sharing features Nintendo Switch Online through the Family plan then you can also share digital games. Wish you have a great experience on your Nintendo Switch. If you want to buy digital games from eShop, don't forget that nShop also sells recharge cards to buy games on eShop!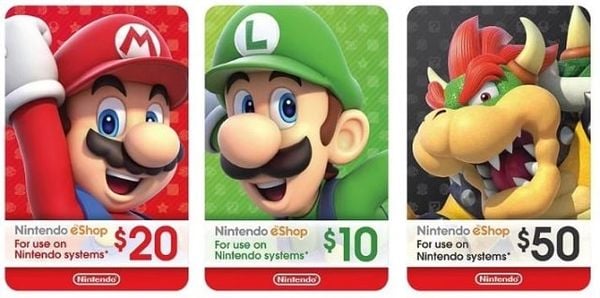 Tip for both main and secondary Switch to play games at the same time
Open the game on the primary computer, then disconnect from the internet, then open the game on the secondary computer (Non-primary) and enjoy. This can allow two consoles to play games at the same time, but of course it has a major limitation on online games.

Source link: Nintendo Switch Account – Great tip everyone should know!
– https://emergenceingames.com/