ESRB stands for Entertainment Software Rating Board – Entertainment Software Review Committee. It is an independent, non-profit organization that was established in 1994 by the Entertainment Software Federation (ESA). If you regularly buy Nintendo Switch or PS4 games, you will usually see on the game disc cover in the lower left corner there will be an ESRB logo.
Is ESRB important to buy PS4 and Nintendo Switch games?
When you buy a PS4 or Nintendo Switch game, whether ESRB matters or not depends on who the game disc you buy for. For example, you buy for yourself and yourself over 18, you can skip it and just see if the game is good or not.
However, if you buy it for your child, brother or sister, you should pay attention to the ESRB rating to see if this game is suitable or not to avoid the game having unwanted content. (Violence, sexuality, nudity, bloody murder, profanity …) that you let your child play just because you forgot to see the age warning. In Vietnam, most parents ignore ESRB reviews and buy Nintendo Switch or PS4 games innocently for their children.
See more: IS IT FREE TO PLAY, A TIME WASTE?
What levels is included in the ESRB assessment?
The levels ESRB offers players include:
Games that parents can freely buy for their children to play for entertainment and improve their intellectual development
eC (early Childhood): The game contains content suitable for children 3 years old and older.

E (Everyone):

Different from the myth that many people Everyone is everyone. The fact that the game is labeled E is for objects from 6 years old with a little complexity that requires thinking and logic to solve problems in the game.
E10 + (Everyone 10+): Similar to E mark but for all subjects aged 10 years and over; The complexity of the game is also greater.
T (Teen): For teenagers aged 13 and over
The games parents should consider a lot before deciding whether to buy or not. Best to watch the game trailers and gameplay on Youtube channels about the game. Most if your school-aged children should not have access to these content, or if you want your baby home "born soon", "know the smell of life " they should also play together to explain sensitive, violent, sex scenes …
M (Mature): For those aged 17 and over. The game started to have a bit sensitive content such as shooting, killing, stealing or even some hot scenes.
Ao (Adults only): Game for people over 18 years old. The game is rated for adult content depicting sex, nudity, heavy violence, including blood and death.
In addition, there is another review that is:
RP (Rating Pending): Product is being submitted to ESRB and awaiting final evaluation. This rate will only appear in the pre-game ad
When I buy a Nintendo Switch game I still see the numerical rating system, what is the difference between ESRB?
Yes, as you can see when you buy Nintendo Switch or PS4 games in game stores in Ho Chi Minh City, in addition to ESRB, you sometimes come across a rating system with numbers instead of letters on the label. That lice is the PEGI system (Refer PEGI Official Website – Click). A European gaming benchmark rating system.
In general, ESRB is used in America and some Southeast Asian countries such as Singapore, Malaisya … and PEGI is used in Europe. Both of these systems are the most popular besides CETRO of Japan (Refer below). If you look at it, you will find that it is also quite similar. Aimed at protecting gamers from unwanted content.
CERO system (Uncommon because Vietnam rarely plays Japanese games):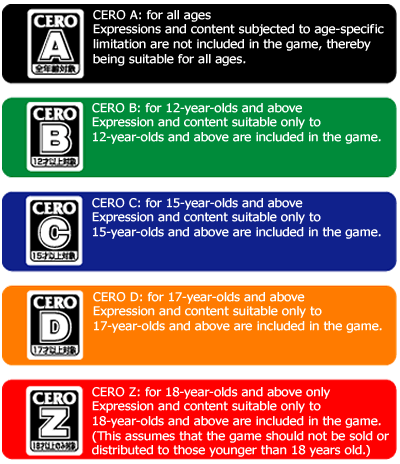 Game is always useful if you know the right game selection
As you can see, learning about this rating system is not so complicated that it takes less than 10 minutes for you to watch and remember. Therefore, taking some time to buy Nintendo Switch games, PS4 is more suitable for the family is absolutely necessary! Do not just buy innocently at your child's request but accidentally spoil the bad image of your video game!

Source link: What is ESRB? Buying a PS4 game, buying a Nintendo Switch game need to learn about it?
– https://emergenceingames.com/