The lack of copyright of tournaments has always been a weakness of PES compared to the great rival FIFA. You are a fan of MU, Chelsea, Juventus, Real Madrid, Man City … but have to choose your favorite team with names too "banana" like Man Red, London FC, PM Black White, Man Blue, MD White … however, KONAMI always knows how to circumvent the rules by allowing players to customize their game to edit the image of teams, jerseys. ..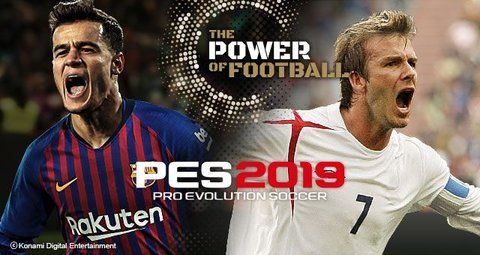 Currently group FB "PES 2019 VIETNAM" patch full version available v3.0, full updates of jerseys, logos and seasons for teams that are not copyrighted by PES.
The following are detailed instructions on how to update PES 2019:
INFORMATION about updates
Correct the Premier League correct to reality (Austria, Logo, Name).
Editing the Championship true to reality (Austria, Logo, Name).
Correct La Liga Santander tournament with reality (Austria, Logo, Name).
Correct the Italian Serie A tournament in accordance with reality (Austria, Logo, Name).
Correct the Bundesliga correct to reality (Austria, Logo, Name).
Update the National teams.
Compatible with Live Update and League mode. The update includes almost complete transfers for major major clubs and leagues.
The above update file can be used for all 3 PES 2019 disk systems (ASIA, EU, US)
Preparation before updating PES 2019:
USB at least 4GB (Format FAT32 format).
File patch logo, season, jersey (download now here).
How to install the PES 2019 update:
Extract the downloaded file above, we have a folder "WEPES". Copy that folder to USB.
Plug USB on the device, Start the game PES 2019.
After entering the main menu of the device, select through the "Extras"then go"EDIT".
Next select "Import Team" (This step is to update the jerseys, real logos for the teams)
Select the USB drive containing the patch file
Then, the machine will display a list of teams to patch, press the button to select all, then press to install.
The screen will display the Detail setting panel, now click OK, no need to check any items.
Waiting for the game patch to finish is OK
Next is the patch on the logos of the seasons. This step is similar to patching the team logo. Instead of "Import Team"I will choose"Import Competition".
Select the USB drive and press the Square button to choose all. Then press to install.
After the installation is complete, it can be fought. Try any game section of the game to check if the name, jersey, club logo of the UK, French, German, Italian, Spanish … tournaments have been prepared and played!
P / s: Current features Live Update of the game was opened by Konami. You can update the transfer by going to the "Extras"->"Apply Live Update"For self-update the player transfer is done.
PES 2019 update service at nShop
If you see the instructions above and still cannot do it, but want to bring the shop to the staff to help, feel assured. At nShop also has the PES 2019 update service for its customers with the following prices:
PES 2019 buyers at nShop: Free
PES 2019 buyers elsewhere: VND 100,000 / time

Source link: The easiest guide to update PES 2019 on PS4 for newbies!
– https://emergenceingames.com/