Introducing the best Nintendo DS emulator on PC today
Game NDS is a game of the machine system Nintendo DS, a portable game console Nintendo released in 2004. It was also the best-selling game console at that time thanks to the top games like Final Fantasy III, Final Fantasy IV, Super Mario 64, Pokemon Black – White ….
Currently to play these games except to buy Nintendo 2DS, 2DS XL or 3DS, there is no other way except to use emulators. Because not everyone can afford to buy 2DS – 3DS game machines, today the shop will introduce you to the Nintendo DS emulator on PC with all the best configurations available for fans to experience before the lesson Save enough money to buy a machine!
No $ GBA is a Nintendo DS emulator, and has been voted by many gamers as the best software compared to other Nintendo DS emulators such as iDeaS good DeSmuME… As you can see, I recommend this as a Nintendo DS emulator and why is it called "No $ GBA".
In fact, at first the developer of this software said that they released emulators mainly for running GBA games. (GameBoy Advance system) only for Nintendo. But by the time they launched, they found the Nintendo DS game too HOT, so the developer re-set it up to run Nintendo DS games as well. Say so that means a program No $ GBA can emulate GBA games too.
Advantages of the emulator:
Emulate GBA, DS games smoothly
Multiplayer support is a plus
Requires little system resources
Multiple Slots Save
Emulator Disadvantages:
There are some games that still have not fixed bugs like Dragon Quest …
The sound has not been processed properly
Guide to emulate Nintendo DS from A – Z play on all configurations
Prepare
Software No $ GBA Nintendo DS emulator on PC, download the latest version at

here

. After downloading, extract it and keep it in an easy-to-remember place.
Config configuration
Go to the folder you just extracted, run the NO $ GBA.exe file.
The program will display an easy-to-see, easy-to-customize interface as shown below.
Here, I will guide you to configure the configuration for the smoothest game play without having to have a powerful computer.
Go to menu "Option", choose "Emulation Setup"(or press the keyboard shortcut"F11").
The Setup Menu will appear, in the "Emulation"You choose the following parameters:
Emulation Speed, LCD Refresh: Realtime, Auto (the frame rate will be left as default as playing games on the machine)
Sound Output: 16 bit Stereo (For best audio format)
Sound Desired: 44KHZ (highest volume of sound), if there are some games with too much noise, you can set to "Low"
Reset / Starup Entrypoint: Star Cartrige Directly
Volume Control: Hardware Mixed (automatically configure appropriate for each PC)
Video Output: 24bit True Color (Color calibration up to 24bit)
3D Render: OpenGL (Scan and process quality images)
GBA / NDS – Cartridge Backup Media: Auto (self-classifies the save file format)
GBA / NDS Mode, Corlors: You can choose any one.
Next, we pass the card "Controls"Here you will customize the buttons assigned on the keyboard instead of the Up, Down, Left, Right, A, B, X, Y, L, R buttons on the Nintendo DS.
When the customization is complete, check "Autosave Options"let the program save itself and then press"OK" is to be.
Run the program
To run the program, go to Menu "File"then choose"Cartridge Menu (FileName)"Or press"F12". Here I choose game"Mario Kart DS.nds".
For emulator GBA game too, we also enter "Cartridge Menu (FileName)" to select game GBA (with format * .GBA) then run away.
In general, with the Nintendo DS emulator on PC, it can be said that No $ GBA has fulfilled its emulator duties. For me, there is no need to ask anything more when the software is too good. Since its release, every gamer has been able to play exclusive Nintendo DS games on their PC with over 6,000 titles since release. In addition, the software also supports more GBA game emulators, too great, right?
However, to have the best game experience and support the company, you should save to buy yourself a Nintendo 2DS or 3DS!
> See more article "PS1 emulator on PC"at Myplaystationvn.
Buy more 8bitdo controllers to play a more convenient press simulator game: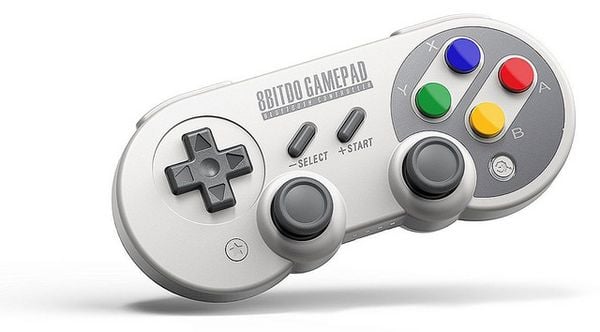 Source link: Guide emulator Nintendo DS, GBA from A – Z play on all configurations
– https://emergenceingames.com/