Buy Nintendo Switch After all, many parents are still confused when they do not know what to do, how to manage their children's content and play time properly, without having to follow too closely. So what should parents do after buying the device Nintendo Switch for you?
Nintendo Switch and Nintendo Switch Lite is the most loved gaming console for children, in the top 10 most anticipated toys. Of course, parents are willing to satisfy their children's expectations, but there are also some concerns about not being able to control play time, fear of children accessing inappropriate content, etc. …
Grasping that worry, nShop Please advise what parents should do right after purchasing Nintendo Switch for your child below:
1. Create a separate Nintendo Switch account for your child
Most importantly, if you want to use the machine Nintendo Switch then you need create your own account with the child's real age. All games of Nintendo Switch All are evaluated and ranked for each age, so if you set the real age, it will help children limit their exposure to inappropriate content, avoid too violent or sensitive content.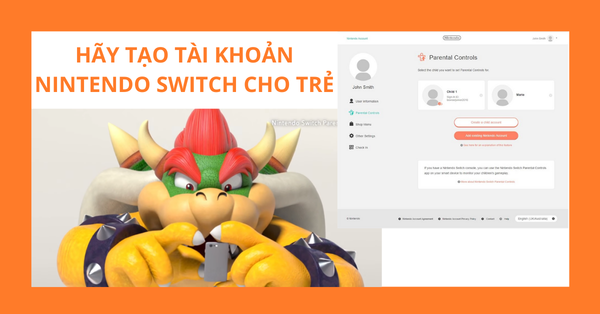 To be able to create user accounts for your child, you'll need to create your own first. To create an account for yourself, see instructions on how to create an account Nintendo Switch here: . Also, if you buy Nintendo Switch directly at nShop The staff will assist you in creating an account too!
Once you have created your account, the next step is to create one for your child following these steps:
Sign in your account on Nintendo account page.
Select item Family Group> Add member
Choose Adding a child 12 or under to a family group > Create an account for a child. In case you have 2 or more children, just create more!
(Note: If you create an account for a child under the age of 12, Nintendo will need to charge a $ 0.50 fee from the parent's international credit card for the purpose of confirming account management rights.)
Turn on the machine Nintendo Switch > System Settings > Users > Add Users > Sign in to your account first.
Continue Add Users > Sign in with the account you just created for your child.
So you have completed the process of creating an account for your child already! Teach children how to manage their user account information by themselves early, this will help with self-independence, information security as well as personal account management in the future.
class = "videorespon">
2. Block inappropriate content
Parental Controls is the system to manage and control the child's use after purchasing Nintendo Switch for parents. You can see more about Parental Controls here .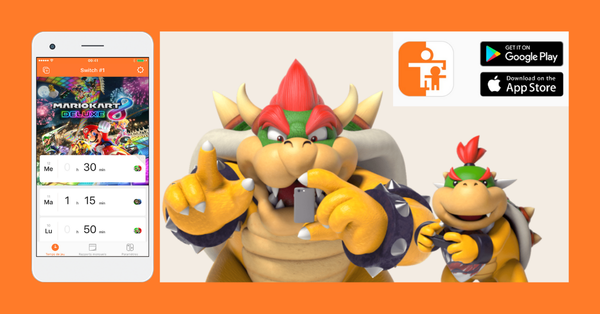 Nintendo is also developing applications Parental Controls on a mobile platform, making it easier for parents to control. To download the app Parental Controls on the operating system iOSyou need to use Apple ID account in the United States (US). With AndroidYou can download and install the APK file at .
Once you've downloaded the app, just sign in with your account Nintendo account, select the kid account you want to install. From there, you will limit the accessible content to match the age of the youngest.
See more: What is ERSB? How to choose a game suitable for the age of the player?
3. Manage spending when shopping games
If you bought the device Nintendo Switch then you definitely need to buy more games to play. There are 3 ways you can buy games Nintendo Switch:
Link international payment card with your account Nintendo Switch.
Use Nintendo eShop card to fund your account.
Finally, the most popular way:

Buy physical game tapes

.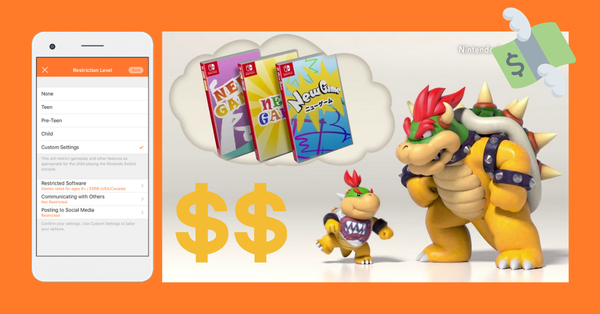 No matter how you buy the game, the cost of buying the game is not cheap. Teach your children the value for money by carefully managing their spending when shopping for games, helping them learn their thoughts, and consider their own choices for each game.
Limit the purchase of the game above Nintendo eShop by:
Open the app Parental Controls on mobile devices.
Click on the gear image Settings and Info upper right corner.
Click Nintendo Account account, the application will go to the Nintendo account page.
Sign in with your Nintendo account.
Go to the item Family group, select the account you want to modify.
Choose Spending / purchases on Nintendo Switch eShop and nintendo.com.
Click the tick mark to agree.
Press Save changes to save your changes.
The physical tape is much simpler, you just need to rely on the label ERSB to classify inappropriate content, thereby allowing children to choose the titles of their own age, which games want to buy the most, how long it takes to save to be able to buy, etc.
4. Limit online communication
Some online games are bold tactics like Diablo III, Fortnite will support the feature Voice Chat – Online communication with teammates, making in-game communication more efficient and coordinated. However, this feature still has the downside: Children will communicate with strangers. Even with adults, chatting with strangers online is difficult to ensure 100% safe, let alone children.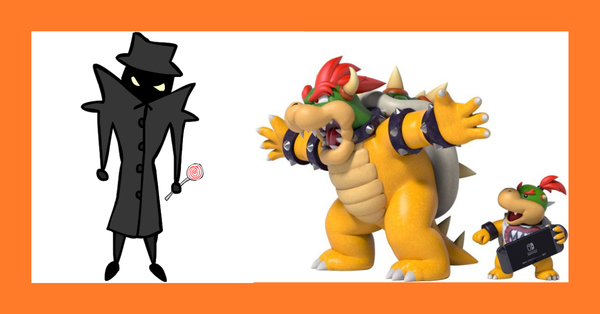 So, for parents to feel more secure then Parental Controls Also supports additional communication restrictions on the application's Nintendo Switch:
Open the app Parental Controls on mobile devices.
Choose Console Settings> Restriction level> Custom
Turn on mode Restrict Communicating with Others (The lever turns orange).
Below will be a list of games that support the feature Voice Chat, turn on and off depending on the game you find suitable for your child.
5. Control the playing time properly
Parents should adjust children's play time so that it is balanced with other activities, so children should not be too immersed in the game but affect daily activities. If after buying Nintendo Switch And if you don't have time to always remind your child's playtime, don't worry, apps Parental Controls also ready to assist you!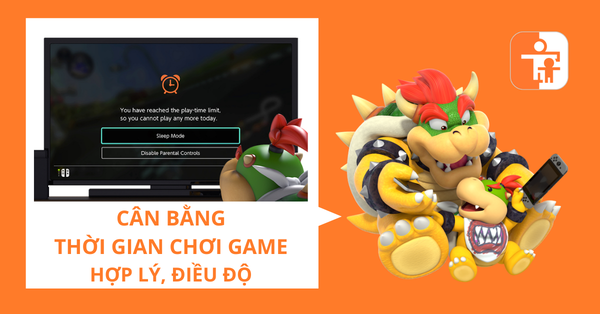 To set up playtime after purchase Nintendo SwitchJust follow these easy steps:
Open the app Parental Controls on mobile devices.
Select a tab Console Settings.
Select item Play-Time Limit.
In this section will include:
– Play-Time Limited: Set time to use the machine in 1 day. (Will reset when past 12 o'clock at night).
– Bedtime Alarm: When you set a sleep time, the device will not be used until 6am the next morning.
– Suspend Software: Forcibly turn off the game when the time limit expires. If installed

This mode may cause loss of data if the game is not saved in time

, especially games that do not support Auto Save mode. Please consider carefully when using this mode!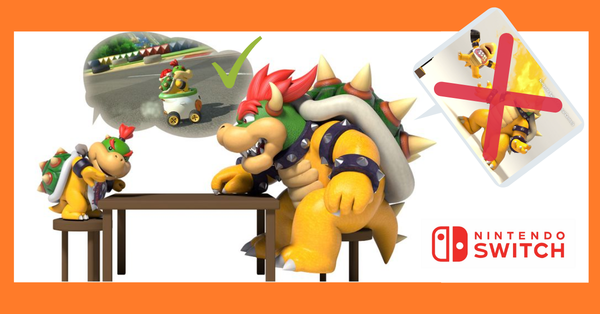 When installing Parental Controls On the device, parents should explain clearly and seriously about the limits, the rules of play time, why they have to do so, etc. to let the children understand, be aware of when to solve. mind, play game, always not.
With 5 feature's installation instructions Parental Controls after buying Nintendo SwitchWe hope that parents can be somewhat more secure when they let their children use the device.


Source link: 5 tips to help parents manage the machine when buying Nintendo Switch
– https://emergenceingames.com/