To get the most beautiful standard Facebook Fanpage cover photo and cover photo, you must upload a standard sized photo according to Facebook's regulations. However, not everyone knows exactly what is the standard image size for Facebook Fanpage? Therefore, the following article will be shared to help readers design the correct Facebook Fanpage image size and give viewers a professional look.
Building a strong Facebook Fanpage, achieving a lot of interaction needs a lot of different factors, in which the standard image size for Facebook Fanpage is quite important because it will be a strong highlight for users to interact. There are quite a few users when designing cover photos, avatars, post images for Fanpage, when uploading, they encounter a situation where the image is blurred or cut off a paragraph, even though you have tried all kinds of image sizes. That's why the following article will be sharing the standard image size for the Fanpage Facebook wants to send to readers so that they can design their Facebook Fanpage professionally in the eyes of more users.
What is the standard image size for Facebook Fanpage?
1. Facebook Fanpage cover photo
On any Facebook Fanpage, the cover image, also known as the cover photo, will be the first image that appears and attracts the user's attention. With the new update, Facebook has separated the profile picture and fanpage cover photo from each other. Therefore, this will be a condition for you to design cover photos for your fanpage to look more attractive and attractive than before. Specifically, the cover photo size from 851×315 px has been changed to a new size of 828×315 px.

In addition, readers also need to know that the cover photo on the computer is displayed as 828 x 315px on the phone is 828 x 465 px. Thus, for computer and phone screens, there will be different display sizes. So how to design a standard cover photo on both desktop and mobile?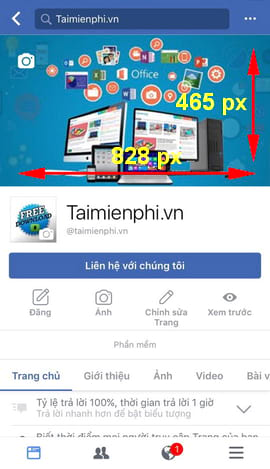 On the phone screen
To do this, you need an image of 1222 x 465 px, in which the displayed content will mainly focus on about 828×465 px in the center of the image to help display the entire content on the phone.
2. Profile picture of Facebook Fanpage
On computers, the Facebook Fanpage profile picture is displayed at 170 x 170 px, on Smartphones it is 128 x 128 px and on popular phones it is 36 x 36 pixels. However, there is a special thing that the avatar is always square, so you just need to make any square image of the minimum size. 170 x 170 px is just beautiful.
3. Photos of posts on Fanpage
Normally, when posting photos on Facebook Fanpage, people keep the size 650 x 340 px and Taimienphi recommends that you create a large rectangular image, it will be easier to see.
With Thumbnail Note photo: will have a size of 1105 x 410 px.
With Shared Link Thumbnail image: will have a size of 1280 x 628 px when running ads, but sometimes you can't get a sharp image with such a size, you can follow the size 940 x 492 px as well.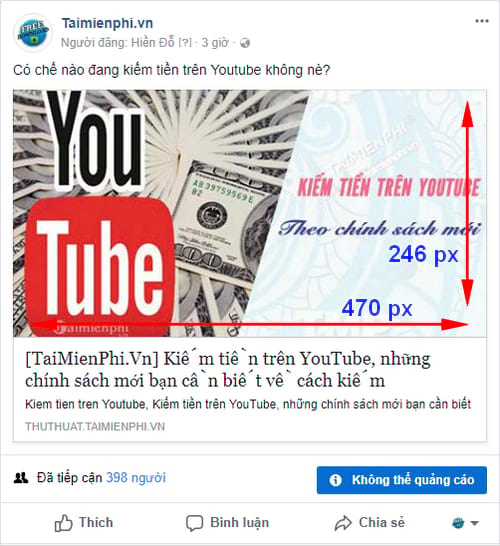 Photos on Timeline: The maximum display frame of an image when posted to Facebook is 470×470 px. Therefore, when uploading an image to Facebook Fanpage, in order to have an image display full of allowed space, you should upload a square image larger than 470px, which is the best for the image to be beautiful and clear when displayed on the whole screen. computer and mobile.
– In case the image you upload is a horizontal rectangle, Facebook will automatically shrink the image size so that the width is down to 470 px no matter what size you upload.
– In the case of a vertical image, it is the same as above, Facebook will again compress the image size with a height of 470 px and leave a space on the right hand side.
Horizontal 2 image display mode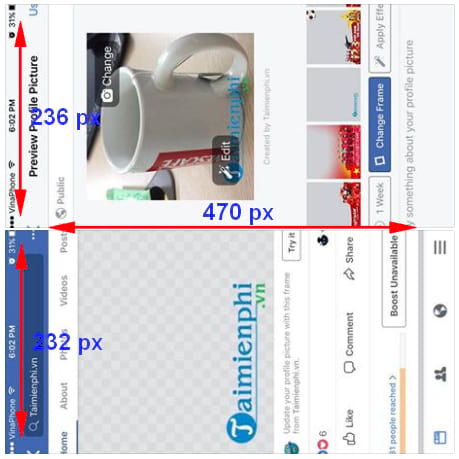 Display style 2 images vertical, vertical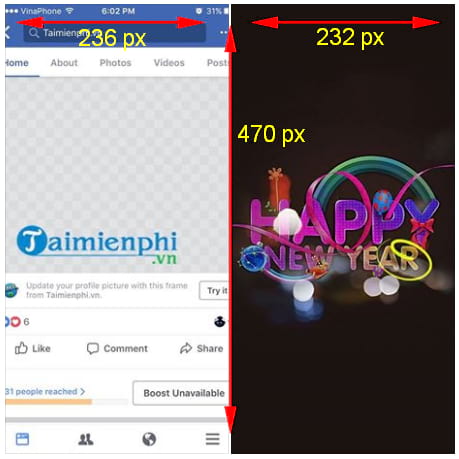 Display style 2 square images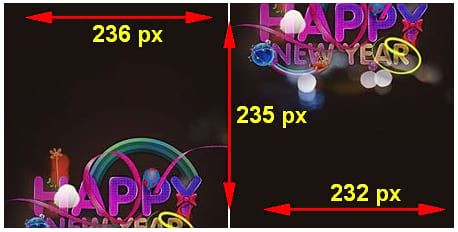 So, above are the shares about the standard image sizes for the current Facebook Fanpage that Taimienphi wants to send to you, each image has its own size and when posting photos you should pay attention to the size of the image. Mine has the best quality. Hopefully the article will bring useful information to help readers who are intending to design their Fanpage with impressive photos, attracting people to interact.
https://thuthuat.Emergenceingames.com/kich-thuoc-anh-chuan-cho-fanpage-facebook-la-bao-nhieu-30860n.aspx
If you don't have your own Facebook Fanpage, please refer to How to create a Facebook Fanpage to be able to sell goods or share useful information about issues in society
Related keywords:
Standard image size for Facebook Fanpage
standard photos for Fanpage, standard photos for Facebook Fanpage,
Source link: What is the standard image size for Facebook Fanpage?
– Emergenceingames.com