Owning yourself an Android application that supports controlling a computer running Windows 10 will be very convenient in many different cases, for example, if you do not directly sit in front of the computer, you can still connect the computer to perform certain operations. such as opening folders, watching movies, listening to music and shutting down the computer remotely…
Cross-platform integration is one of the extremely important technologies of today's world. This technology allows us to connect any device together, maximizing work productivity and device mobility. Or simply help you change Youtube songs without getting out of the blanket.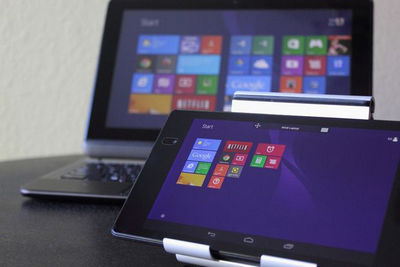 One of the most popular cross-platform integrations is between Windows computers and Android devices. There are many tools to help you control your Windows 10 computer from anywhere in your home, work, school, and even while you travel. All you need is an Android phone.
There are 2 main controller methods on Android.
The first type will directly transfer images from a Windows 10 computer to the Android phone screen and users will control the computer by manipulating the touch screen.
The second type will provide tools to simulate mouse and keyboard on the computer.
Whichever you prefer, the following article will provide you with the best Android control apps for your Windows 10 computer.
Top Android applications to control Windows 10 computers
1. TeamViewer
Download TeamViewer for Android
Download TeamViewer for Windows: Download TeamViewer
There is no doubt about the popularity of TeamViewer in the field of computer control. Windows users must have used TeamViewer to connect between computers. If you do not know, TeamViewer has a version for Android with high speed, stability and security equivalent to the familiar application on PC.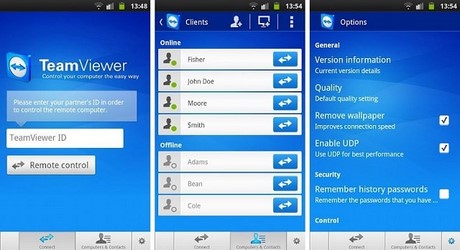 In addition to the familiar control feature, TeamViewer also supports file exchange between devices, a full virtual keyboard and multi-monitor control feature.
The connection process between a computer and an Android device is quite similar to connecting two computers. You open the TeamViewer for Android application, then enter the computer's TeamViewer ID and password in the Connect section.
2. Remote Control Collection
Download Remote Control Collection for Android
Download for Windows: Download Remote Control Collection
Remote Control Collection is one of the most versatile Android apps for controlling Windows computers.
The application is a combination of the two control methods mentioned above. Remote Control Collection both provides a virtual mouse and keyboard, and allows you to control your computer screen through the image transferred to your phone.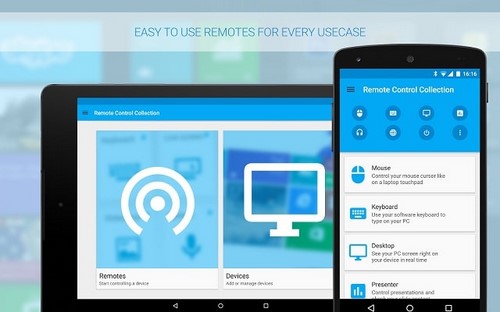 In addition to controlling your computer, you can also use Remote Control Collection to manage files, slides… and much more.
However, the free version of the app will only provide a mouse and keyboard. To own other features like Live Screen, Media Player or Slideshows, you will need to upgrade to the Pro version.
To connect, download the Remote Control Collection on your computer, confirm the IP address and connect the 2 devices together. The setup process is very simple and quick.
When opening the application on the phone, there will be 2 items: Remotes and Devices. The Remotes section to control the computer and the Devices section will manage all connections to the computer using your Android phone.
3. Chrome Remote Desktop
Download Chrome Remote Desktop for Android
Download Chrome Remote Desktop
If you're using Google Chrome, Google already has an app available to control your computer from your Android phone. You just need to download Chrome Remote Desktop to your phone and install the Chrome Remote Desktop extension on the Chrome browser on your computer.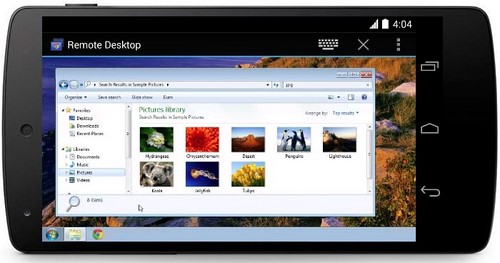 After installing the extension, you will be able to connect the two devices and control your Windows computer from your Android device.
Although Chrome Remote Desktop is just a Chrome extension, you don't need to have the browser on constantly to use it, just log in to Google.
In terms of performance, the stability of the application will satisfy you. However, it will take some time on the first connection and you do not need to worry about this.
4. Microsoft Remote Desktop
Download Microsoft Remote Desktop for Android
Download Remote Desktop
In response to Google, Microsoft also launched an application called Microsoft Remote Desktop. While it works best on Windows 10 Mobile devices, the app still has an Android version.
To do this, you need to download and install the application on both your phone and computer. Then proceed to connect the two devices together.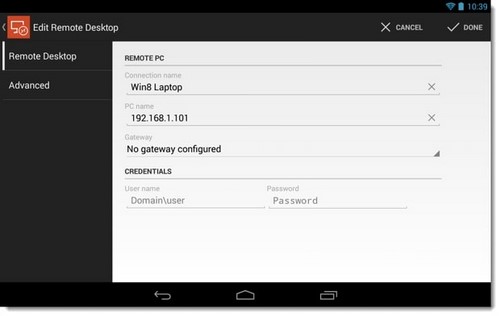 With Microsoft Remote Desktop, you can control your computer from anywhere. The screen image is transmitted quite accurately with the image quality, the sound is very good. However, this feature is currently only available with Windows Pro and Enterprise editions. So Windows 10 Home users will need another app.
5. Remote Link
Download version on Android phones: Download Remote Link for Android
Download version on Windows: Download Remote Link
While both Google and Microsoft have released computer control applications, ASUS is not an exception. The ASUS Remote Link app is quite stable and meets all your expectations from a Windows PC control app on Android.
To do this, you download the application to your Android device and computer. Connect two devices via Bluetooth or Wi-Fi.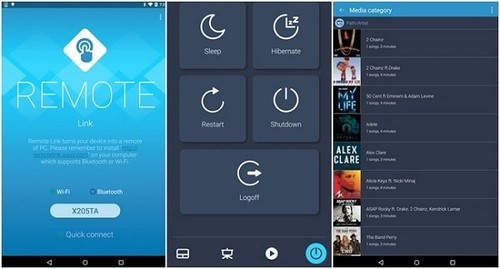 In addition to the same control features as the above applications, Remote Link provides a virtual touchpad with full features and supports multi-point gestures.
Remote Link is compatible with Android Wear. Therefore, you can not only control your computer with your phone, but you can also control it with your Android watch.
The interface of the application is quite neat and tidy, you will not encounter any errors when using it.
Although it's an ASUS app, you can use Remote Link on any Android device and PC.
6. Unified Remote
Download for Android devices Unified Remote for Android
Download for computer Unified Remote
Unified Remote for Android is the most fully featured computer control application on the Android market to date. You can control a variety of actions such as mouse and keyboard, media players, and USB-connected devices to your computer.
This app works a little differently than its competitors. Unified Remote helps manage more than 90 Windows programs and applications on your computer.
The app can help you with things like pausing songs on Spotify, transitioning slides in PowerPoint, and much more. Unified Remote provides different ways of managing each program on Windows.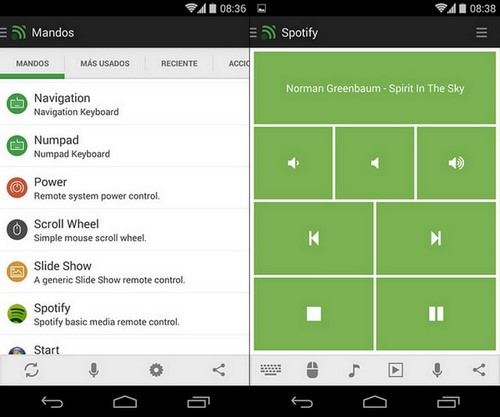 In terms of design, Unified Remote has an intuitive interface and allows users to customize themes. The app is free, but you can upgrade to get more new features such as voice commands, NFC short-range connectivity, Android Wear support…
https://thuthuat.Emergenceingames.com/top-ung-dung-android-dieu-khien-may-tinh-windows-10-12762n.aspx
Above, Emergenceingames.com has just introduced to you the best Android applications to control Windows 10 computers. Although there are many similar applications on the market, but in the list are the most stable and effective applications. With these applications, you can easily control your personal computer from anywhere, making work more efficient and faster even without sitting in front of the computer screen.
Related keywords:
Android application reduces computer power
android app controls windows 10 computers, windows 10 control apps on android,
Source link: Top best Android applications to control Windows 10 computers
– Emergenceingames.com