Face masking in historical videos is currently a hot trend on TikTok, if you want to catch up with this trend, the following top free face-to-video application shared by Emergenceingames.com will help you create funny cosplay videos and unique.
Do you want to be a model walking the runway, an actor? Chinese antiques or a superhero in a Hollywood action movie? You don't need to search for makeup, you can instantly swap your face with the character you want in the video with top App to put faces into videos Free is introduced shortly. Creating content that causes storms on social media has never been so easy.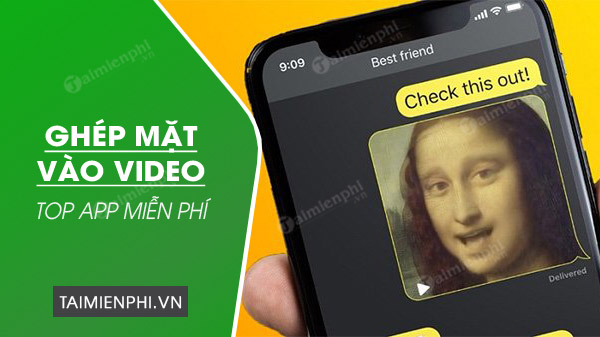 Face-to-video application for free
Top App to put faces into videos for free
1. Face transplant application into Video Reface
Reface is one of those Top video face transplant app, has surpassed 100 million downloads on the Play Store alone and is highly appreciated by many users. With Reface, users can combine their faces into GIFs or videos of celebrities, singers, artists… The app's available video store is extremely rich and diverse, divided into many topics. different for you to easily search and select the original video you want. Once you've completed the face swap steps, you can share your creation as photos, GIFs, and videos on social media.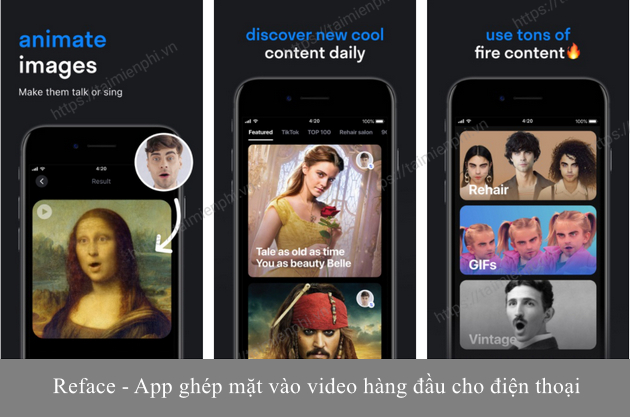 Unique Features of Reface
– Swap your face with celebrity or movie actor with amazing Faceswap technology.
– Share funny video clips or memes via messages or upload to social networks.
– New sample GIFs and videos added every day.
– Export high quality photos, videos, GIFs.
Link to download Reface for phones:
– Load Reface for Android
– Load Reface for iPhone
2. App to graft faces into videos FacePlay
FacePlay brings a whole new style of video editing. It is currently a photo collage software that many people look to to catch the trend face masking in historical video on TikTok now. Creating a face swap video with FacePlay is very easy and fast. All you need to do is choose a pre-made cosplay video template, import a clear selfie of your face, then FacePlay will automatically merge the features on the two faces and return you a very unique work. . Finally, you can save the video to your gallery or share it to Facebook, Instagram, TikTok, YouTube or Snapchat.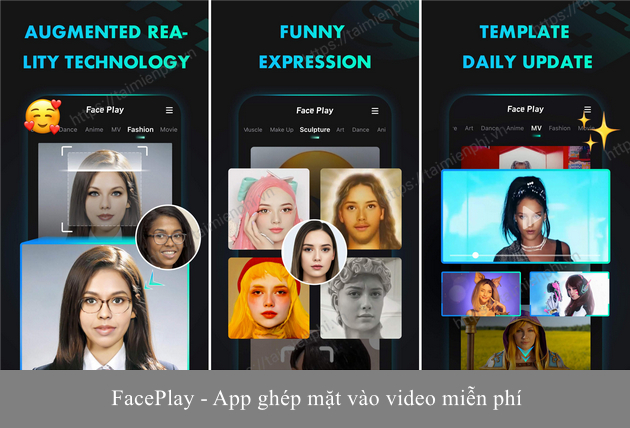 Unique features of FacePlay:
– Easily create unique content to attract likes on social networks.
– Merge the features of two faces into one with Deepfake AI technology.
– Provides tons of sample videos to choose from including manga and game themes like Naruto, Attack on Titan, Fortnite…
– Automatically track and separate your face from other objects in the photo. No need for another app to edit videos.
Link to download FacePlay:
– Link FacePlay for Android
– Link FacePlay for iPhone
3. Doupai Face supports face transplant into existing videos
The next name in the list of applications, this free face-to-video software is Doupai Face. The App provides a wide range of original videos for you to choose from and create fun, unique videos. The free version of the app already has a huge library of sample videos, but if you upgrade to the Pro version, more sample videos with more topics will be unlocked. This is face transplant app in chinese videobut you can easily use and create interesting content to share with just a few simple taps.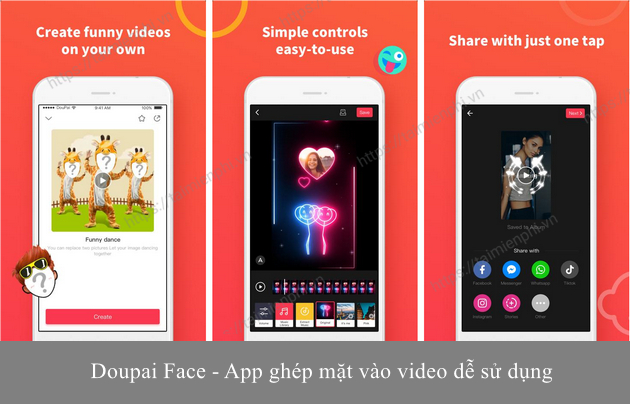 Unique features of Doupai Face:
– Rich sample video library with diverse themes.
– Decorate videos with effects, stickers…- Match faces to historical videos, create funny dancing videos easily.
– Share product videos to social networks right from the app.
Download Doupai Face latest version for Android and iPhone here:
– Load Doupai Face for Android
– Load Doupai Face for iPhone
4. Avatarify faces any video
With Avatarify, you can cosplay as anyone you want. Free face-to-video app This provides two modes of creating GIF images and recording live videos. After importing photos from the gallery and choosing the desired mode, Avatarify will process the user's photos and turn them into short videos by animating the face, using machine learning algorithms. You can add sound and effects to the video to increase the vividness. That's it, an interesting piece of work is ready to be shared everywhere.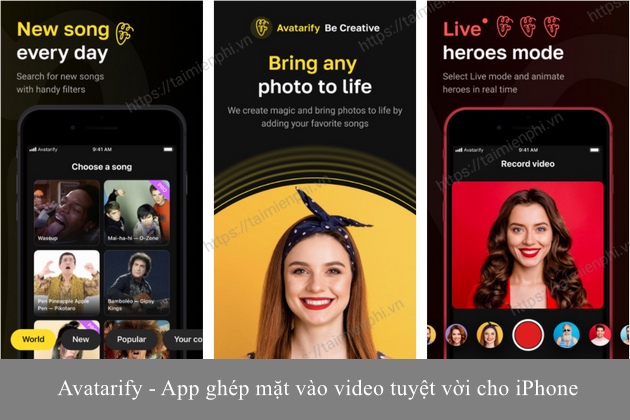 Unique features of Avatarify:
– Provide 2 modes: Create GIF images or record video directly.
– Choose animation effects to apply to every photo you upload.
– Deepfake AI analysis algorithm changes anyone's face according to your facial expression in real time.
– Save your work in high quality or share it on social networks like Facebook, TikTok…
Download Avatarify here:
– Load Avatarify for Android
– Load Avatarify for iPhone
5. Facejjang app to put faces into videos for free
Last but not least, Facejjang is also an option that attracts a large number of users to download and use to create face transplant videos, cosplay videos and funny dancing videos. Like the other apps on the list, the process of creating these unique videos with Facejjang is very simple. You just need to choose an available sample video, then upload a selfie photo and match the face to match the video. You can also adjust the brightness, add details such as beard, hair, hat… to create accents. Finally, press Done and the face transplant process will take place and complete in a moment.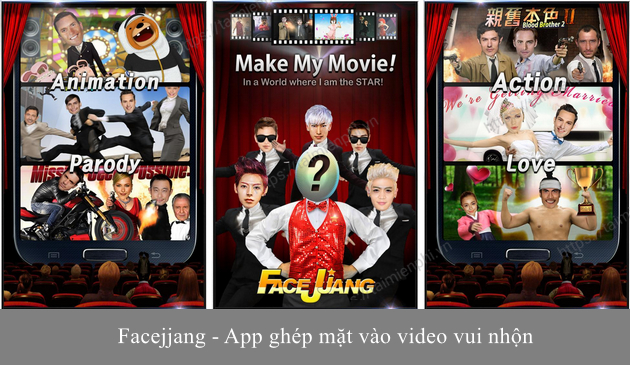 Unique features of Facejjang:
– Rich sample video store with many interesting topics.
– Add some accessories such as wigs, hats, glasses…
– Select faces through 2 ways: Face Storage – upload photos from the gallery and Sample Face – select available sample faces.
– Share to friends or upload to YouTube, Facebook, Pinterest…
Load Facejjang for Android here.
Funny, funny videos on social networks always bring us laughs and have a great time, and that's exactly what these face-to-face video apps aim to do. . Each app has its own unique features, and you can use multiple apps at the same time to create products of different styles.
https://thuthuat.Emergenceingames.com/top-app-ghep-mat-vao-video-mien-phi-64791n.aspx
In addition, you can also refer to the top App to insert text into the best photos here to use.
See also: App to insert text into photos
Related keywords:
app merge mat into video
face to video application, free face to video application,
Source link: Top 5 Apps to put faces into videos for free
– Emergenceingames.com