A total of 4 main rounds and more than 20 mini games for players to pass
Game Battle Royale – Fall Guys: Ultimate Knockout Chibi style, extremely fun and charismatic, has not shown signs of cooling since its launch on Steam. The basic gameplay in Fall Guys revolves around a lot of mini games randomly selected. So how many stages, challenges … in this Fall Guys game? Let's join EmergenceInGame for a complete list of mini games appearing in Fall Guys: Ultimate Knockout!
Basic gameplay of Fall Guys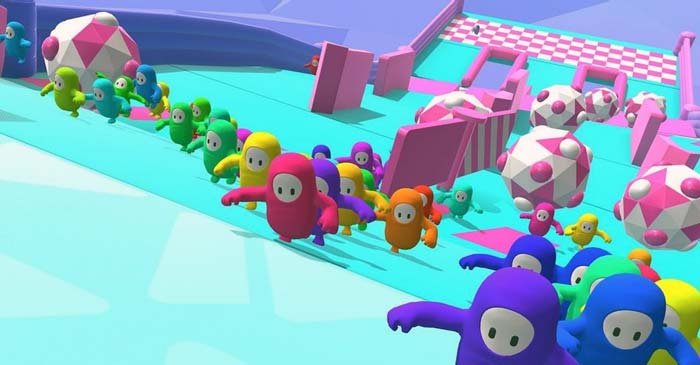 Do not have to do bloody combat, gunfight or damage weapons like many normal Survival games, the basic gameplay of Fall Guys Ultimate Knockout It is as simple as crossing obstacles, crossing obstacles and continuing to overcome obstacles. You can play in individual mode or team play. There will be 4 rounds of knockout rounds, each round will have 1 or more challenges (more than 20 mini games) selected at random, whoever can "survive" through the entire rounds will become into a champion.
1. The first round – Race
Race, of course racing, racing, speed racing. Put simply, it is just moving quickly from the start and finish without being eliminated. However, there will be a lot of obstacles and they are meant to prevent all players from reaching the finish line. In this Race round there will be small challenges such as:
Dizzy Heights – Dizziness: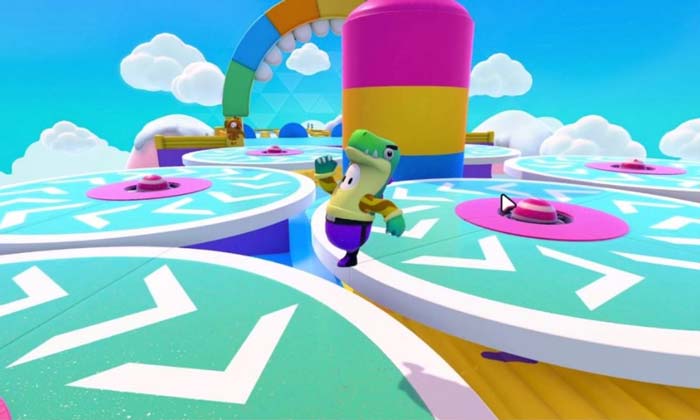 Here again, there are 4 other "pretty baby" parts, including: spinning disc, stone slide, spinning disc overhead and finally a combination of boulders and a rotating staircase. Make the most of your jumping skills, avoid obstacles as well as time accurately to jump to desired points.
Hit Parade – Parade: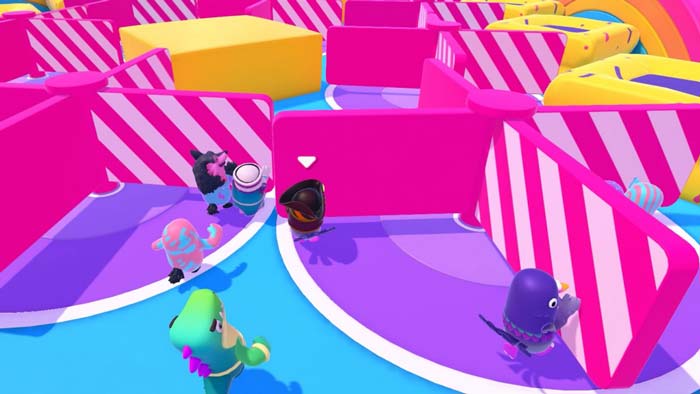 This can be briefly said to be a dangerous round, because the participants will have to constantly face obstacles that move constantly. Right from the initial move, it's the part of balance that has made many opponents want to give up. Why?
When you first start, you will have to overcome 2 relatively narrow pillars without falling off a cliff. Next, the opponents behind will catch up to you, and the scene of "pushing and pushing" appears in your mind. This is a real nightmare time, if not alert enough and skilled enough.
See Saw – Rocking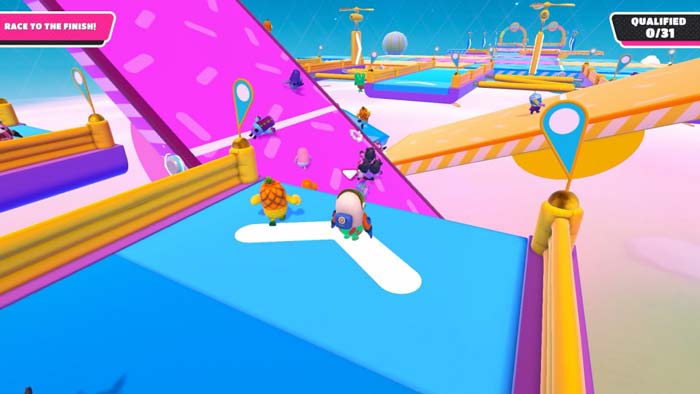 Similar to the previous installments, the first round of the seesaw is relatively easy to breathe, the player must try to cling to every possible angle to overcome the obstacle. But to the next rounds it will be very careful because at this time the number of people climbing on the sides of the seesaw will be unpredictable.
Door Dash – Sliding door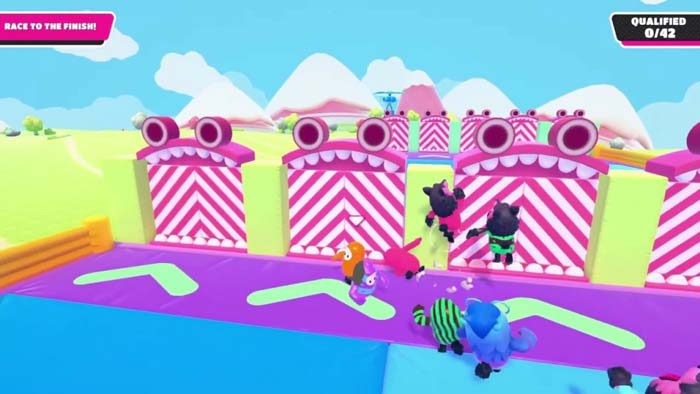 Very simple"! Players only need to head into the doors predictively or intuitively to see if they can penetrate the selected door or not? Or have to climb on another player to cross this fence. In the next parts, the number of doors will also be less, so you have to be quick and assertive.
Gate Crash – The hatch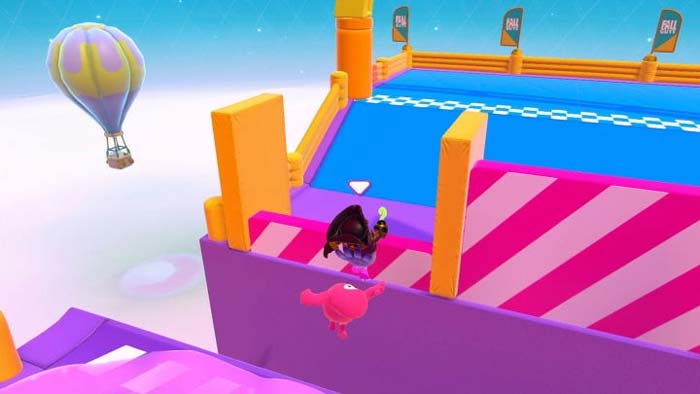 A bit similar to the Sliding Door ring, but the Shutter will make you much more inhibited because on the map appear doors that are slowly "growing" from below. They will pop up very quickly and unpredictably, so if you are not assertive they will quickly be left behind. Time is gold – literally in this hatch!
Tip Toe – Toes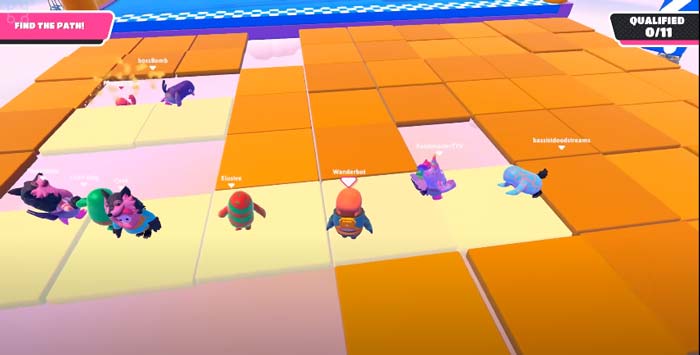 There will be consecutive tiles appearing on the map, and those tiles will disappear randomly and unpredictably. So calm and assertive is the key to winning this Toes!
The Whirlygig – Rotating column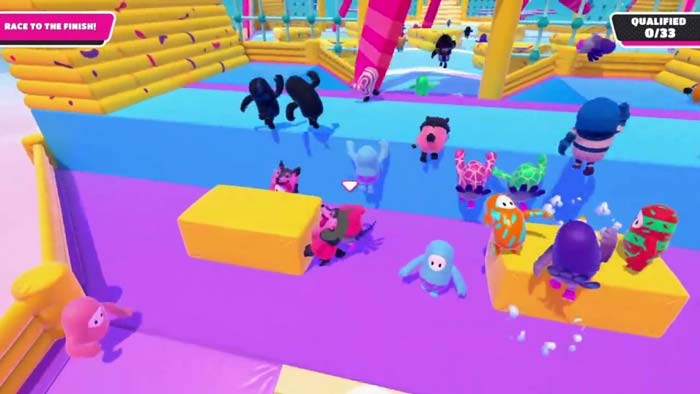 Yes, spinning pillars will appear and move continuously on the ring. Requires maximum concentration if players do not want to inhibit and be disqualified!
Slime Climb – Climb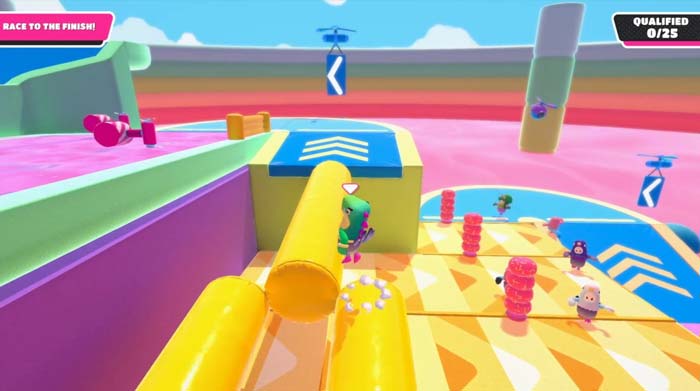 Intense – that's what a brief description of this round of slime blocks is! If you only have to pass a few slimes, it's extremely simple, but if you wait longer, they will appear more, beyond your imagination.
Fruit Chute – Fruit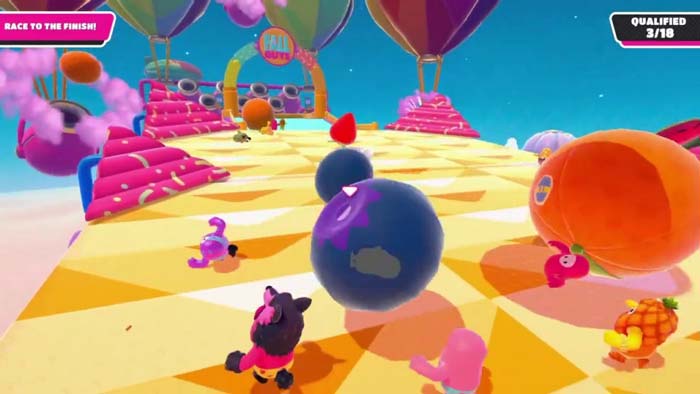 This is considered to be the simplest, most breathtaking round in the entire challenge of Fall Guys. The ultimate goal is to reach the top of the slope, avoiding the giant fruit and fruit blocks that are coming and stopping you.
2. 2nd round – Survival
Jump Club – Dance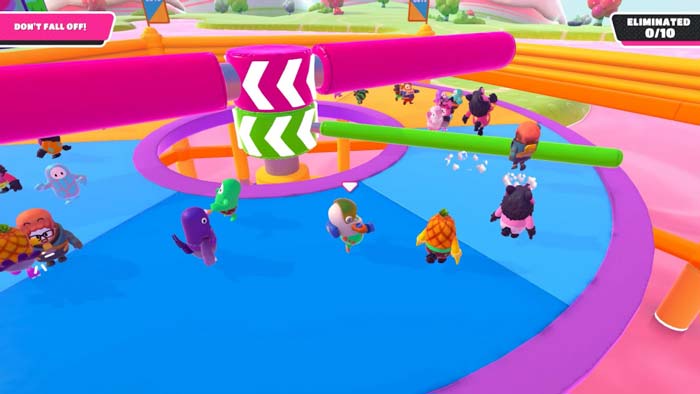 In this section, there will be long pillars around the ring in a circle, with the aim of pushing all players down the cliff. Timing is very precise combined with the handling of jumping, sticking skillfully. That's what you need to complete this Jump Club section!
Roll Out – Turn around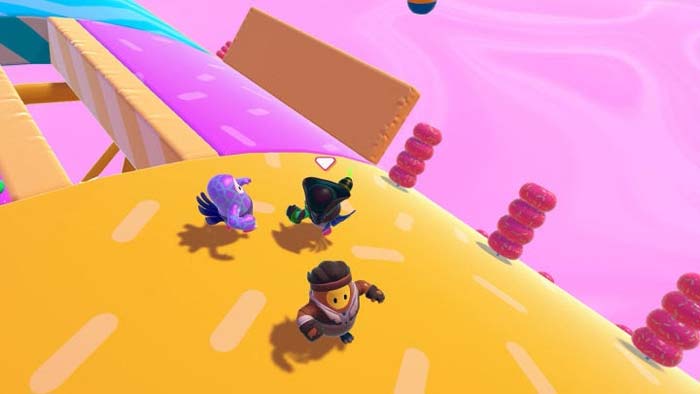 Also relatively simple for players with good balance.
Block Party – Block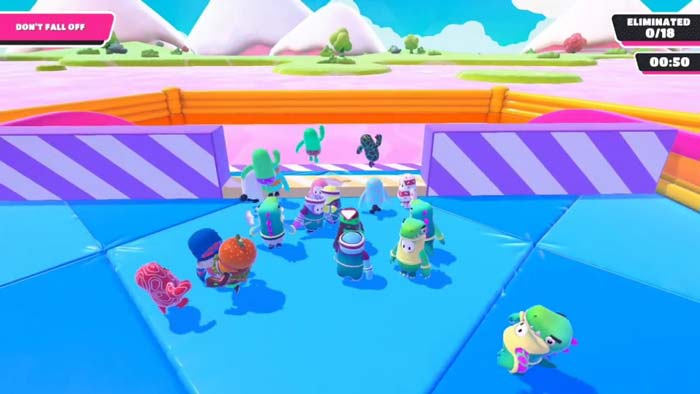 This is a Survival round – stand on a block and wait, avoid other emerging blocks and push players off the stage!
Perfect Match – Piece of the puzzle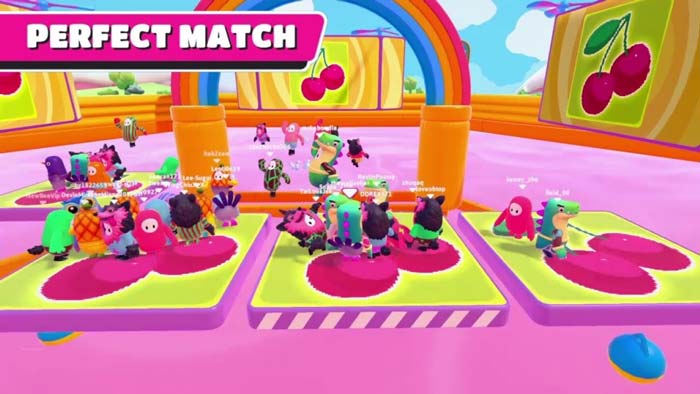 A good memory and high concentration – is all you need if you want to make it through this Perfect Match. Take a look at the open boxes and remember it, when the clock reaches 0, the player's task is to quickly run back to the correct square with the image that was opened before.
Tail Tag – Tag tail?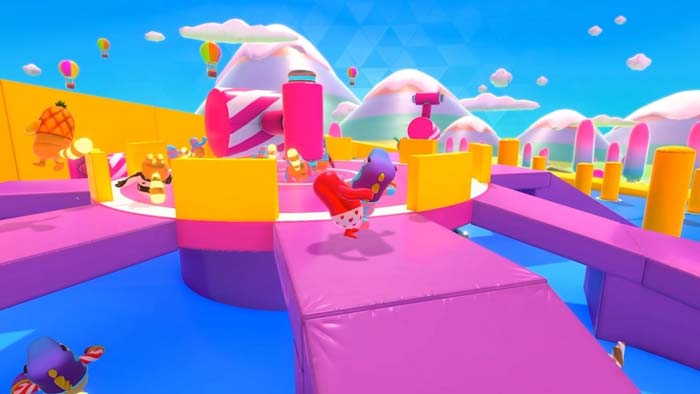 Not as damaging as the previous rounds, winning at Tail Tag is only for those who are persistent and skillful enough. When you start, there will be some random people with a Tag – a tag is worn in the tail – Tail. And the mission here will be to fight, win and protect that Tag until time runs out.
3. 3rd round – Team
As the name of this third round – Team, you will have to improve team spirit and cooperate if you want to win.
Egg Scramble – Eggs flipped?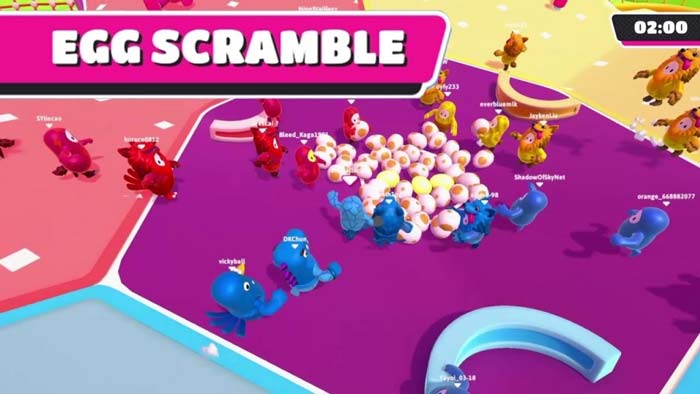 All players will be divided equally into 3 teams, starting with as many eggs as possible that appear in the middle of the field. There will only be 1 team eliminated, so please "take the trouble" to occupy and protect lots of eggs, and sabotage the opposing team squad.
Rock 'N' Roll – Roll the ball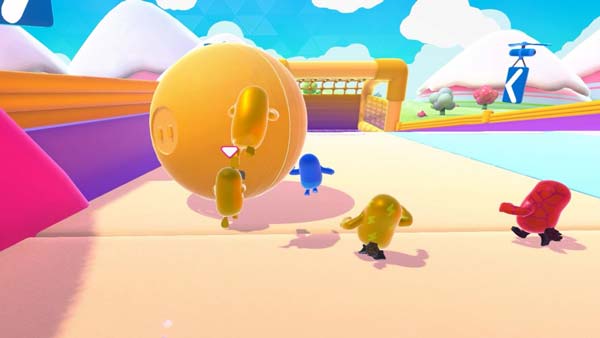 Similar to the Egg Scramble round, Fall Guys players will be divided into three teams, and there will also be only 1 disqualified team. The goal is for each team to attempt to roll that team's giant ball to its destination without being blocked by an opponent. Simple as that!
Team Tail Tag – Tag tail?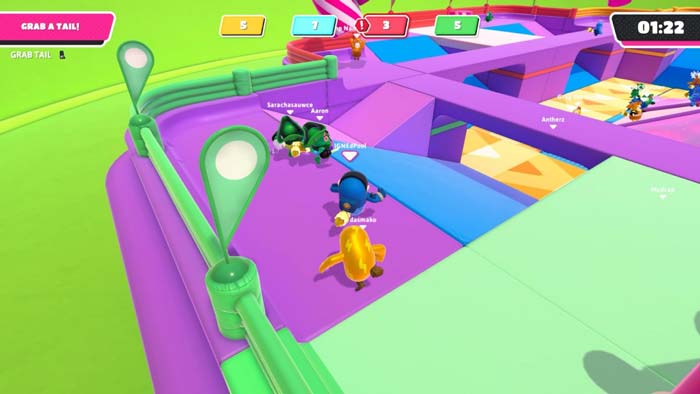 The gameplay is similar to the individual Tail Tag section, the only difference is that you will have to coordinate with many other players on the team only.
Jinxed – Bad luck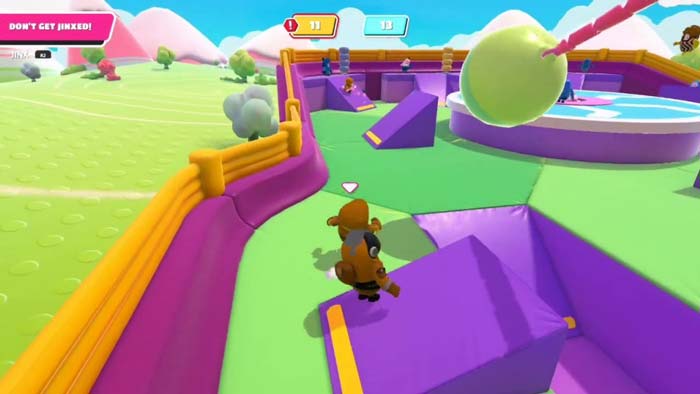 You can imagine this game mode somewhat similar to Zombie. There will be 2 teams participating in this round, each team will have to try to avoid the member with Jinxed effect (brown clouds appear around) of the opposing team. If any team is completely lost to Jinxed, they will lose first, so the main strategy in this round is to move and keep moving.
Hoopsie Daisy – Get around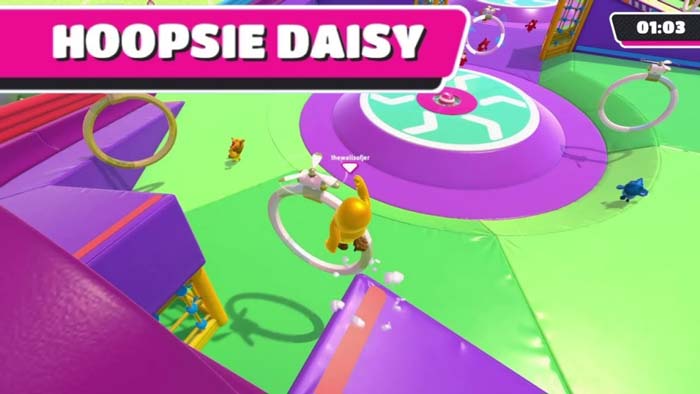 There will be 3 teams participating in this round, the rules are not too difficult and complicated. The task is relatively simple, the team members will have to jump and go through rings to score points, and the team with the most points at the end of time wins.
Hoarders – Hoarders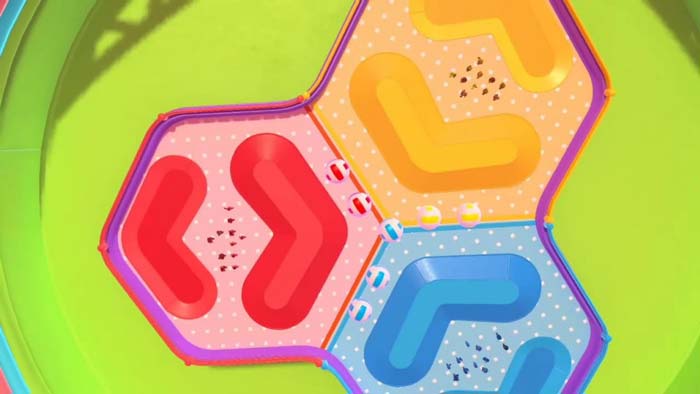 There are 3 teams with 3 parts on the map, and a total of 7 balls will appear on the map. When the time is up, the team with the least number of balls will be disqualified.
4. Round 4 – Final
Fall Mountain – The mountain collapsed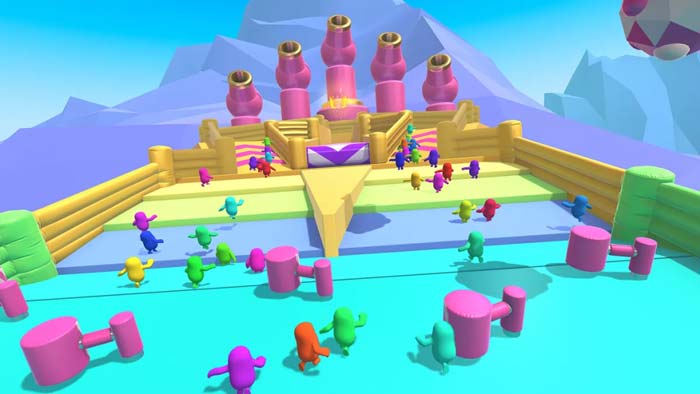 Extremely fierce – where only 1 person can win this Fall Mountain round. There will be a lot of giant balls dropped from above, along with countless spins with the sole purpose of preventing the Fall Guys from moving through it.
Hex-A-Gone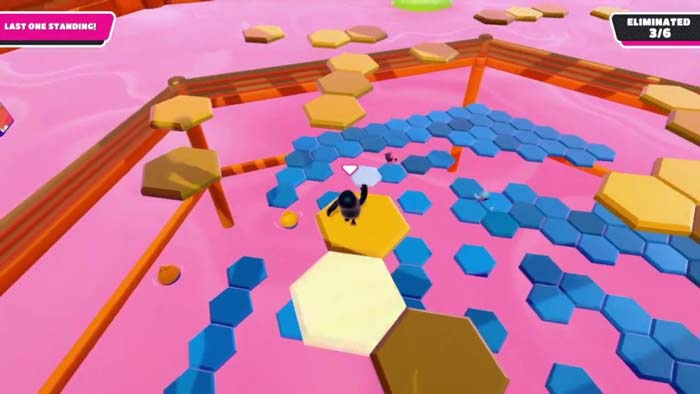 It is not wrong to think that this is the most inhibitory part of Fall Guys Ultimate Knockout, because it does not follow any thinking or logic at all. The player's task is to run after the hexagon has disappeared and how to become the last to fall and the remaining gaps.
Royal Fumble – Groping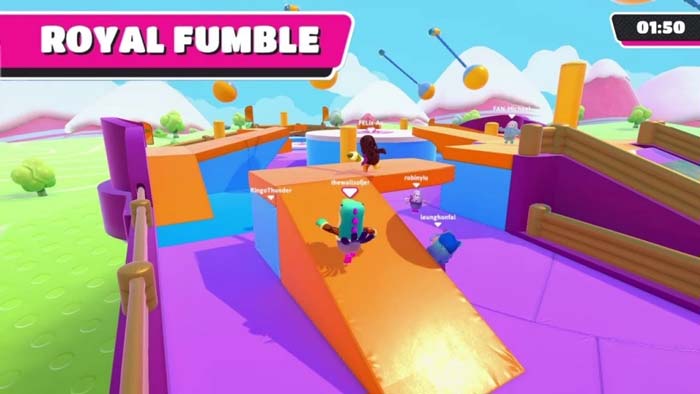 The player's task here is somewhat similar to the Tail Tag ring above, the rest of the participants will have to fight to win the Crown. The fierce point here is that there is only 1 single Tag. And of course the tactic here is definitely trying to get the Tag, moving continuously to protect the results until the time is up.
It sounds simple, but facing you, the rest of the players have extremely good skills and thinking. How will you defend your achievement and become the champion in Fall Guys Ultimate Knockout?
Source link: The full list of stages, mini games to conquer in Fall Guys Ultimate Knockout
– https://emergenceingames.com/