You will not have to separate the background, remove the font with professional photo editing software such as Photoshop, AI, … which are relatively complicated. With the introduction of Removal.ai, you can remove the background of your photo, remove the background of any of your photos without complicated settings, just need an internet connection.
Manipulation remove background image, remove background Photos to edit and create beautiful photos for marketing, sales or sharing with friends on social networks are now necessary but you do not know much about design, image design or do not want to install, learn How to use Photoshop on the computer?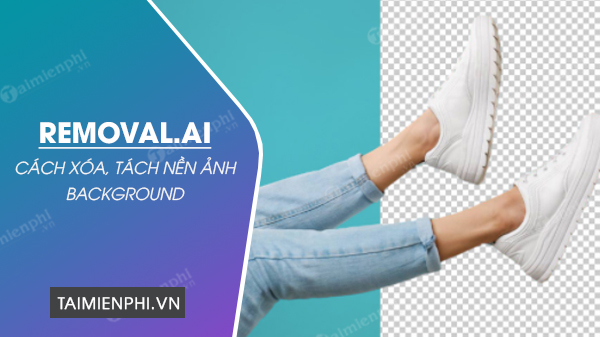 How to separate the online background with Removal.ai
Don't worry, by using a professional online font removal website Removal.aiyou will quickly separate the photo background and realize your design ideas and desires.
1. Removal.ai What is software?
Removal.ai is a free, professional online image background removal website, used by many people to remove image Background fonts. Uses artificial intelligence to recognize the main subject in the photo and automatically separates the subject from the background.
Benefits of using Removal.ai to remove background photos online:
– Automatically detect objects in the image, delete fonts online quickly, do not take much time to wait.
– Clear, smooth cutting edges and corners
– Do not have to install professional photo editing software and learn how to separate the background on these software and applications.
Currently, Removal.ai is being provided for free. However, if you want to separate the background with high-quality images or use Removal.ai's add-ons (edit images online, add background colors, text, effects,…), you can purchase Removal.ai's paid plans, which range from $0.05 per image or $3,799 per month.
2. How to remove photo backgrounds online with Removal.ai
How to remove online fonts with Removal.ai is quite simple, you just need to follow the steps as follows:
Step 1: From your computer browser (Chrome, Coc Coc, Firefox, ..), you access the homepage of Removal.ai. Click quick access Here
Step 2: At the Removal.ai homepage, click "choose a photo". In addition, you can also copy the image you want to remove the background from anywhere with and press Ctrl + V to paste the image here.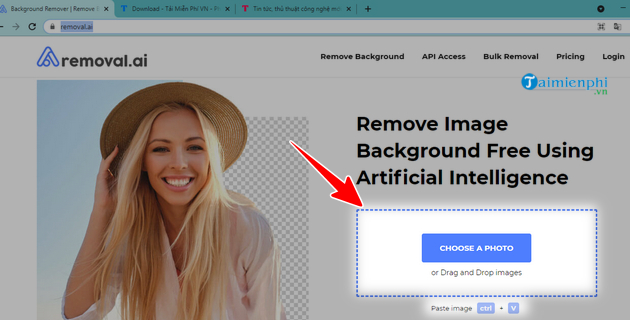 Step 3: Select the image you want to remove the background from the folder containing the image on your computer and then select "open" to upload photos to Removal.ai.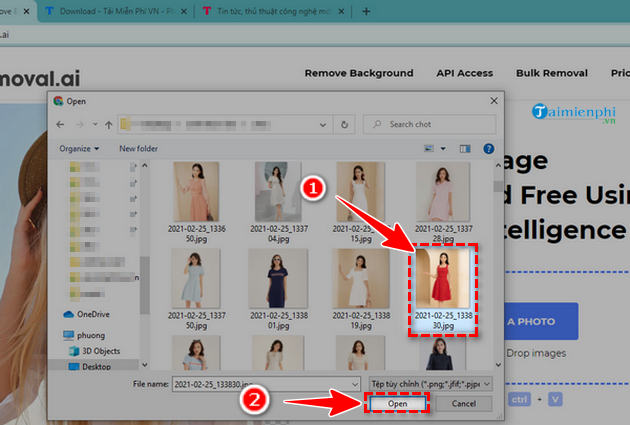 Immediately, Removal.ai will automatically identify the image and proceed to separate the background image for you.
Step 4. You press "Download" to download an image with a separated transparent background.
In case you want to download high quality images, you can click "download high quality". However, downloading high quality images will cost you about $0.07 for 1 photo. You need to consider carefully before choosing.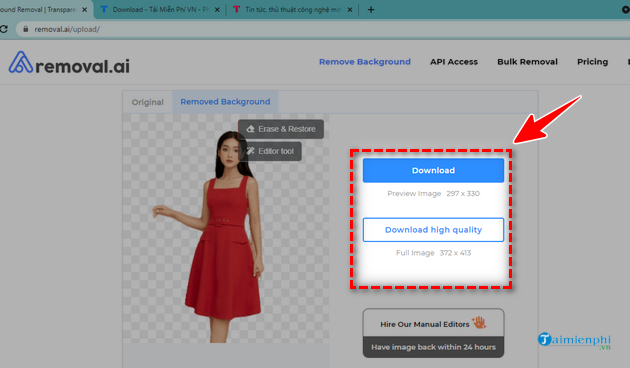 Step 5: And this is the result you get after removing the background online with the Removal.ai application. With this image, you can easily edit, add color effects, or merge into any wallpaper you want.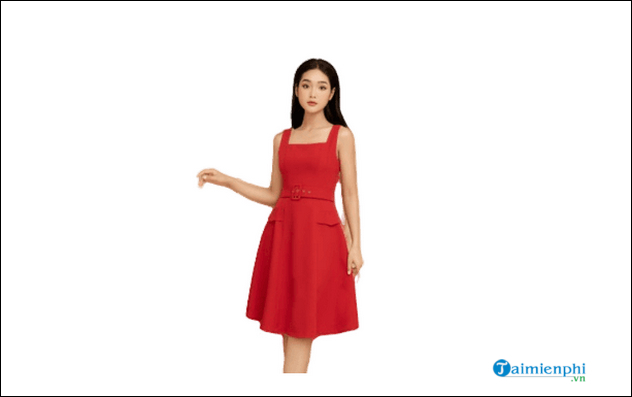 Note: How to remove the background of online photos with Removal.ai on phones and computers is quite similar. From a mobile web browser, you go to Removal.ai and manipulate the image to upload and remove the background similar to the steps to remove the background of an online image with Removal.ai via the computer above.
Thus, Emergenceingames.com has just shared with you how to remove background images online by Removal.ai, steps, how to remove background images by Removal in detail. Hopefully with these instructions, you can quickly remove the background of online images, and realize your own ideas for designing images, banners, advertising and sales media.
https://thuthuat.Emergenceingames.com/cach-xoa-nen-anh-background-bang-removal-ai-63153n.aspx
Similar to Removal.ai, remove.bg is also a professional online photo background removal software and website, used by many people. To learn how to remove the image background on remove.bg, readers can read the article How to remove photo backgrounds Online without Photoshop ours.
Related keywords:
How to remove your background bang Removal.ai
Remove background image online, Background remove font,
Source link: How to remove background images with Removal.ai
– Emergenceingames.com