Free Fire has a lot of unexpected elements that make the game unpredictable, one of the unique features is the game character system. In this article we will show you how to get Shirou character for free Garena Free Fire OB26 Mang Xa, the new guy debuted in February 2021.
Each character in Free Fire each associated with a special skill, players can now equip up to a combo of four different skills, which adds even more elements of surprise and strategy to play. At the official Garena Free Fire Instagram page, it was announced that players can get the Shirou character for free if they reach 200k comments on their posts.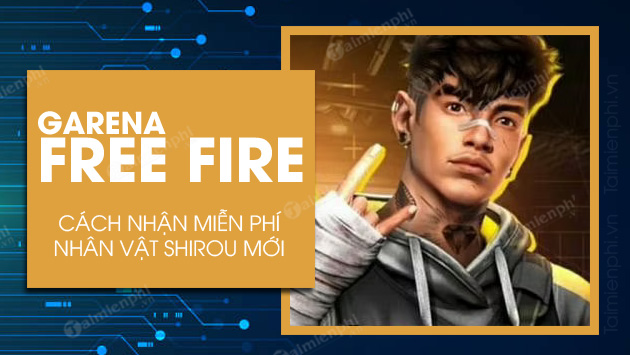 Shirou – The guy who can shoot through armor when marking enemies in Garena Free Fire
How to get Shirou Garena Free Fire character for free
To receive the Shirou Garena Free Fire character that was introduced in the OB26 Snake update for free, readers need to perform a number of operations at the request of the organizers, they are very simple and easy to do.
– Step 1: Follow Free Fire's official Instagram page hereIf you don't have an account, please register a new one.
Reference: How to create an Instagram account
– Step 2: Tag 3 friends and comment on the post at the link Step 1 include your UID or Free Fire character ID (ID is required for NPH to provide rewards)
Reference: How to get ID in Garena Free Fire
– Step 3: When reaching the milestone of 200,000 comments (the deadline is February 11, 2020), players participating in the above event will receive the Shirou Garena Free Fire character for free. So what else do you hesitate ? Start tagging your friends and commenting now.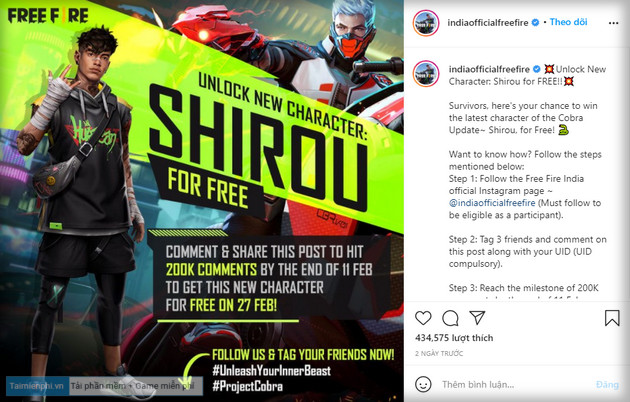 Introducing the new Shirou Garena Free Fire character
Shirou is a male character in Free Fire, the introduction states that he is the "fastest delivery boy" and the skill set has similar abilities. While most of the new Free Fire characters have active skills, Shirou has passive skill sets instead.
Reference: Shiro character skill in Free Fire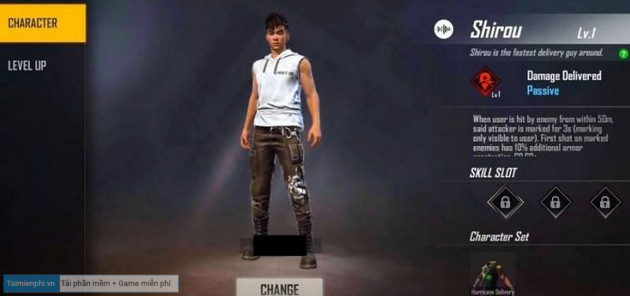 At max level, Shirou Garena Free Fire character's skill range is increased to 100m, the first shot at the marked opponent deals 100% armor penetration. This is a huge buff skill and has a short cooldown of 60 seconds at base level, 10 seconds at max level. The mark time also ranges from 3 seconds on early levels to 8 seconds at max levels.
Free Fire players are definitely excited about this free bonus from Garena. This seems like a pretty cool way to get attention while also benefiting the community. Garena Free Fire's Instagram page currently has 4.9 million followers. This shows how much the community has grown.
Free Fire ear link for Windows, Android and iOS:
=> Link Download Free Fire for PC


=> Link Download Free Fire for Android


=> Link Download Free Fire for iPhone


https://thuthuat.taimienphi.vn/cach-nhan-mien-phi-nhan-vat-shirou-garena-free-fire-62404n.aspx
Related keywords:
How to get Shirou Garena Free Fire character for free
, How to get free character Shirou Garena Free Fire, how to get free Shirou Garena Free Fire,
Source link: How to get Shirou Garena Free Fire character for free
– https://emergenceingames.com/