The software that supports taking pictures, recording screen and recording video Snagit has a relatively simple interface. You can edit the image file as you like with just a few clicks. Snagit software is used by many people to create effects for their photos because it has built-in a number of templates and developers' suggestions.
Sangit is a plus that helps users in taking pictures, recording screen videos and even recording audio. In addition, this tool also integrates features that allow editing images and adding effects to make pictures and videos more vivid and beautiful. The following article will guide you to add effects to photos with this software.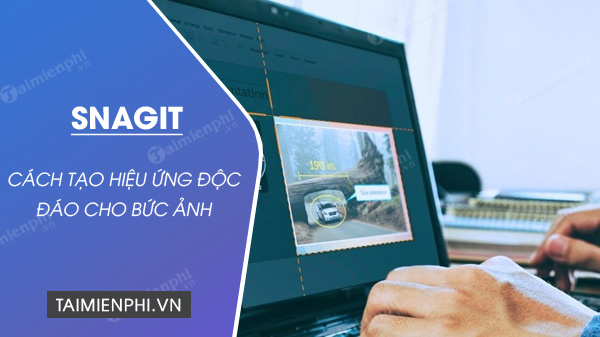 Snagit – Professional video recording, photography and editing software on PC
How to create and add visual effects with Snagit
Step 1: Download and install the software Snagit on your computer via the link below, select the version 32 or sixty four suitable for the Windows system you are using to avoid installation errors (refer to the how-to guide).
Reference: How to check win 32bit or 64bit on windows 7, 8.1, 10
=> Download Snagit


Step 2: Start the software Snagit on your computer, click Open Editor.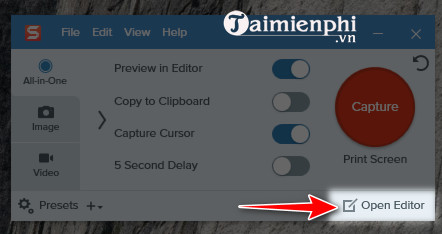 Step 3: In the window Snagit Editor, click select File => Open and select the photo you want to add the effect to.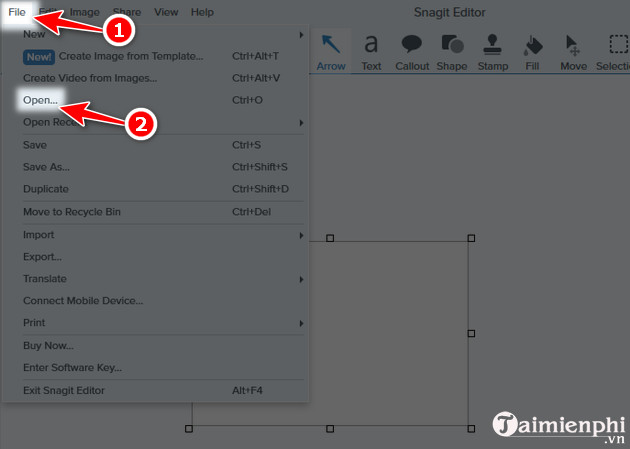 Step 4: To add effects to your photo, now choose the tab Image => click Effectthere are several border templates provided by the development team, you can choose them if you want to use.
– Borde: Border effect
– Shadows: Shadow effect, support all 9 different shadow positions.
– Edges: Effects for one edge or multiple edges include 6 styles Tom, Wave, Saw, Sharktooth, Fade and Bevel.
– Capture Info: Add some information to the photo like app name, app's version, capture time, operating system….
– Perspective : The effect distorts the image, it's like you'll look at the photo from a completely different angle.
– Page Curl: The effect of warping the angle of the photo. Can bend any of the four corners..
– Filters: Add filters like Soften, Sharpen, Opacity, Monochrome, Grayscale and Invert Colors to your photos.
– Color Adjustment: Correct the colors and tones of light, dark, or contrast in an image. There are 5 options including Brightness, Contrast, Hue, Saturation and Gamma.
– Color Replacement: Replace this color with another color.
– Spotlight & Magnify: Magnifies a selected area, making them stand out more.
– Watermarks: Allows you to add logos, information or copyright labels.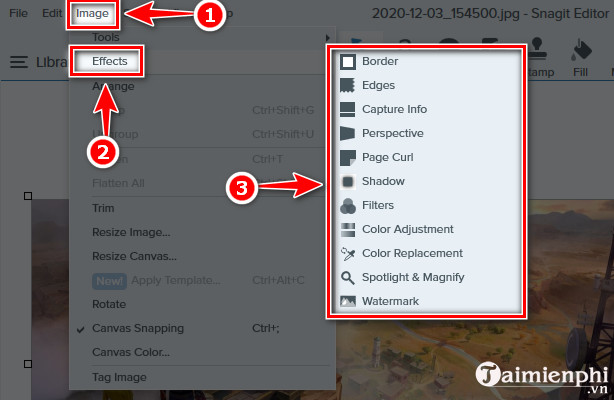 Step 5: Here is a photo that Taimienphi used the effect Watermark add logo, click Fire => choose Save or Save As to save the photo you animated with Snagit.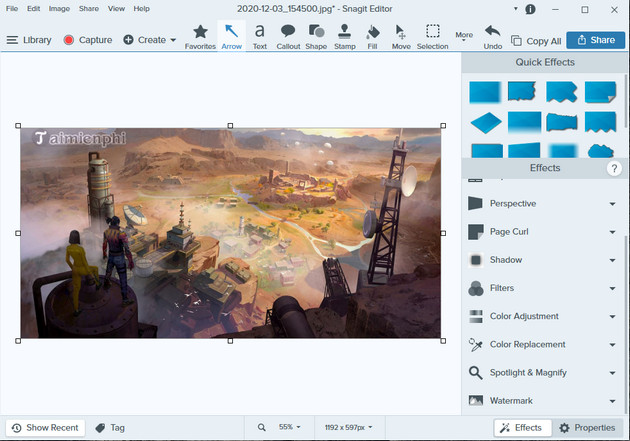 https://thuthuat.Emergenceingames.com/snagit-cach-them-hieu-ung-vao-file-anh-199n.aspx
With this way, you can easily edit and create more effects without having to use another software. In addition to adding effects, Snagit software also has a lot of tools to support users in editing videos, converting video formats or sharing them to other software and especially creating videos from available images. , the steps to create videos from photos with Snagit are also very simple.
See also: How to create videos from photos with Snagit
Related keywords:
add Snagit . photo effects
create photo effects with Snagit, add effects to photos ,
Source link: How to create unique effects for photos on PC with Snagit
– Emergenceingames.com