Sending and receiving data via Email is not a strange thing for users, but how to be able to send GB of data at the same time to many people is difficult and not everyone… astute. Currently, Emergenceingames.com has updated how to send and receive GB goods, even tens of GB of data sent via Email, please follow the article below.
E-mail, also known as electronic mail, is one of the indispensable applications in modern life; job use emailSending and receiving data via email is one of the basic skills needed by every person, especially office workers, people working in the field of information technology, businesses, business partners…
As you know when attaching files that contain data, most of you can only attach them with a certain capacity (usually no more than 50 MB), so with large data, the volume is massive. is a big barrier in the process of exchanging them via Email. So is there a way to send bulk data up to GB or even tens of GB? We show you how to send files over the phone using Fsend
How to send and receive GB of data by mail extremely fast
As mentioned above, now if you use Gmail, Hotmail, Yahoo, attaching GBs of data when sending is impossible. To send and receive GB of data by mail, follow the steps below:
Work to be prepared
– Your email account, if you don't have one, you can refer to how email sign up here
– Email account of the person you want to send the file (recipient).
– The data file you want to send
Step 1: Access FSend HERE
FSend is known as a 3rd application that is a "bridge" to transmit huge data via Email between the sender and the receiver.

FSend interface when users access
It can be seen that the interface of FSend is quite simple and intuitive, users can view more instructions or choose to skip instructions when accessing FSend.
Step 2: Attach "terrible" data via Email on FSend
– At the main interface, select "Attach files" (1)
– A dialog box opens, you choose to the file you want to send, for example, you choose to send the installer Windows 10 (2) has a capacity of 3.4GB, keep pressing OK (3) to select the file as the installer Windows 10 This is pretty heavy.
– Here is the list of files you have selected to attach, if you select multiple files at once, you can click on it to review whether they are enough.
Attention

Currently you can only select up to 20 files to send at once, up to 20GB in size. Having more than 20 files and more than 20 GB is not possible.
– After watching you can select "Close", move on to the next step
Step 3: Fill in sender, recipient and message information
– The sender information is the email address of the sender
– The recipient's information is the recipient's email address
– Message (yes or no)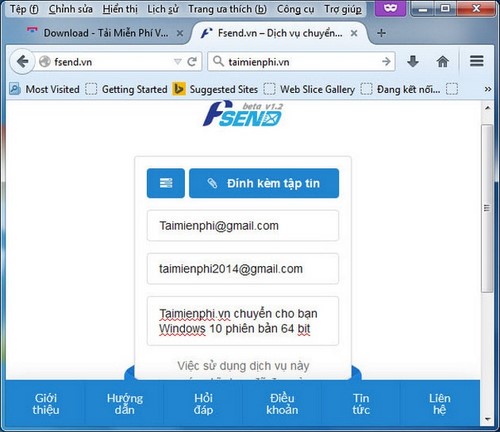 Step 4: Send file
– After filling in all the information, click "Send" to proceed with sending the file
– Wait for the data to be loaded, this process is fast or slow depending on 2 factors. First, the amount of data you send; second, your line speed. Currently FSend for speed is quite fast and stable.
– After FSend finishes downloading data
Attention

During the process of uploading files to FSend, which does not support pause when uploading data, you can press F5 to redo or turn off to start over.
Step 5: Download data to your device
– Recipients can go to their Email to download
– This is the email sent by FSend to the recipient, you can copy "Linkdown" or press "Download now" to download them.
– A dialog box opens, you choose "Download"
– Users can use IDM, FDM or some download support software to download files. Present IDM for stable speed is quite high when downloading data to the machine.
Attention

Attachments are stored for 7 days, you can share them by sending Link Down or forwarding Email to multiple people, they can download and use them at the same time.
https://thuthuat.Emergenceingames.com/cach-gui-va-nhan-hang-gb-du-lieu-qua-mail-cuc-nhanh-4797n.aspx
Currently FSend is one of the free large file transfer services over the Internet. It allows sending to many people at the same time with a maximum capacity of 20Gb of data via email without having to log in to gmail, especially the Maxspeed download speed is equivalent to the download speed of the VIP Fshare account for the first 20 people. Download that link first. Up to now, FSend.vn supports users to send data to most popular email services such as Gmail, Hotmail, Yahoo… this is considered one of the forms of sharing, Send large files via Email for different users.
Related keywords:
Send 20 gb of data via email
, gui 20 gb of data via email, how to send 20 gb of data by email. how to save 20 gb of data via email,
Source link: Fsend How to send and receive GB of data by mail extremely fast
– Emergenceingames.com