Royal Match is an attractive puzzle game with a series of tasks that you need to complete by matching more than 3 of the same items. In Royal MatchTo help you achieve all your goals, Taimienphi.vn will share with you 5 tips to play Royal Match through all levels.
Your goal in the match-3 game Royal Match is to help King Robert remodel his royal castle and bring it back to its former glory. The only way to complete this quest is to pass a series of match-3 levels and earn the stars needed to decorate the castle.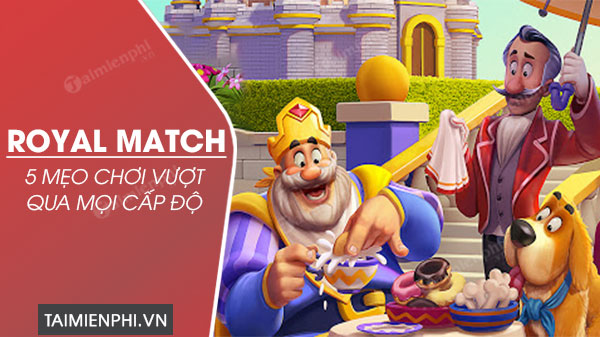 Instructions on how to play Royal Match pass all levels
Each level corresponds to a challenge and you will certainly need the following 5 tips to play Royal Match to pass every level in this fascinating puzzle game.
5 tips to play Royal Match pass every level
1. Wait a few seconds for the game to find the perfect match for you
If you think you are a master of the match-3 series, then you probably already know what this tip is about. Royal Match has no time limit to complete each level, so it doesn't take anything to wait a few seconds to see which match the game finds great for you.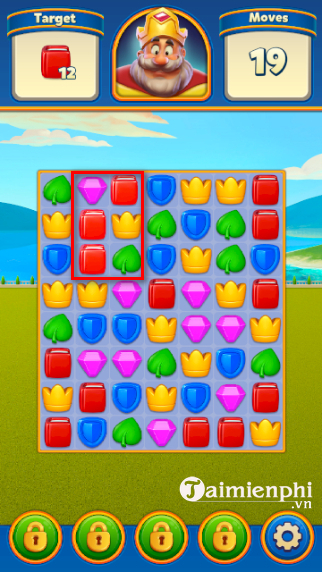 The game itself helps a lot because it often helps you to know about combinations that can produce booster or booster items like bombs, rockets or hammers, and especially in case you're stuck. , no combination of items can be found.
2. Complete the level with as few steps as possible
One thing you will quickly realize while playing Royal Match is the importance of coins. You can earn coins simply by using the fewest steps to complete the level and the remaining steps will turn into help items. When activated, they can wipe out the game board and earn you an impressive score, as well as an impressive number of coins.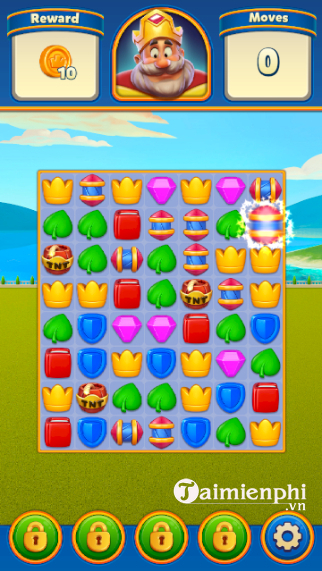 The more moves you do not use at the end of the level, the more boosters are created and from there, the more coins you will receive. Coins are used to buy extra moves and boosters in Royal Match.
3. Combine the boosters together and wait for the magic to happen
Rockets, TNT explosives, propellers and lightballs all offer great benefits when you pair them with the usual items on the game board, but they will be more breakthrough when you pair any 2 boosters together, Can booster in the same or different type. For example, pairing 2 TNT tanks together and a shocking explosion will occur, creating great effect when many items and obstacles are removed from the game board. If you happen to find two boosters lying next to each other, combine them and wait and see how they help you.
4. Play back the level you failed with 3 pre-selected boosters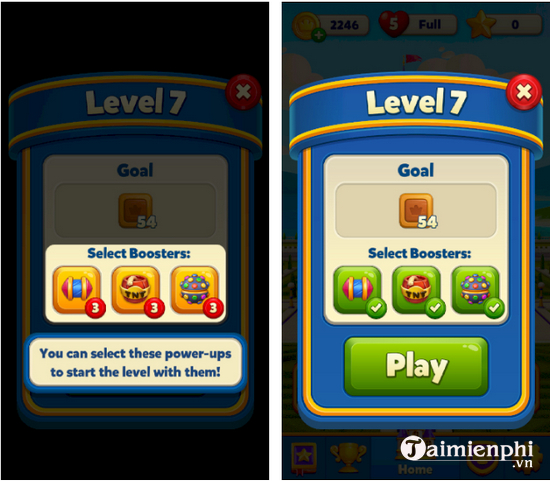 After unlocking all the boosters you can choose from before entering a new level, save them for challenging levels that will cause you to play over and over again. For example, many times you cannot complete your goal at level 50 due to not enough moves and even 5 extra moves purchased with coins do not help you. In the next replay, you should choose the available boosters and they will help you pass the current level to unlock the next level. Of course, if you know how to use them the right way.
5. Use special items below the game board as a last resort
Finally, at a certain point in the process of your Royal Match game experience, you will own a collection of special items located at the bottom of the game board in each level including Royal Hammer, Arrow, Cannon. , and Jester Hat.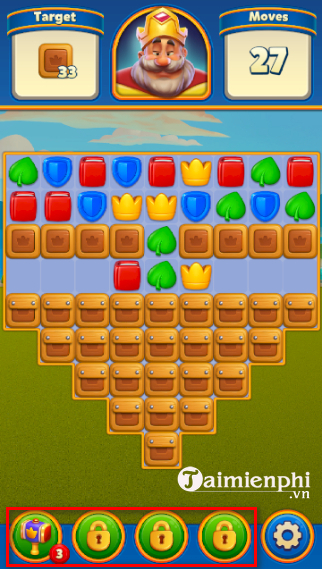 These super useful items should only be used when you are nearing the completion of your current level goal, but you only have 5 steps or less left. You should use these items sparingly and also the boosters that you are allowed to choose before entering the next level. Use them only at tough levels, where you fail a few times. In the process of performing the missions of each level, you should look for combinations of 4 or more items to create help items yourself without spending coins.
Link to download Royal Match for Android and iPhone:
=> Link download Royal Match for Android


=> Link download Royal Match for iPhone


https://thuthuat.taimienphi.vn/5-meo-choi-royal-match-vuot-qua-moi-cap-do-62586n.aspx
Above are useful Royal Match game tips, to help you pass the levels. With the above tips and your match-3 experience, you should be able to unlock the entire area of ​​the castle and complete your goal of an excellent restoration. Also, readers can refer to the top best match 3 game for phones here to have new experiences.
See also: Top best match-3 game for phones
Related keywords:
5 meow royal match vuot through new cap do
, How to play Royal Match for newbies, Instructions to play Royal Match pass all levels,
Source link: 5 tips to play Royal Match pass every level
– https://emergenceingames.com/