The speed of the Internet connection you are using is as fast as the wind or slow as a slug. How to know if the network speed you are using is exactly what your Internet service provider provides? Here are 5 effective Internet speed test websites that you should use to test your Internet speed.
There are many ways to help you check the internet speed that you are using from the Internet service provided, you can use 5 effective Internet speed test websites below are free services to help you evaluate. your transmission speed in the most accurate way.
1. Bandwidthplace.com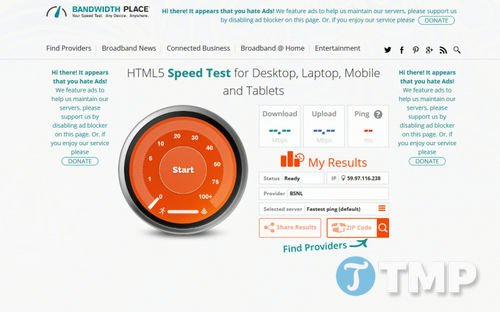 Bandwidthplace.com is like a dashboard in a car that can check the speed of laptops, computers, tablets and mobile phones. The website completes the test in a very short amount of time, giving you the IP address, download speed as well as upload speed. For more accurate information, you should set up your exact server and location.
On the website you will also find ways to speed up your Internet connection, and read Internet news. So if you are interested in improving the speed of your Internet connection, you can visit the link Bandwidthplace.com.
2. Testmy.net
Testmy.net includes 3 tests: upload speed, auto download speed and download speed. Configure an interval for an automatic Internet speed test, such as for 12 hours, and you will gradually access the variable Internet speed. This feature is useful in case if you often have to deal with slow, faulty Internet connection speed.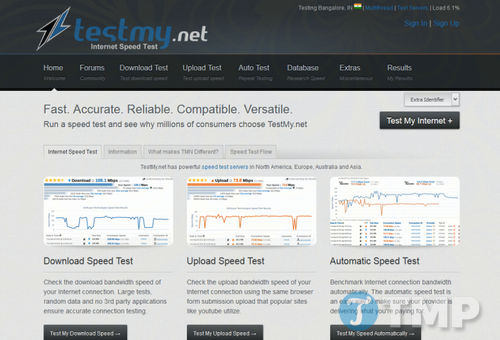 The results are presented graphically which is very convenient. Download speed tests are used to test upload speed by downloading files up to 200MB to your computer.
The website concept is generic and the additional stuff is rampant with advertisements. However, if you do not care about these issues, you can access and continue to use the website to test Internet speed.
3. Speed.io
Speed.io not only tests Internet connection speed and computer speed, but also shows errors and dangerous problems on your Windows computer.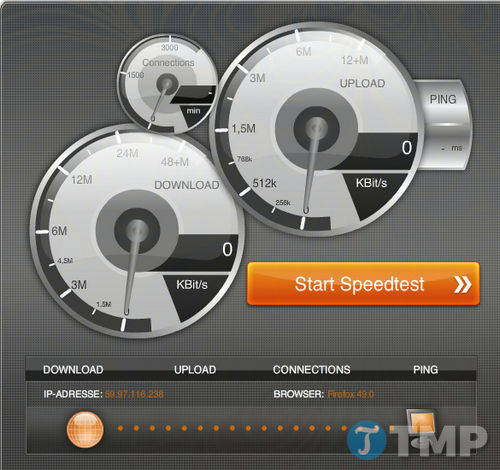 The results displayed on the website are quite meticulous and detailed. Each number is carefully estimated and the user can publish or share the result through social networks.
4. Speakeasy.net
Speakeasy.net starts by asking what country or city you currently live in. It is worth mentioning that if you do not live in the US or the country you live in is not shown in the list, what will you have to do? In case if your country is found, the website will start testing the Internet speed immediately.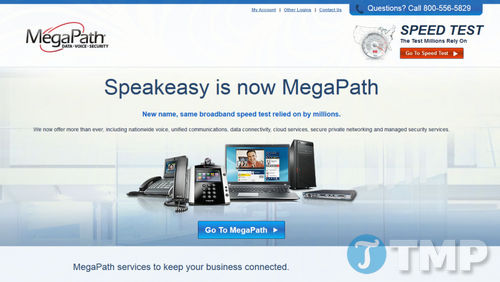 Up to 1 minute with 1 link attached, you can see the upload and download speed. Speakeasy.net is the ideal Internet speed test website for users living in the US.
5. Att.com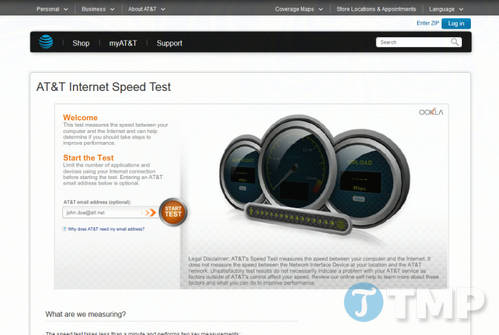 Through Att.com, the Internet speed test will show the same results, either way. The website provides the actual time required to download and upload common data. Therefore, Att.com is the ideal Internet speed test website for new users and familiar with computers, the results that the website displays are quite easy to read and understand.
Above Emergenceingames.com has just provided 5 effective and useful Internet speed test websites, you can use these websites to test and evaluate if the Internet connection speed is exactly what the service provider says. your Internet service promised or not.
https://thuthuat.Emergenceingames.com/5-website-kiem-tra-toc-do-internet-hieu-qua-27580n.aspx
In addition to the above services, Google has also launched a Google Search network speed test service with high accuracy that you can use. After using the above effective internet speed test sites, please give an assessment of which website you feel has the most accurate results in the comments section below.
Related keywords:
Effective Internet speed test website
Internet speed test website, Internet speed test website,
Source link: Top 5 effective Internet speed test websites
– Emergenceingames.com