Following the success of the previous game, Pumped BMX 3 was born with more characters, bicycles, vehicle control techniques, levels and more challenges. Therefore, you will definitely need Pumped BMX 3 tips to reach the highest score, shared shortly.
Pumped BMX 3 is an adventure sports game revolving around the art of bike dance, where you aim to perform as many stunts as possible and complete challenges with 24 different cycling control techniques like acrobatics or swing the bicycle. If you want to maximize your gaming experience and overcome all challenges with great results, pocket the high score Pumped BMX 3 tips in the article below.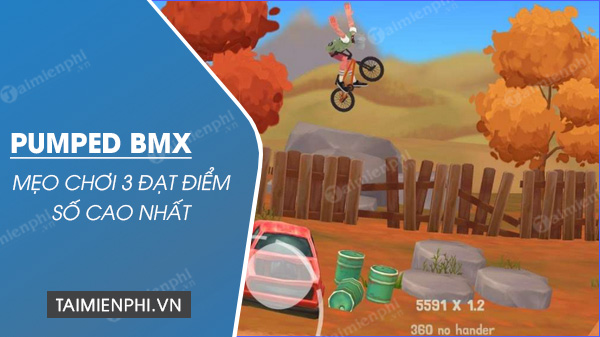 Instructions on how to play Pumped BMX 3 get the highest score
Tips to play Pumped BMX 3 get high scores
1. Repeat instructions
Usually, you can skip the in-game tutorial or just glance at the instructions given by the game. However, in Pumped BMX 3, you should watch the instructions many times to practice and test the vehicle control techniques to improve your skills before entering the challenge.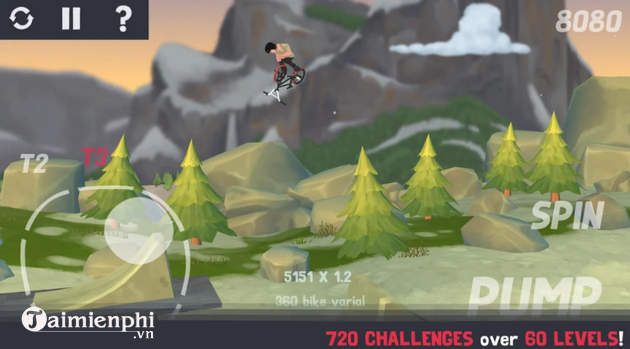 2. The basics of overcoming the distances
When riding a bicycle, there are a few basic things that you should keep in mind. First, you need to get momentum and speed to make a big leap on a steep ramp. Also, you need to master the rotation technique, which is one of your main moves in the game and one of the easiest techniques to do. Touch the button Spin to slow down and hold down if you want to speed up. Thus, you can cross the distances with ease.
3. Pump button: when should you press and release?
The answer is as soon as you jump. Make sure you release your finger from the Pump button while you are in the air. Push the button Pump again when you land but never hold the Pump button in any case while you are flying in the air. That will slow you down and you will not want your bike to slow down when you are crossing large distances.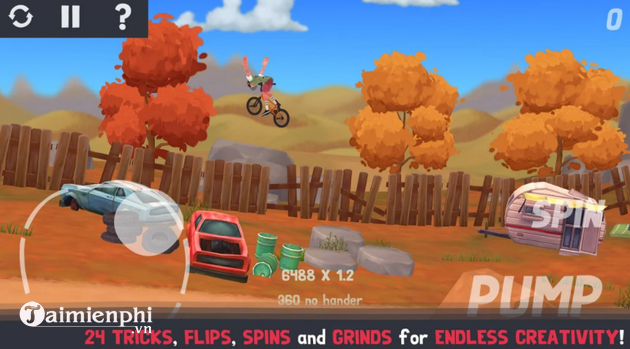 4. Perform advanced technique with the joystick
Use joystick in the game allows you to perform more technical moves like No Hands and Tailwhip. Performing these techniques helps you to increase your score quickly. Try these techniques and keep in mind how some of the joystick controls are better suited to the different techniques. You can also tilt your iPhone or Android phone for extra points. That will make your bike do a few more acrobatics, which you can then combine with some more to get more points.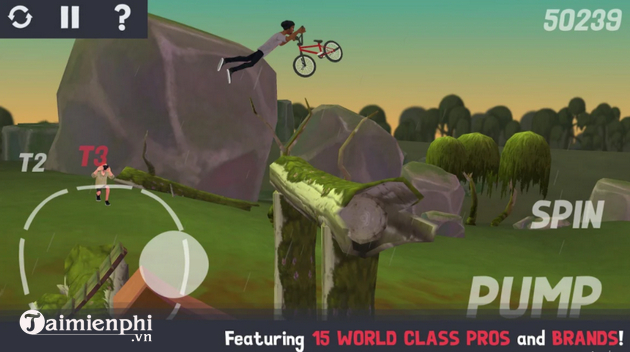 5. Don't tilt the phone too much
You should tilt the phone if you want to do some special techniques, but tilting the device will not give you better control of the bike because the game is highly responsive. That means acrobatics can go out of your way and cause your bike to lose control. Therefore, don't tilt the device too much and you need to make sure that you can land on both wheels because hand shaking can be the very fastest way to fail.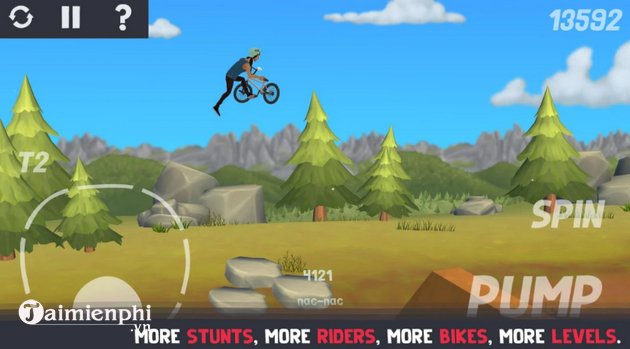 6. Combine different vehicle control techniques
Besides level 1 techniques, you also have more complex and dangerous level 2 techniques. These techniques make it harder to ride a bike, but if done right, you can get a significant score. If possible, do a sequence that combines 2 techniques at different levels. That will give you a better chance of getting medal at higher level.
Link download Pumped BMX 3 for Android and iOS:
=> Link download Pumped BMX 3 for Android


=> Link download Pumped BMX 3 for iPhone


https://thuthuat.taimienphi.vn/meo-choi-pumped-bmx-3-dat-diem-so-cao-nhat-62639n.aspx
Pumped BMX is a very challenging game and in order to perform successful cycling techniques to get the highest score possible, you need to spend some practice time, and combine with Pumped BMX tips. 3 shared in the post.
Related keywords:
meow pumped bmx 3
, tips to play Pumped BMX 3 game get high scores, How to play Pumped BMX 3 most effectively,
Source link: Tips to play Pumped BMX 3 achieve the highest score
– https://emergenceingames.com/