Birdie Crush is a golf sports game with beautiful anime graphics, where you will participate in authentic golf battles and compete with players around the world. In Birdie Crush, Crystal – the premium currency in the game will help you a lot in several respects and the article will share with you how to get Crystals in Birdie Crush.
Birdie Crush offers a completely different experience from regular golf games, as you bring you to colorful fantasy worlds and a cast of vivid characters coming out of the comic world. In the game, players will experience many different game modes such as friendly matches or tournaments with extremely unique design golf courses.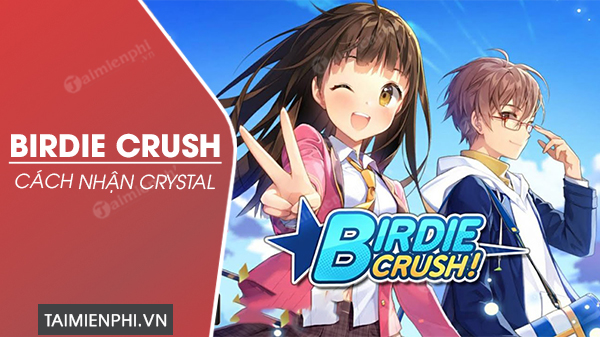 Instructions to get Crystal for free in Birdie Crush
Like other online mobile games, golf game Birdie Crush also has a premium currency called Crystal, which can be used to buy items such as character costumes, golf clubs, and more. If you are looking for ways to get gems in Birdie Crush, the following article is for you.
How to get Crystal in the game Birdie Crush
1. Buy Ctystal with real money
Download game Birdie Crush is the easiest and most direct way to get Crystals in the game. The game offers a variety of Crystal packages for players to choose from and after the payment is made, this premium currency will be transferred to your account and you can buy items in the store right after.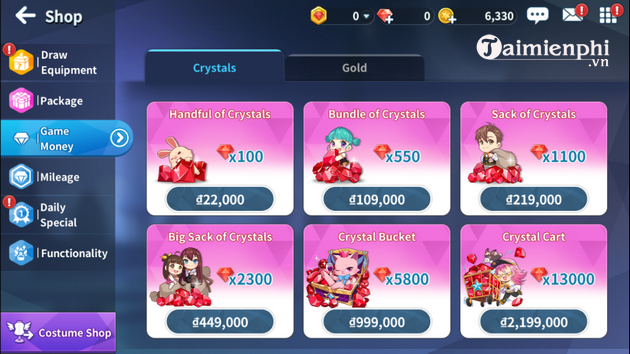 The game regularly launches deals when buying Crystal and if you pay attention, you can hunt for quite good deals.
2. Complete the trainee exercises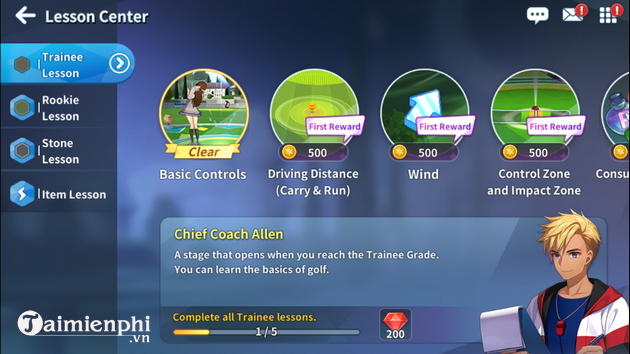 In addition to pocket money to buy Crystal game Birdie Crush, the developer also installs in the game a number of ways for players to earn free Crystals and trainee lessons are one of them. There are 5 trainee lessons (Trainee Lessons) in Birdie Crush and you can find them in the Lesson Center. After completing all of these lessons, you will receive 200 Crystals.
3. Complete daily and weekly missions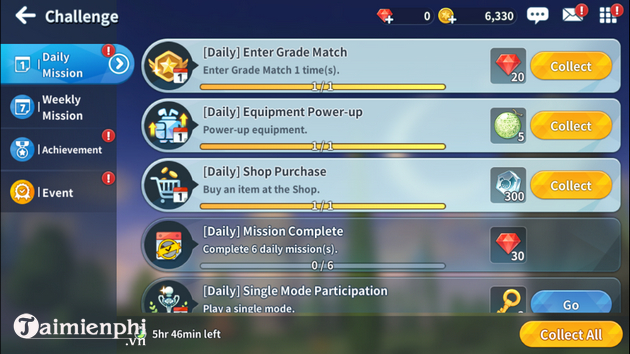 You can get many free gifts including Crystals by completing a series of daily and weekly missions. Daily tasks are tasks that you will need to do within 24 hours. These include joining matches and tournaments at least once, upgrading equipment … Meanwhile, the weekly quests have a time limit of 7 days. The nature of the quest is the same, but this time you'll need to join more matches, tournaments …
4. Achieve achievements in the game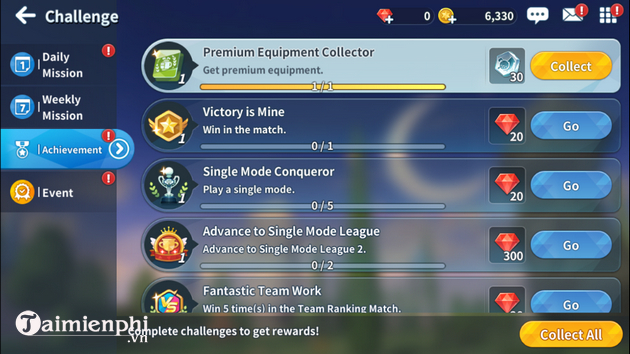 Achievements differ from quests in that they are not timed. These are the feats you have earned from the first time you started playing Birdie Crush so far. When you reach a certain milestone such as advancing to a certain tournament in Single Mode, winning 7 matches or getting 10 Birdies, you will receive gold, Crystals, upgrade stones …
5. Win matches
The winner usually receives a variety of rewards, including Crystals. Currently, the game offers 5 game modes that you can join such as Grade Match, Team Ranking Match or Single Mode and show off your golf skills to win and receive rewards.
6. Invite your friends to play the game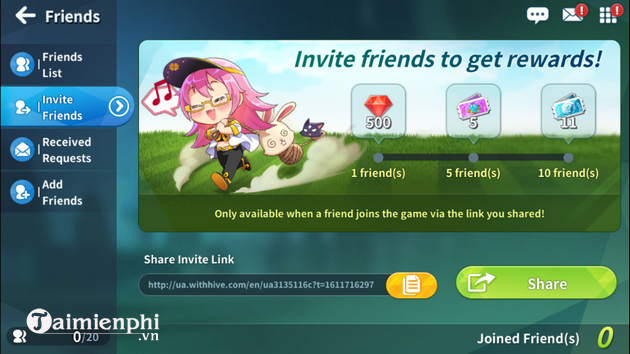 With friends playing Birdie Crush will make your gaming experience more fun and even better, you will receive 500 Crystals when introducing the game to a friend. To do that, you click on the icon located in the upper right corner of the screen next to the inbox and select Friends> Invited Friends and copy the game invitation link to send to your friends. After that friend clicks on the link you shared, you will immediately have 500 gems in your account.
Link download Birdie Crush for Android and iPhone:
=> Link Download Birdie Crush for Android


=> Link Download Birdie Crush for iPhone


https://thuthuat.taimienphi.vn/cach-nhan-crystal-trong-game-birdie-crush-62584n.aspx
Above are some of the easiest ways to get Crystal in the game Birdie Crush. If you can afford it, you can buy Crystals directly in the store so you can instantly shop for your character. If not, you can accumulate gems slowly by completing the quest list, reaching all achievements and winning matches. In addition, you can also refer to the top golf game on Mobile here to experience.
See also: Top best mini golf game
Related keywords:
Crystal staff in birdie crush game
How to get Crystal in the game Birdie Crush, How to get Crystal for free in the game Birdie Crush,
Source link: How to get Crystal in the game Birdie Crush
– https://emergenceingames.com/