Pirate Kings is one of the strategy games with a simple and easy way to play, but winning in Pirate Kings is not easy. This article summarizes some tips to help you win the game Pirate Kings. If you have not joined the game, please quickly download Pirate Kings to experience the attraction of this application
In previous posts we have shown you how to play Pirate Kings on Facebook You can refer more. This article will introduce you to some of the secrets of winning in the Pirate Kings game, breaking the Pirate Kings game island very quickly.
The secret to winning in the Pirate Kings game, breaking the Pirate Kings game island very quickly.
As mentioned above even though How to play Pirate Kings It's simple, but to win in Pirate Kings is not easy, download Pirate Kings to experience this easy but difficult feeling today.
Depending on the operating system and device you are using, please quickly download Pirate Kings
* Download Pirate Kings for windows
* Download Pirate King for iPhone
* Download Pirate King for Android
1. Connect to Facebook.
As a strategy game that is causing storms on Facebook, when playing Pirate Kings, connect them to Facebook to increase your chances of spinning the wheel of fortune – which helps you become the Pirate King.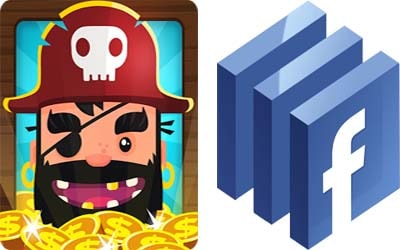 When connected to Facebook, you have the opportunity to increase 20 spins of the lucky wheel by inviting friends to play the game.
2. Make the most of the spin of the wheel of fortune.
When participating in the game is also the time when you play the role of a pirate to become the Pirate King, you need to make the most of the spin of the lucky wheel that you have. According to the game rules, every 1 hour you get 5 extra spins and this extra spin is only applied when your total remaining spins are less than 50 rounds if more than 50 spins your spin will not be awarded. extra work. So take advantage of your spins.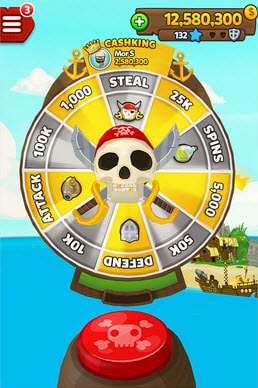 3. Use Attack effectively.
When you return to Attack/Attack means you have 1 chance to attack the opponent's house 1 time. To use Attack effectively, first consult in the shop to see which buildings have high value, then turn to the island you intend to attack to determine the attack target and of course you choose for yourself. the most valuable buildings on that island and then attack to get the highest score possible.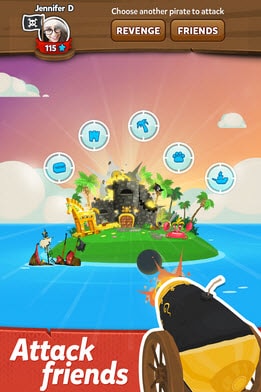 4. Solid defense.
Already a strategy game with attack must have defense if you return to Defend, it means you get an extra defensive shield. The addition of a defensive shield helps your island stand up to attacks from the enemy, usually players often attack islands with signs of previous attack so pay attention to your shield count.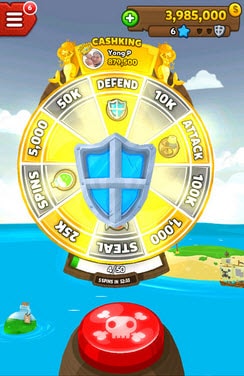 Please replenish the shield as soon as necessary
Attention

The number of shields allowed in the game is 3. Having more than 3 shields is not possible, so be careful to use them.
5. Get Daily Bonus.
This is the opportunity to get 1 coin per day to receive valuable in-game rewards. When participating in the game for 5 days, the Daily Bonus feature will allow you to open the secret box to receive the reward, so take advantage of the opportunity to receive the Daily Bonus every day.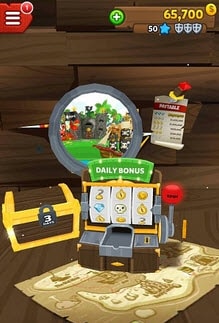 6. Accurately identify the rich islands.
When attacking the enemy you expect to bring back items of high value, but determining the rich islands depends on the element of luck, there are only a few signs to recognize wealth such as: yes beautiful appearance shows wealth, signs of attack but not yet…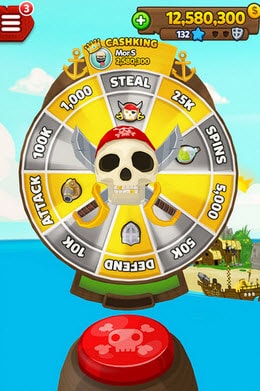 When attacking you can attack islands that show signs of being attacked, which gives you a chance to get 300,000 gold if successful.
7. Do not accumulate much gold.
This may seem like an absurd piece of advice, but it is absolutely true in the Pirate Kings game. When playing Pirate Kings we should not accumulate too much gold, as soon as your score is enough to buy or upgrade any building on the island, do it right away, if you have a lot of gold, your name will enter the TOP. "rich man" makes your opponent notice and attack you.
8. Choose Find the Next at the right time.
When you finish building an island, it's time to start building another island, to switch to building another island, choose Find the Next. Your mission in Pirate Kings is to conquer 7 beautiful islands. If completed, you have destroyed the Pirate Kings island so find the Next as soon as an island forms.
Above are 8 secrets to help you have an advantage over your opponent in the Pirate King game, to win in Pirate King requires you to have the ability to attack accurately and the ability to create effective shields/defends,
Related keywords:
Make Pirate Kings knife fast
the Pirate Kings ladder is fast, the Pirate Kings knife is free,
Source link: The secret to winning in the Pirate Kings game, breaking the Pirate Kings game island very quickly.
– https://emergenceingames.com/