As you all know Among Us allows the player to customize the character using a variety of items such as skins, hats and pets. You can apply different ways to get these items in the game. In this article, Taimienphi.vn will share with you some of the simplest ways to get skins, pet Among Us.
Hats, skins and pets Among Us Available as paid items, free items, and exclusive items that you can unlock during various events. The variety of these items varies between the version of the game you are playing. On the mobile version, many hats are provided for free. Meanwhile, all hats and skins are free on the PC version, but pets must be purchased for real money on both platforms.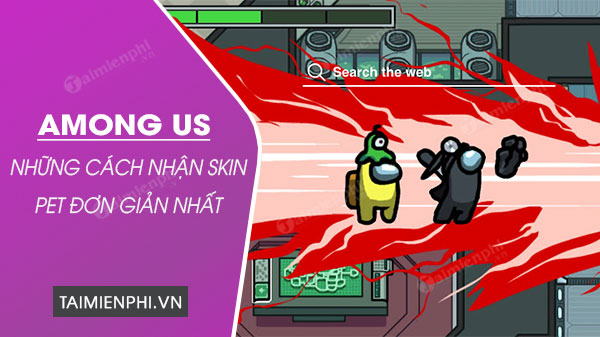 Instructions on how to get Pets and accessories in Among Us
You'll also want to be careful when using hats and specific pets because of their presence they can make you easy to spot when you're trying to run away as an impostor. But if you are just playing for fun, this is the fastest way that you can apply to get hats, skins and pets Among Us.
The easiest ways to get skins, hats and pets Among Us
1. Take advantage of free items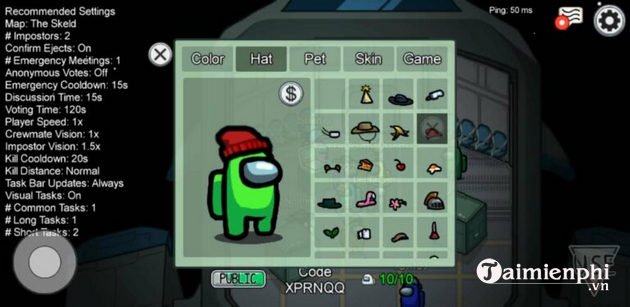 Fortunately, Innersloth has provided many different types of items that you can use completely free. All you have to do is, after entering the lobby, just glance at the laptop in one of the blocks. A menu will appear where you can choose from a variety of hats to equip your Among Us character.
2. In-app purchases
Among Us is a free-to-play game, but developers Innersloth still have ways to make more money from it. Some items such as skins, pets and other themed items are available in the game as paid items. That is, you have to spend money out of your own pocket to own those items. You go to the laptop in the lobby and click on the USD icon. A new menu will appear where you can view your entire wardrobe filled with flashy fashion items. You can even pick out what you like and try them out before you buy. Each item will typically cost between $0.99 – $2.99 ​​USD.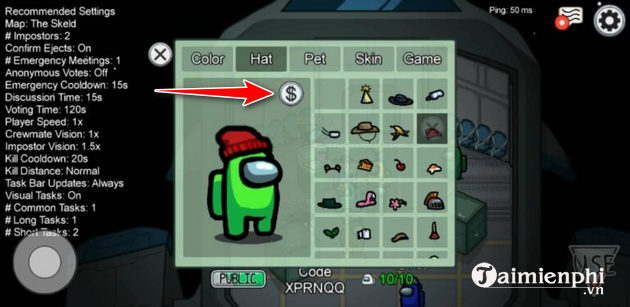 A popular way that gamers often apply to earn free items is through the mod version of Among Us. However, you shouldn't because they go against Innersloth policy. If you want to show your appreciation to the developers for making this game for you to play, then this is the best way to do so.
3. Follow the store during the festive seasons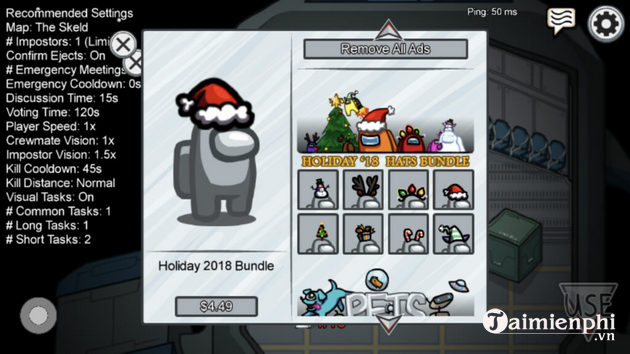 Among Us is always on trend. Every festive season like Halloween, Christmas or Easter, you'll see a number of exclusive and themed items available in the store. These items are sold for a limited time and that makes them very rare. If you are also someone who always keeps up with fashion trends, don't miss that opportunity in Among Us.
4. Choose the Among Us PC version to own a larger wardrobe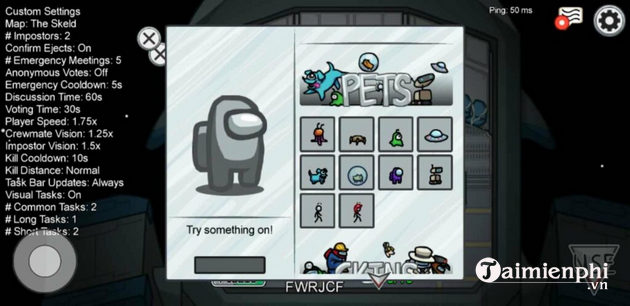 Among Us for PC costs $3.99. On this platform, you will own a richer collection of times because all hats and skins are free. However, you will need to pay to buy a pet.
Among Us download link for Android and iOS:
=> Link Download Among Us for Android


=> Link Download Among Us for iPhone


Above are the fastest ways to get hats, skins and pets in Among Us. These items simply act as decorative items, beautifying your character Among Us. Therefore, you can take advantage of free items instead of spending money to buy them.
https://thuthuat.taimienphi.vn/nhung-cach-nhan-skin-pet-among-us-don-gian-nhat-62213n.aspx
Also you can refer to how to get Jason Mask in Among Us completely free through the tutorial below.
See also: How to get Jason Mask in Among Us
Related keywords:
How to make skin and pet among us don't spend time
, How to get skins in Among Us, how to get Pets in Among Us,
Source link: The easiest ways to get skins, pet Among Us
– https://emergenceingames.com/