With the support from Apple in Dualshock 4 compatibility, playing mobile games is now pretty easy. However, not all games that support PS4 controllers on iOS play 100% well, so it would be a pity if you buy them to buy and play without a favorite title. Today nShop sends you a list of games that support PS4 controllers on iOS for easy checking!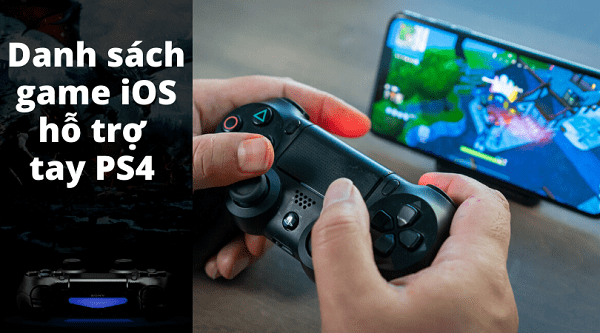 See more: Connect the PS4 controller to the phone without neglecting the following accessory
List of games that support PS4 controllers on iOS
This list of games that support PS4 controllers on iOS is updated by MacWorld and shared by gamers, nShop will also update regularly for you to follow:
A Fold Apart *
Agent Intercept
Atone: Heart of the Elder Tree *
Ballistic Baseball *
Beyond Blue *
Big Time Sports *
Bleak Sword *
The Bradwell Conspiracy *
Butter Royale *
Cardpocalypse *
Charrua Soccer *
ChuChu Rocket! Universe *
Cricket Through the Ages * (iPad only)
Crossy Road Castle *
Dead End Job *
Decoherence *
Discolored
Dodo Peak
Don't Bug Me! *
Doomsday Vault
Down in Bermuda
Dread Nautical *
EarthNight *
Exit the Gungeon *
Explottens
Fallen Knight *
Fledgling Heroes *
Frogger in Toy Town *
The Get Out Kids *
Grindstone *
Guildlings
Hexaflip *
Hogwash
Hot Lava
INMOST *
HyperBrawl Tournament *
Jenny LeClue — Detectivu *
Jumper Jon *
King's League II
Kings of the Castle
Legend of the Skyfish 2 *
LEGO Brawls *
LEGO Builder's Journey *
Lifelike: Chapter One *
Lifeslide *
Loud House: Outta Control *
Manifold Garden *
Marble It Up: Mayhem!
Mind Symphony *
Monomals *
The Mosaic *
Murder Mystery Machine *
Mutazione
Neo Cab *
Neversong *
Nightmare Farm
No Way Home *
Oceanhorn 2: Knights of the Lost Realm
Operator 41 *
Overland *
Over the Alps * (It's wonky, though.)
Pac-Man Party Royale *
Painty Mob *
Pilgrims
Pinball Wizard *
Projection *
Punch Planet *
Rayman Mini *
Red Reign
Redout: Space Assault
Rosie's Reality *
Roundguard *
Sayonara: Wild Hearts *
Scrappers *
Secret Oops! * (It plays better with touch controls, though.)
Shantae and the Seven Sirens *
Shinsekai: Into the Depths *
ShockRods *
Skate City *
Sneaky Sasquatch *
Sociable Soccer *
Sonic Racing * (iPad only)
Spaceland
Speed ​​Demons * (iPad only)
Spelldrifter *
Spidersaurs *
SpongeBob: Patty Pursuit *
Spyder *
Star Fetched *
Stela
Stellar Commanders *
Stranded Sails *
Super Impossible Road *
Super Mega Mini Party *
Tangle Tower *
Things That Go Bump
Towaga: Among Shadows *
Towers of Everland *
UFO on Tape: First Contact *
Ultimate Rivals: The Rink *
Unleash the Light *
Various Daylife *
Way of the Turtle *
Word Laces *
What the Golf? *
Yaga: The Roleplaying Folktale *
How to see games that support PS4 controllers on iOS or not
Besides the above list, sometimes there are games that have just launched on Apple Arcade but do not have specific information, you can quickly check whether games that support PS4 controllers on iOS are by looking at the Controller icon ( Figure below) to be Support or not!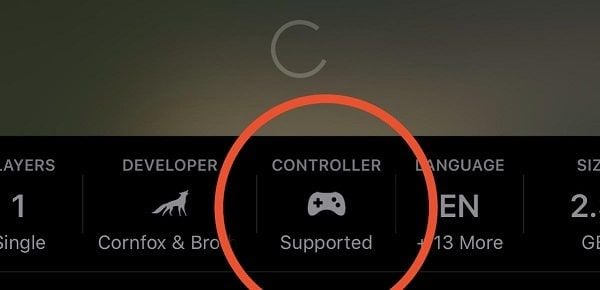 PS4 controller games on iOS have the Support icon as shown in the picture …
Interesting revelation: What is the LS button in PS4? Which node is LR? What about L3 R3?
New users of Dualshock 4 for the first time will be surprised by the question: What is the LS button in PS4? Sometimes the game tells you to press L3 and R3 again, but look on the handle nowhere. In fact, LS stands for Left Stick and similar to RS is Right Stick: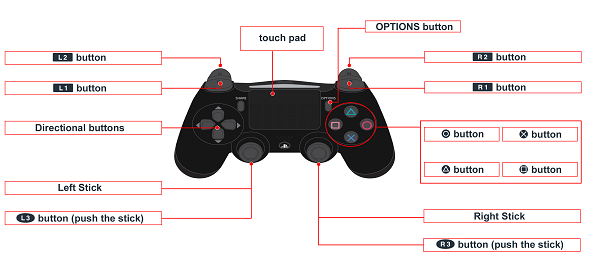 LS button in PS4 = Analog left
L3 = Left analog pressed down according to settlement force
RS button in PS4 = Analog right
R3 = Analog must press down on the settlement force
Dualshock 4 handle design, the analog part can be pressed down (remember that pressing down like you press a button does not have to pull the analog down) as a key press. Some games like FIFA or PES, this L3 R3 button has its own effect, so if you don't know it, you will be 'secret game' in a way not worth it!
Maybe you are interested: Is the old PS4 controller worth buying?
Original PS4 handheld products sold at nShop

Source link: List of games that support PS4 controllers on iOS
– https://emergenceingames.com/