The following article will guide you how to install the mouse to shoot better in PUBG, an extremely important factor in shooting games, directly affecting the outcome of a gunfight, whether you have pro skills but if you can't control the mouse, everything will be a disaster.

Competitive shooters like CS: GO, R6S, CF or PUBG always need gamers with quick reflexes, good alignment and mouse centering skills to be able to defeat opponents quickly.
Tips for setting the mouse to shoot better in PUBG
– Download game PUBG.
If you want to be able to improve your aiming and further progress to becoming a professional gamer in competition, you won't be able to get through this guide on how to set up your mouse to shoot better in PUBG.
How to set the mouse to shoot better in PUBG
1. Choose a good mouse
Surely the first thing that is important is that you need to own a good enough mouse, then you can consider how to install it well. Currently on the device market there are thousands of different types of mice and many of them are mice that are not qualified to play shooters, let alone bad items.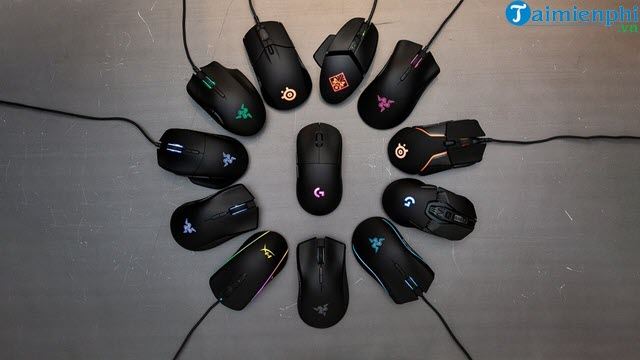 If you are a person with a bit of money to spare, you can aim to buy professional gaming mice, the price of these mice is usually not less than 1 million VND but the experience they bring when playing Shooting games are unquestionable. You can refer to the top gaming mouse 2019.
However, if you are not too rich to be able to invest in an expensive gaming mouse, try to buy mice in the price range from 200,000 to 500,000 VND to at least ensure the quality and accuracy. durable and can still play the game well. In addition, you should also choose mice from famous and highly versatile brands such as Logitech, Fuhlen, Steelseries… Apple or Microsoft's are not bad products, but their mice are not as versatile and often not suitable. suitable for gaming.
2. Mouse sensitivity settings
After owning a relatively satisfactory mouse, now is the time to start with the first settings. In any game where you have to control a character, that game will always have a setting called Mouse Sensitivity or gamers often call the mouse sensitivity has an index of 1 – 100. Settings are extremely important in shooting games, but each game has a different way of adjusting mouse sensitivity, for example CS: GO gamers often set very low settings, usually less than 10. So what about PUBG so what.
Mouse sensitivity settings in PUBG
Because the environment in PUBG is much larger than in CS: GO with many tight areas, so the hover mechanism of PUBG is also different and the mouse sensitivity usually ranges from about 30 to 50. Mouse Sensitivity is ideal for many people. The most chosen gamer when playing PUBG is from 40 – 45, lower than the default sensitivity of 50. But PUBG has a few more aiming mechanisms other than CS: GO when there are 8 hover mechanisms, which means 8 mouse sensitivity.
– General Sensitivity: This is the sensitivity of the mouse when you move normally without aiming. The ideal sensitivity chosen by many players is 43.
– Targeting Sensitivity: This is the sensitivity of the mouse when you aim with the center of the screen. The ideal sensitivity falls between 40 and 42.
– Scoping Sensitivity: This is the jump when you aim to shoot through the head of the fly or the scope accessories in the game. There are 7 types of normal sights such as Red Dot Sight or Holographic Sight, binoculars 2X, 3X, 4X, 6X, 8X and 15X. Professional gamers often meticulously adjust the sensitivity for each type, but if you just want to shoot better, you should let the general sensitivity of all 7 types of aiming range from 35 to 39.
– Vehicle Driver Sensitivity: This is the sensitivity of the mouse when you sit in the car to observe, you do not need to care too much about the sensitivity of this custom, just leave the default at 50.
– Vertical Sensitivity: This is the ratio of movement between the vertical and the horizontal of the mouse. The default is 1.0, which means the motion sensitivity between vertical and horizontal is equal. Some professional gamers reduce this ratio to about 0.7, this reduces the sensitivity of the mouse vertically by about 70% compared to the horizontal, this customization helps the player to control the recoil of the gun. in a more stable way
3. DPI setting
Maybe many people do not care or do not know this stat, but when you want to play shooter seriously, you should learn more. DPI stands for "Dots per Inch", which is the number of Pixels that the mouse pointer moves on the screen relative to each inch you hover. So if your DPI is 500, your mouse pointer will move 500 Pixels on the screen with 1 inch you hover, which also means that the higher the DPI, the more Pixels you can move but you don't have to move. mouse is too wide.
But with shooters, high DPI can lead to a situation where you don't hover much, but the focus on the screen is still greatly deviated, causing you to miss the target. So gamers who play shooting games often don't let the DPI be too high, in addition, depending on the skills of each person, they will set a suitable DPI for their mouse.
Custom software that comes with a professional gaming mouse
According to research based on many professional, amateur and amateur shooter gamers, up to 90% of PUBG players set DPI at 800 or less. A moderate parameter so that the player does not lose control when hovering. However, for players who use a large screen with a large mouse pad, the DPI level they often use is 400 or less, because just a small movement of the mouse can cause the center of the gun to deviate a lot on the screen. large image.
Some mice have built-in DPI adjustment buttons right on the mouse so that players can quickly adjust DPI as they like. Gaming mice will often have very detailed customization software included. However, if your mouse does not have both of the above, you can still adjust the DPI through the tutorial article Adjust mouse speed on Windows 10, 8, 7 . Each bar on Pointer Speed ​​corresponds to 100 DPI values, this adjustment is not as detailed to each value as professional mice, but still helps you change the DPI speed of the mouse.
4. Professional Gamer Mouse Setup
Below are the mouse sensitivity settings of some professional PUBG gamers for your reference.
Every professional gamer usually has its own settings
– Jim "Jeemz" Eliassen – Team Liquid:
DPI – 800
Vertical Sensitivity – 1.00 (1:1)
General Sensitivity – 30
Targeting Sensitivity – 20
Scope Sensitivity (2X to 15X) – 20
– Smake – Team SoloMid:
DPI – 400
Vertical Sensitivity – 1.00 (1:1)
General Sensitivity – 35
Targeting Sensitivity – 35
Scope Sensitivity (2X to 15X) – 35
– mxey – Faze Clan:
DPI – 400
Vertical Sensitivity – 1.00 (1:1)
General Sensitivity – 32
Targeting Sensitivity – 32
Scope Sensitivity (all viewfinders) – 32
– Shroud – Former CS:GO player of Cloud9 team, now a professional streamer
DPI – 450
Vertical Sensitivity – 1.00 (1:1)
General Sensitivity – 55
Targeting Sensitivity – 55
Scope Sensitivity (ADS to 6X) – 50
8X and 15X Scope Sensitivity – 47
Shroud and his gaming mouse
Shroud is a gamer with extremely good mouse control skills when playing shooters, so he has a relatively high jump setting compared to other gamers.
https://thuthuat.taimienphi.vn/cach-cai-dat-chuot-de-ban-tot-hon-trong-pubg-52153n.aspx
Remember, each person will be suitable for their own customization because it depends on a lot of factors from hand structure, type of gaming accessories they use and the ingenuity of each person. You can refer to professional players but then, through your own experience, find out your own mouse sensitivity settings to shoot better in PUBG. Besides, check out the tips clearly hear footsteps in PUBG here
Related keywords:
mouse settings in PUBG
, the correct way to get better in PUBG, how to change the game to ban PUBG,
Source link: How to set the mouse to shoot better in PUBG
– https://emergenceingames.com/