Just using VideoShow, users will not need to install any other video editing applications on the phone when it has all the necessary tools or features that the editor wants, especially when it comes to video editing. Installing and using VideoShow is very simple and easy to understand.
Referring to video editing applications on phones, users often remember names like FilmoraGo or Adobe Premiere for professional users. However, if you are just an ordinary user with the need to merge music into videos, cut content, create effects… just right, Taimienphi will introduce you to how to install and use VideoShow on compact phones, easy to familiarize with non-specialist users.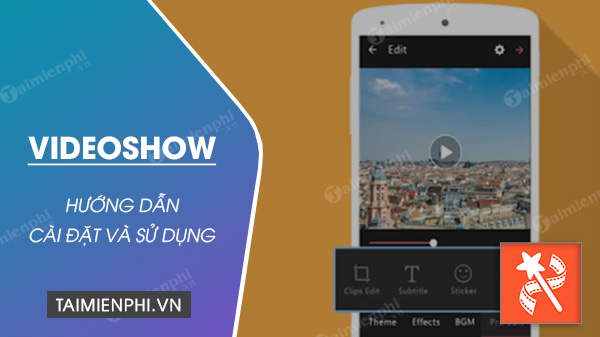 Install and use VideoShow on your phone
Detailed instructions for installing and using VideoShow
How to install and use VideoShow on iPhone and Android phones is relatively similar. In the article, Taimienphi uses an Android device to illustrate the tutorial.
Step 1: Download VideoShow for iPhone or Android in the link shared below.
=> VideoShow download link for Android


=> Link to download VideoShow for iPhone


Step 2: At the application download screen press the button Setting. After the installation is complete, the user accesses VideoShow and clicks OK on the notification to provide the rights to use documents and media on the device.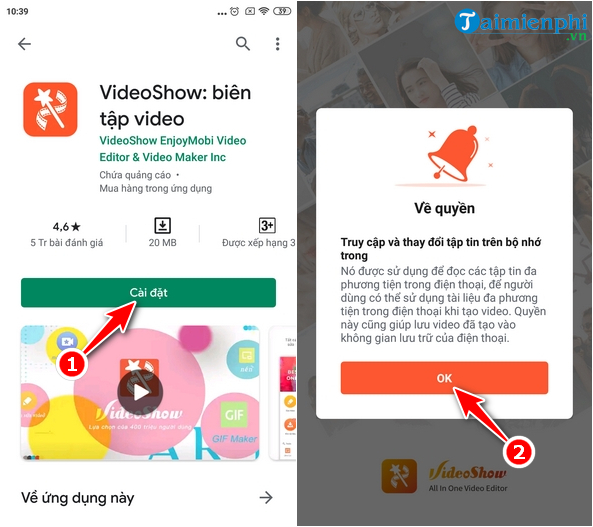 Step 3: To use videoShow with full functionality, you will need to pay a monthly maintenance fee. However, for now, press the . button 3 days for free to try before making a buying decision.
The initial default working screen of VideoShow will display like the image below.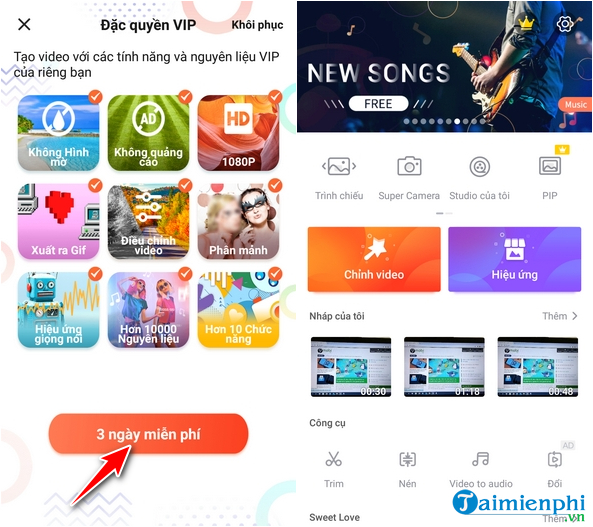 Step 4: To use VideoShow editing, video editor you click the button Video editing. Select the video to edit on the device, then press the . button Next.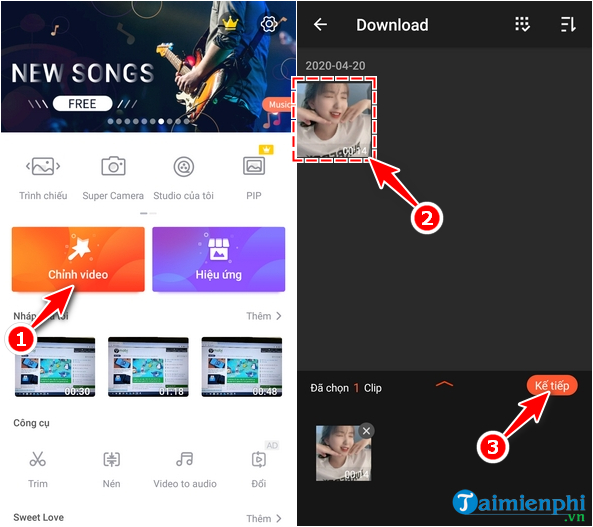 Step 5: In the Editor screen, you will see the video editing functions fully displayed in the list, including:
– Topic: Tools, effects to change video color by theme
– Sound: Cut music into video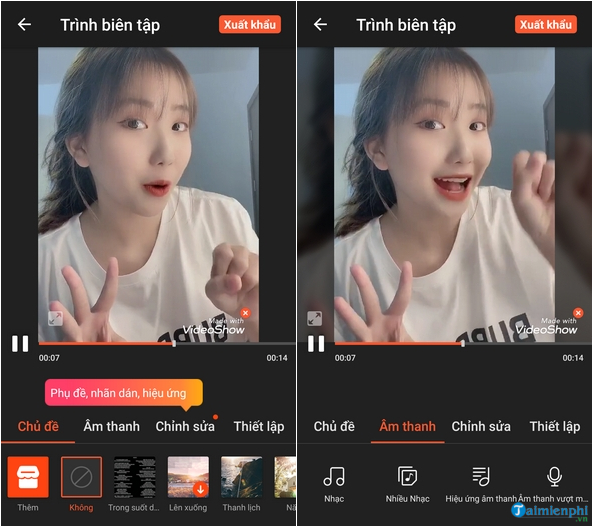 – Edit: Crop content, add effects, filters,… for videos
– Establish: Change screen ratio, background image and sound effects.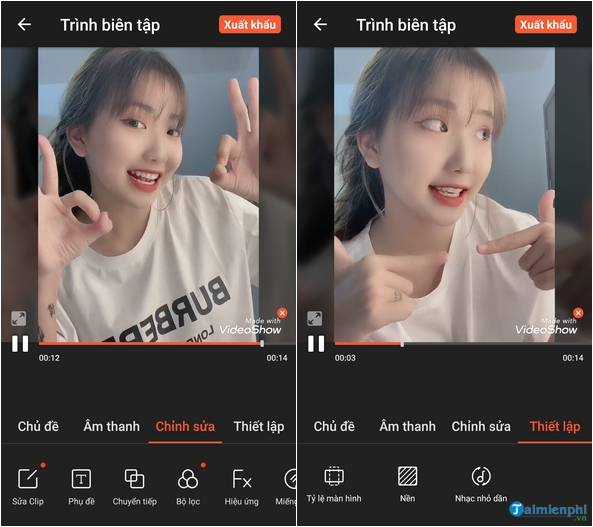 Step 6: After completing the editing steps, click the . button Export.
To save the edited video on your device, press Save to gallery. In addition, VideoShow also provides other options for users such as quick sharing via Facebook Messenger, Youtube, Instagram, … for you to choose.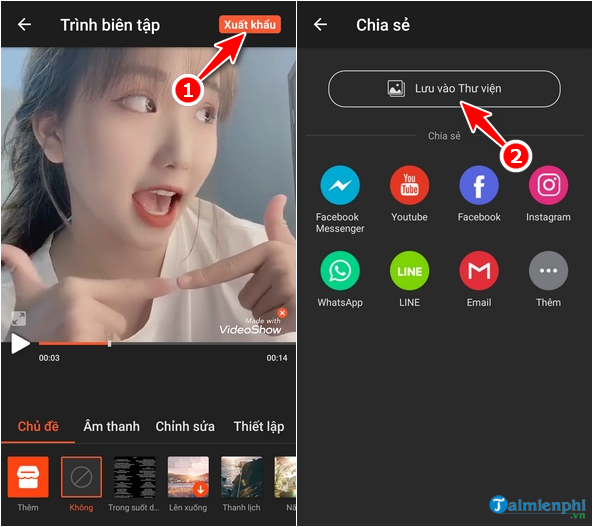 Step 7: Choice of video output mode, with the free version users can only choose Quick mode with normal image quality in a compact size. Or HD mode with sharp image quality but large capacity.
After successful editing, the video will be automatically saved on the device's memory. The screen will display a message as shown below.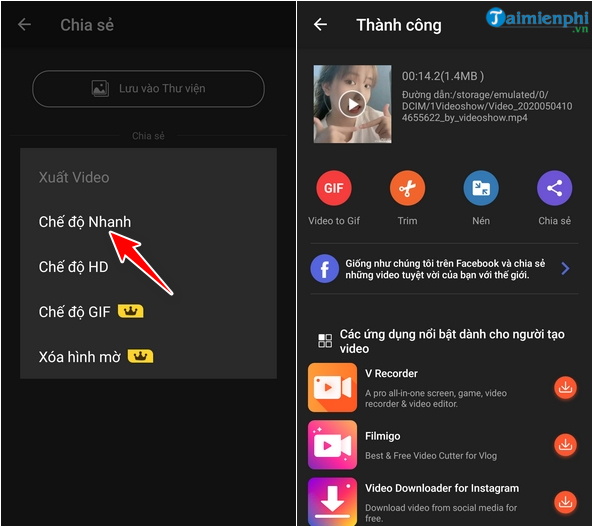 https://thuthuat.Emergenceingames.com/cach-cai-dat-va-su-dung-videoshow-58230n.aspx
So through 8 steps, Taimienphi has finished showing you how to install and use basic VideoShow. Hopefully, with the sharing in the article, it will help you to cut and edit videos as you like, soon to have a beautiful work that many people love.
Related keywords:
use VideoShow
install VideoShow, install and use VideoShow,
Source link: How to install and use VideoShow
– Emergenceingames.com