The gmail 2-layer security feature by phone number makes our mailbox safer, when logging in to gmail, it is required to have an activation code from Google to be able to access it, and track how to activate it. How about 2-step verification or gmail 2-layer security?
Regime Gmail 2 layer security to help you secure your Gmail inbox, when you activate this mode every time you log in, you need to verify through 2 steps to be able to access your account, to know how to activate secure mode 2 class for Gmail, 2-step verification in gmail, please follow the article below.

Download Gmail for Mobile devices
* Download gmail for iPhone phones: Gmail for iPhone
* Download Gmail for Android phones: Gmail for Android
How to enable 2-layer security for Gmail
Step 1: You log into Gmail, go to your gmail account, click on your account profile picture then click My account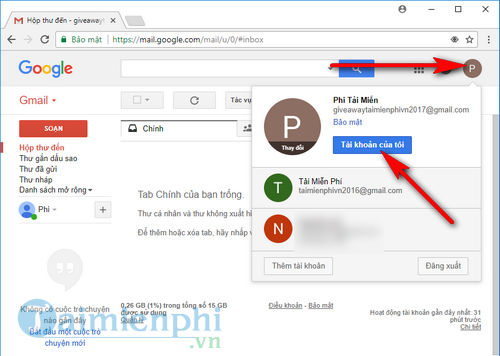 Step 2: In the new interface that appears, click on the item Login and security to set up security for your account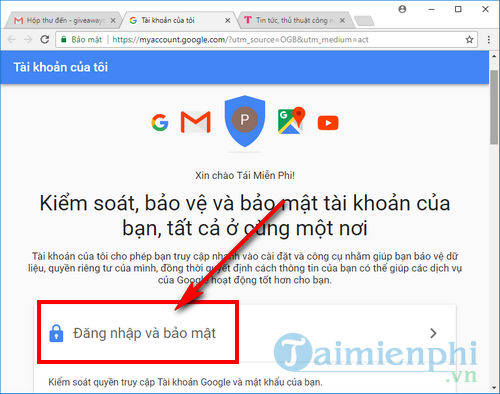 Step 3: Click 2-Step Verification to set up gmail 2 layer security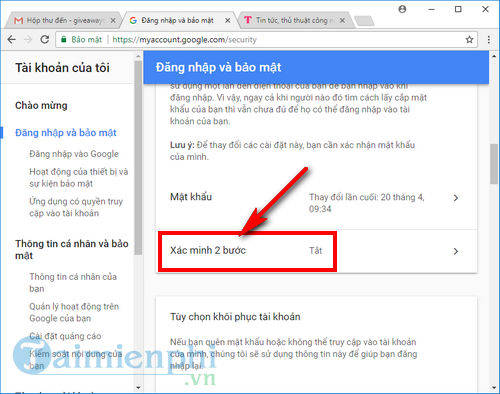 Step 4: The next window will display and introduce 2-step security. Press Begin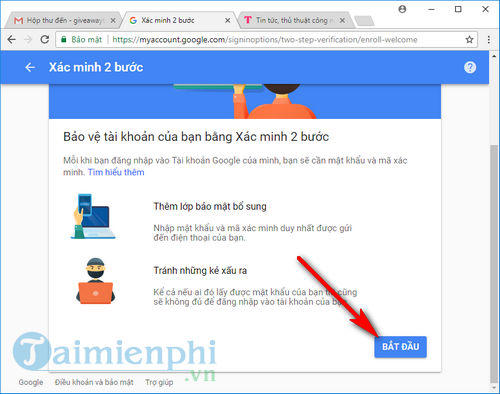 Step 5: You will have to re-enter your account password for Gmail to verify you are the correct owner of the account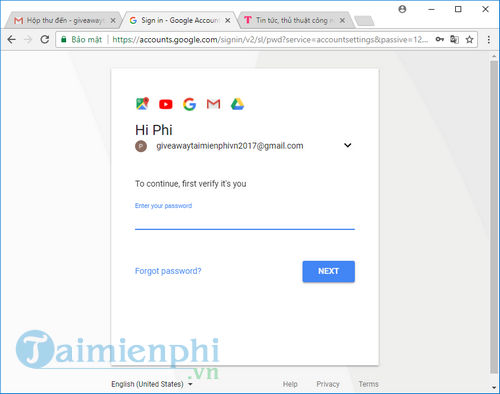 Step 6: Enter your phone number in the field What phone number do you want to use?
In the section How would you like to receive the code? There are 2 options for you to receive a verification code when you access your Gmail account next time:
– Text messages: Receive the code via text message sent to your phone
– Phone call: Get the code via Google's automatic agent
Choosing between the two options above is up to you. Then click Next to go to the next Gmail 2-step security setup step.
Step 7: Confirm the computer you are using is trusted or not in the next interface
Section Confirm phone number works the service will immediately send to the phone number that you entered in the above step into a series of numbers, use this number to fill in the box. Insert code and verify phone number.
Finally press next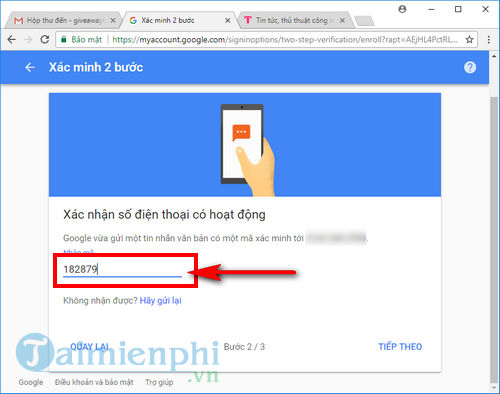 Step 8: Press Turn on to complete the process of activating 2-layer protection for Gmail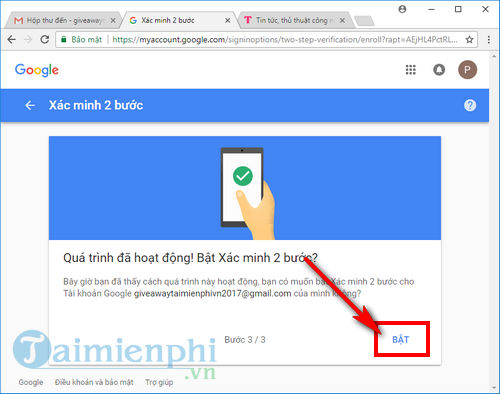 Tips However, if you lose your phone or your phone doesn't receive a text message containing a code from Google due to a dead battery, damaged, etc., Google also provides a backup code. These 10 backup codes will be substituted for step 2 verification (use 1 of these 10 codes at random). Select Show backup codes to see these codes.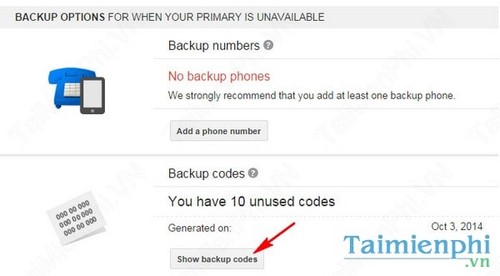 In the window Print backup verification codes will display your 10 backup codes, please save it for easy use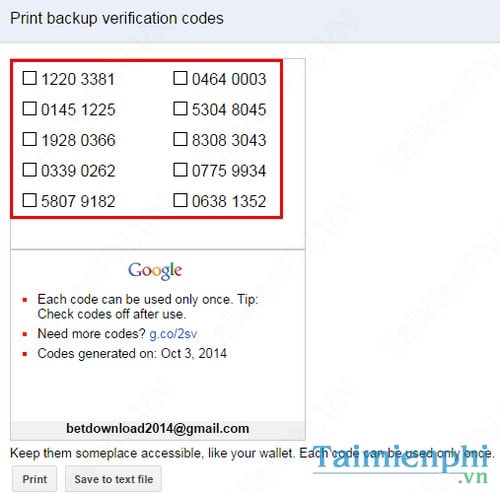 And this is the interface where you have to verify 2 layers by entering the code sent to your phone to log in to your Gmail account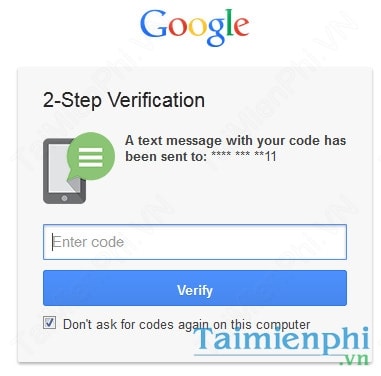 With Gmail's 2-step security layer, you can completely rest assured when using this service, avoiding bad guys logging into your account.
When you log in after activating 2-factor security on Gmail, you will be asked if the computer you are using is trusted, if the computer you are using is a personal computer only you If you use it, you should choose Trust this computer the next time you log in, Gmail will not ask you to enter the 2-step verification code anymore, but on other computers, you still have to enter the verification code normally.
Above, we have guided you through the steps to enable 2-layer security in Gmail, so that your Gmail account will be absolutely protected to avoid unauthorized access from other users. In addition, you can refer to change gmail phone number to use another phone number as 2-step security or way block spam in Gmail, … to use Gmail effectively.
https://thuthuat.Emergenceingames.com/kich-hoat-bao-mat-2-lop-cho-gmail-2590n.aspx
Signing up for gmail with a phone number makes it easy for users to create 2-layer security for their account, however, if you don't like using your phone number to create a gmail account, please refer to how register gmail without phone number verification that we have introduced, with this way to register gmail without phone number, you can completely register multiple gmail accounts more easily.
Related keywords:
gmail
gmail 2-layer security, 2-step verification in mail,
Source link: gmail 2-layer security, activate 2-step verification in gmail
– Emergenceingames.com