Building a pure Chakra squad in Naruto Dai Chien mobile helps you use great damage, control high opponents. If you like magic, let Taimienphi.vn immediately build a pure Chakra squad in the game Naruto Great War.
God Ma KOK and Naruto Great War can be considered the hottest Mobile games recently. However, the gameplay of these two games is completely different. In Naruto the Great War is a turn-based, team-building style. As for God Ma KOK, you are immersed in the world of European Mythology to roam around with your character, fighting monsters and dark forces. These games require users to have a Smartphone to be able to play.
However, without a phone, you can still "immerse yourself" in this game on your PC or laptop with Bluestacks software. Way play Naruto the Great War on Bluestacks quite popular with users. While holding the phone's battery, you can experience the Mobile game with the size of the PC screen. Here Taimienphi.vn will guide you to build a Chakra squad, a pure magic squad in the game Naruto Great War mobile.
Build a pure Chakra squad in Naruto Great War mobile:
If you haven't downloaded the game yet, you can download it here.
Download Naruto Great War Android: Naruto Great War Android
Download Naruto Great War iPhone: Naruto Great iPhone
Pure Chakra lineup in Naruto the Great War.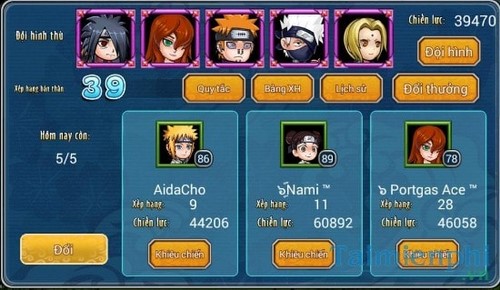 1. Tsunade
As a Tank for the squad, with the Kage skill to reduce damage and increase stamina Tsunade is a champion worth taking the top damage for the whole team. Moreover, Tsunade also has skill 3 to stun the opponent squad and skill 1 to buff health.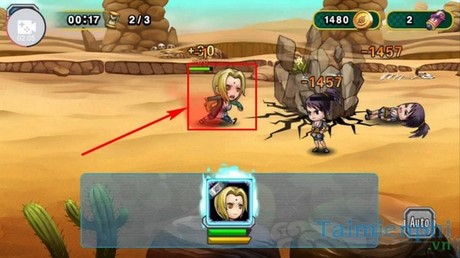 2. Kakashi
As the support Ninja right after Tsunade, Kakashi has a skill to increase Chakra for the whole team. Kakashi is the perfect choice because this squad is mainly Chakra strong generals.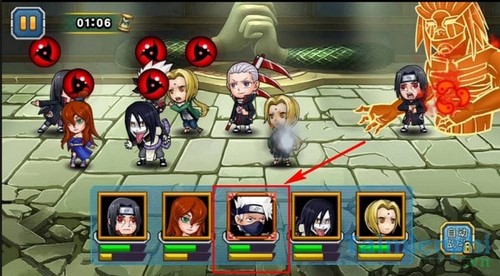 3. Pain.
Pain is considered a puppet in the squad. However, Pain's skill is that after death can revive 2 teammates with % of Pain's current health according to level. That's why Pain can be considered an interesting mutation in this squad.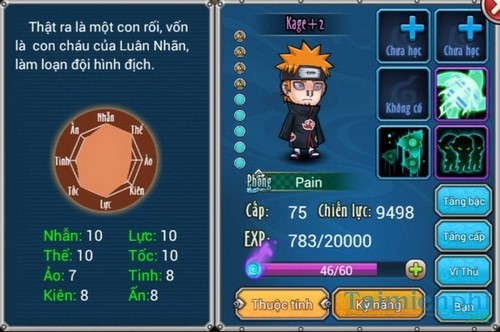 4. Mei
Being a Ninja can use the skill of Water and Lava. Can deal huge Chakra damage with these skills.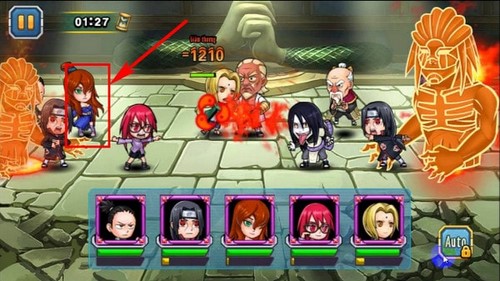 5. Madara
As an extremely powerful Ninja, the main damage for the whole team and extremely high Chakra and control skill sets. Madara's Kage skill also greatly reduces the enemy's defense.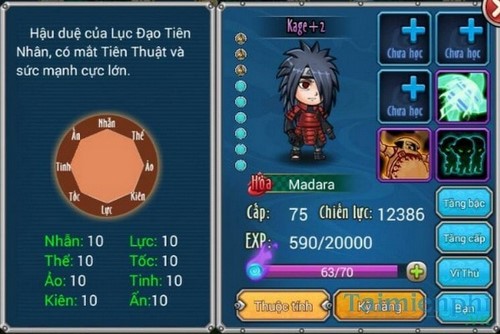 Above is the pure Chakra squad in Naruto Great War. This formation can be used for a long time, with very high Chakra damage, can destroy opponents quickly.
Advantages: With high damage, plus excellent control ability of Team. Along with that is the ability to heal each other in the team.
Defect: If Tsunade is the main tanker dead or locked up, the Chakra formation will be at a disadvantage
In addition, you can build more Ninja Tank squads using physics. This is the opposite formation to the Chakra formation. It can also be said that the Ninja Tank squad in Naruto Great War is the squad that counters the Chakra squad. If these two squads meet, there will be two attractive extremes in the game.
Currently, there is a very hot game on mobile that is Pokemon Go, you know, take some time to build a Naruto squad, play Naruto Great War to experience Pokemon Go, learn about how to play Pokemon GO, In addition, you do not necessarily have to play Pokemon Go on your phone, just like Naruto the Great War when you can completely play Pokemon Go on PC with the same way mentioned at the beginning of the article.
And if you are passionate about offline game genres or want to find a more relaxed feeling, chicken shooting gameChicken Invader will be very suitable for you, the game has been out for a long time, but chicken shooting game Chicken Invader still gives players comfort as well as simple gameplay, fun game and chicken shooting game is also very light, so you can completely install and play on your computer.
https://thuthuat.taimienphi.vn/xay-dung-doi-hinh-thuan-chakra-trong-naruto-dai-chien-mobile-7743n.aspx

Related keywords:
use chakra images in naruto dai chien mobile
how to play naruto dai chien mobile, how to play naruto dai chien mobile,
Source link: Build a pure Chakra squad in Naruto Great War mobile
– https://emergenceingames.com/