In addition to professional graphic design software, users now have more applications that support creating logos quickly and simply, even many applications do not require you to have graphic design skills. , so what is the best logo design app on mobile? Let's take a look at the list below.
Logo is an important symbol representing the image of an individual or a group. It helps customers and partners distinguish you from other companies or businesses. If you have the ability to design, create your own logo with specialized graphics software such as Adobe Photoshop, Adobe Illustrator, AutoCad, Corel, … it is not difficult.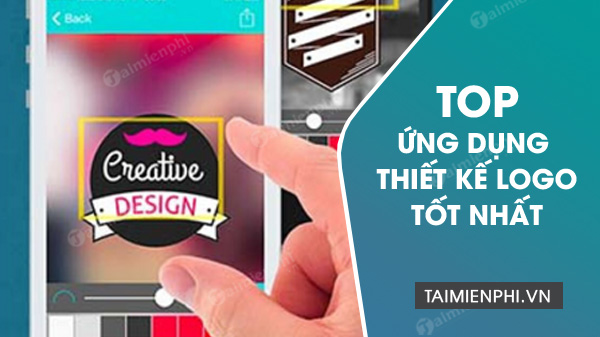 Best mobile logo design app
However, even if you don't know anything about design or using graphics software, you can still create impressive, beautiful logos right on your phone in minutes.
Top 5 logo design apps on phones
1. Logo Maker – Logo Creator, Generator & Designer
Logo Maker is logo design app extremely impressive. The application allows users all that is needed for you to express your design ideas.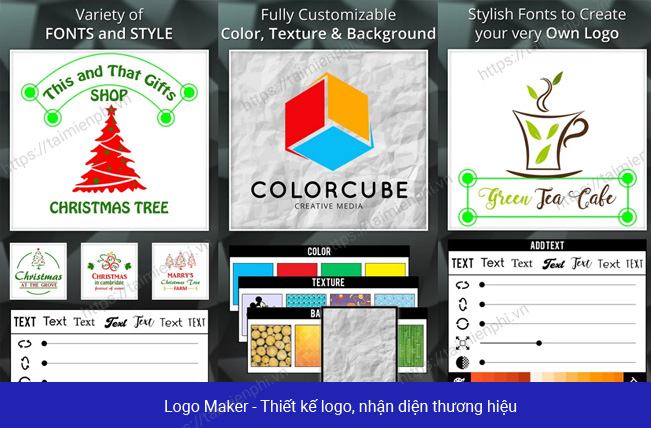 Logo Maker has a stock of graphic materials such as sample blocks, textures, backgrounds to create a logo template in the fastest time. To beautify or fine-tune more details, Logo Maker has powerful image editing features such as changing fonts, editing sizes, color filters, 3D rotation, …
Not just one logo design app On the phone, designers also use Logo Maker to create posters, cover photos, advertising images on social networks, …
=> Link to download Logo Maker for Android


2. Sketch – Draw & Paint
The Sketch application is a product of a well-known brand name, Sony. Sketch gives users a drawing tool, combined with photo editing suitable for any user. This is also a powerful support application if you want to design a logo on your phone.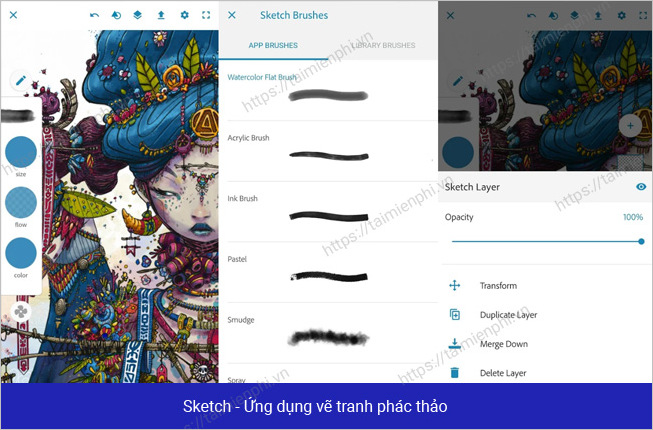 Sketch's interface is designed to be clean and airy, creating space for users to make sketches. Support tools such as zoom, pen, ruler, eraser, color, … are neatly placed below, you will easily see the tool you need without spending much time searching.
Another plus point of Sketch is the ability to backup and sync on any device. As a result, your logo design will take place seamlessly, without interruption, anywhere and at any time.
=> Link to download Sketch for Android


=> Link to download Sketch for iPhone


3. LogoScopic Studio – Logo Maker
True to its name, LogoScopic Studio brings a full design studio with professional tools to your phone. This application provides a seamless design process for you to create a complete logo yourself without any prior experience.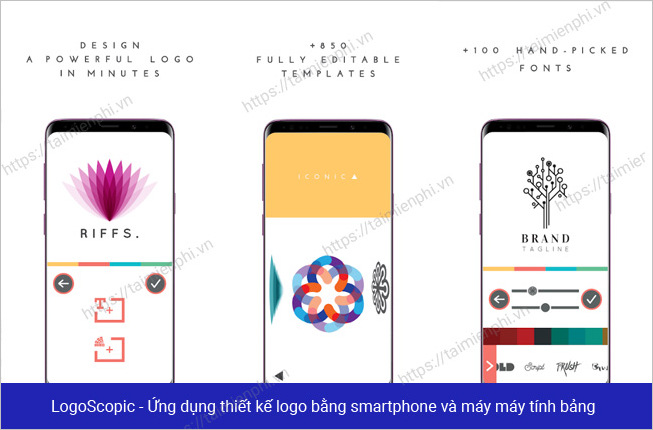 LogoScopic Studio provides users with a wide variety of logo templates divided into specific themes and more than 200 different types of fonts to serve users in the process. You can reference, combine or modify these elements together to create a unique idea of ​​your own.
Final, logo design app This allows you to export the Logo file with high quality for use when printing in large-sized products.
=> Link to download LogoScopic Studio for Android


=> Link to download LogoScopic Studio for iPhone


4. Logo Maker by DesignMantic
DesignMantic application is one of the simplest and most convenient tools to help you design logos on your phone in just 3 steps.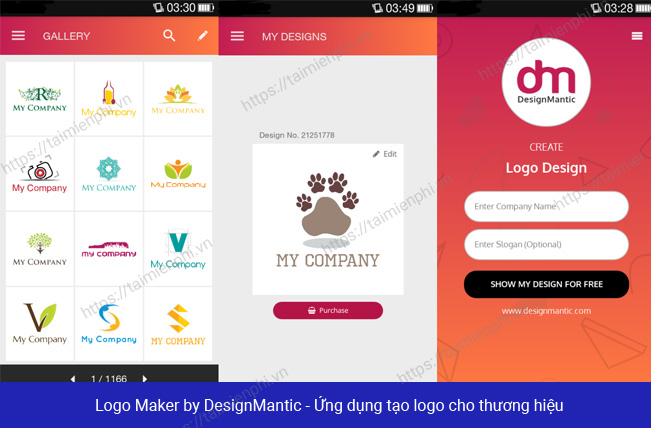 First, you choose an existing design template. DesignMantic has prepared for you a lot of choices, meeting the needs of making a logo for branding, business, etc. Step 2, you customize the logo template to your liking. In this step, this tool also allows you to choose according to your own ideas. And in the third step, you just need to download your product as a jpg, png or pdf file and use it anywhere you want.
=> Link to download DesignMantic for Android


=> Link to download DesignMantic for iPhone


5. Designapp Graphics Design
As well as those logo design app On the phone that we just introduced, DesignApp also develops maximum support features to help users own a quality logo without spending too much time.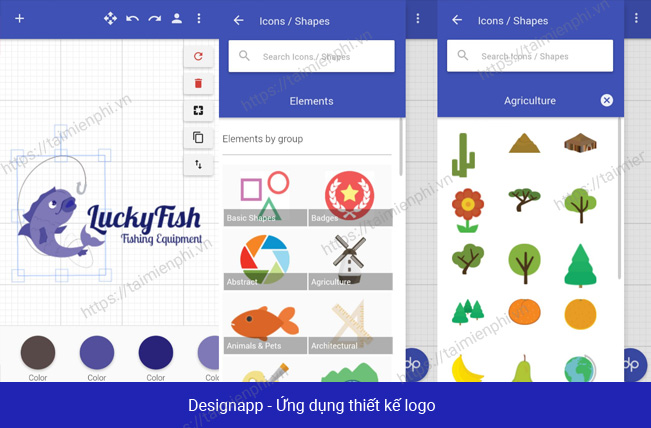 Using Designapp you work with and work with completely free graphic materials with more than 1000 templates ranging from shapes, badges, icons,… to use in logo design. All of these patterns and details are vector files, which means your final product will have high resolution and can be used for printing at large sizes.
If you are a professional designer, do not hesitate to bring your logo to the community of Designapp users. Who knows, you might be able to sell your design for a great price.
=> Link to download Designapp for Android


=> Link to download Designapp for iPhone


https://thuthuat.Emergenceingames.com/ung-dung-thiet-ke-logo-tren-dien-thoai-tot-nhat-50747n.aspx
If you want to create your own logo professionally, quickly and economically, then 5 logo design app on the phone that Taimienphi has just introduced is the best choice. Hopefully, after reading the article, you will soon find yourself a satisfactory tool and soon launch beautiful and impressive logo designs. Good luck!
Related keywords:
logo design application
logo design app, logo design app,
Source link: 5 best logo design apps on phones
– Emergenceingames.com