You are just starting out with the Nintendo Switch and many of the concepts still sound strange What is Nintendo Switch Online, What is amiibo And then what is eShop? Don't worry because it's not just you who don't understand, the reason is that with Nintendo's console ecosystem, the company uses words "specialized" separate not like anyone but it's really simple if you spend 3 minutes reading the article below with nShop.
What is eShop and how to buy games on eShop?
eShop is a brief reading of a phrase Nintendo eShop – A service that specializes in providing digital products of Nintendo. The eShop first debuted on the Nintendo 3DS in June 2011, then appeared on the Wii U and Nintendo Switch as an inbuilt feature respectively. The things that users can access and use eShop include:
Buy game – Download game (Free and paid games)
Demo (Trial version of the game)
Download Content (Abbreviated DLC, which is an extension of the game. DLC includes free DLC and paid DLC, depending on the game developer)
Update game (Bug fixes, changes, and updates for purchased old games)
Information about upcoming titles, video game trailers, reviews of other available titles from other users.
Thus, to define what eShop is simply it is similar to the Apple Store or Google Play on the phone. Basically, users can buy games directly on the internet and download them instead of buying game discs and game tapes at the game shop.
How to buy games on eShop:
To buy games on eShop you need to create a Nintendo Account (See instructions for creating Nintendo Account of nShop) and recharge to buy games. Depending on the cost of each game, how much money you need to deposit. To recharge into eShop, there are 2 ways for you to load it: using Visa / Master Card / Paypal or buy an eShop recharge card available at nShop.
How to buy Nintendo Switch game on eShop cheapest
eShop has 5 main partitions: US (America), SHIFT (Canada), MX (Mexico), ZA (South Africa), JP (Japan) and luckily, Nintendo did not force each device to use only one Nintendo Account. So for free to choose, you can create multiple accounts with each account tied to a partition for more convenience when shopping digital games.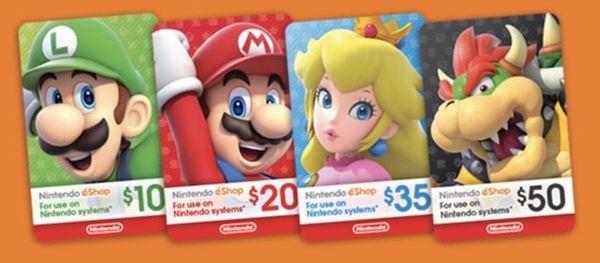 When you want to buy a game, for example, New Super Mario Bros. U Deluxe, you go to the page http://eshop-checker.xyz/ and Ctrl + F Type in the game name to see which partition is the cheapest and buy the game on that account.
This trick is only beneficial for discounted games on eShop. For example, Mexico partition is having a 75% sale off while other partitions do not have discounts, buying Nintendo Switch game on it will save quite a lot. For games that do not have sale off, usually the prices are quite close together, it is not worth splitting your account to buy. Note also that some eShop games are only in Japanese, you should double-check before deciding to buy!
Hopefully this article about eShop will help you have a clearer view of Nintendo Network's services as well as know how to create accounts, buy games, buy online services and download online services. Free game for Nintendo Switch easier. Wish you have an enjoyable experience with the Nintendo eShop Exclusive game that only sells digital – Great and cheap!


Source link: What is eShop? How to buy Nintendo Switch game on eShop cheapest!
– https://emergenceingames.com/