For a long time when you play Animal Crossing New Horizons in the evening, you will see even shooting stars soaring through the beautiful sky. But are they just to make the night sky more lively and seductive? No, The stars also bring the Star Fragment Animal Crossing, allowing you to create many amazing things. And here is everything you need to know about Star Fragment Animal Crossing.
Star Fragment Animal Crossing came along a meteor shower night
Just like in real life, meteors are celestial fragments that break apart and burn brightly by friction when passing through Earth's atmosphere, creating a beautiful and romantic scene for the inhabitants below. In Animal Crossing New Horizons, Each meteor shower will last for several hours (about 9 hours). From about 7pm to 4amHundreds of stars will fly through the sky on your island with different waves and different densities.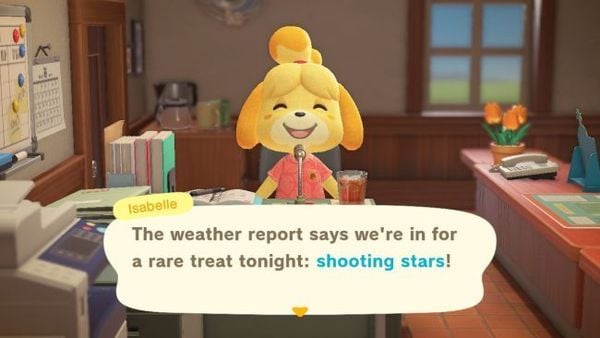 To know when a meteor shower is on, you can Talk to the villagers during the day to see if they do. Or Isabelle would also pre-announce the meteor shower in the news every day when you open the game.
Wishing under the stars
When you see shooting stars rushing past your head, you can look up and wish under the stars just like in a movie. If successful, the falling star will flash to signal it. The steps for detailed estimation include:
Do not hold tools, objects in hand, must be standing, not sitting.
Swipe the right analog stick up to look up at the sky.
Press "A" when you see a falling star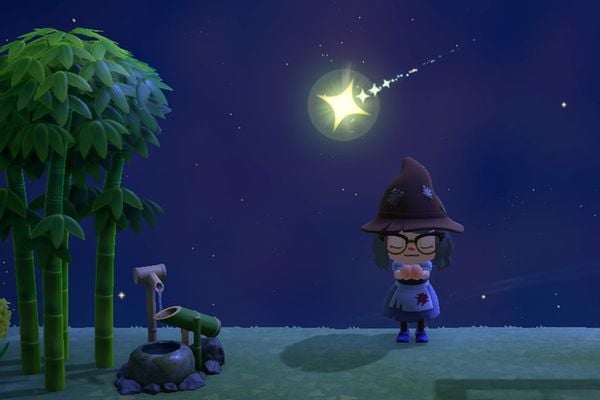 The stars usually fall in waves of 2, 3, even 4, 5 or more in a row. Therefore, if you miss the first few stars, you just wait a little to press the next wishDon't rush to lower the camera. When it is over, we should just operate normally to wait for the new wave. In addition to being beautiful, wishing under meteor showers also gives you the Star Fragment the next day. You will collect Star Fragments along the coast of your island like scallops and snails.
On a meteor night, you can open the island to others through a common wish. Or I go over to someone else's island to wish it was raining on that island. The next day you will still get the Star Fragment Animal Crossing at the beach.
Why should we get Star Fragment Animal Crossing?
The Star Fragment Animal Crossing is mainly used as DIY crafting material in Animal Crossing New Horizons game. These items are often related to the subject of space, constellations, and a whole series of "wand" which also require a Star Fragment to be made. So if you like items from this series, get more Star Fragment Animal Crossing. You wish the more times in a night, the more stars you will receive next day. However the game also has a limit, so It is not necessary to make a hundred estimates in one night, 30-40 times will be enough.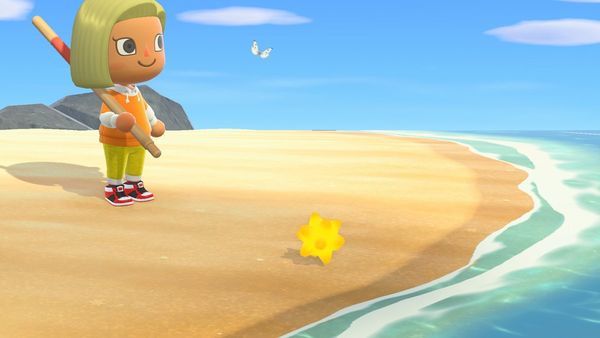 The Star Fragment Animal Crossing is divided into three main categories: Star Fragment, Large Star Fragment (Large Star Fragment), and Zodiac Fragment (Star Fragment from the constellations of the 12 Zodiacs).. Star Fragment and Large Star Fragment will fall all year round, every meteor shower wished for (Large Star Fragment falls less than Star Fragment), while Zodiac Fragment is a bit more difficult to find due to the need for the right timing.
The Zodiac Fragment is subdivided into 12 categories corresponding to the 12 constellations of the Zodiac. Each type will appear only for a fixed period of the year. And every wish it does not drop as much as Star Fragment. Specifically, the division by time of the year will be:
Aquarius Fragment: January 20 to February 18
Pisces Fragment: February 19 to March 20
Aries Fragment: March 21 to April 19
Taurus Fragment: April 20 to May 20
Gemini Fragment: May 21 to June 20
Cancer Fragment: June 21 to July 22
Leo Fragment: July 23 to August 22
Virgo Fragment: August 23 to September 22
Libra Fragment: September 23 to October 22
Scorpio Fragment: October 23 to November 21
Sagittarius Fragment: November 22 to December 21
Capricornus Fragment: December 22 to January 19
As scheduled, you need to play the game for 1 year to get all the Zodiac Fragments and be able to make enough Zodiac items so don't rush, just play and enjoy. Each season has its own fun.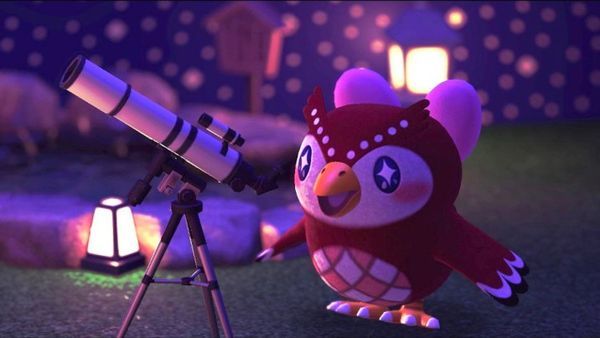 On nights with meteor showers, Blathers' sister Celeste is likely to visit your island (some nights don't come). Now take the opportunity to talk to her and get a new DIY recipe right away Star Fragment Animal Crossing is used as ingredients. If you let your friends apply for a joint application or go to someone else's island, you can still apply. However, In a day, you can only receive 1 DIY from Celeste. That is, if two islands have meteors, you have taken Celeste's recipe on one island, then you cannot apply for more on the other island.
DIY Star Fragment Animal Crossing Recipes
There are quite a few items that need Star Fragment Animal Crossing to craft, below are divided into three large groups with the same theme for you to follow. The name of each item is in bold, followed by how to get the recipe and the number of ingredients needed. Maybe in the future Nintendo will update to add new items.
Magic Wand
The "magic wand" allows you to change quickly and beautifully. You can preset 8 different outfits in your Wand, when using it will expand a circle like Tool Ring but are the suits for you to choose to transform your look.. You can carry multiple Wand with you but they all work as one and only have a maximum of 8 outfits. (You don't have to use 2 Wand to get 16 outfits)
Star Wand: (received from Celeste) 1 Large Star Fragment, 3 Star Fragment
Bamboo Wand: 6 Young Spring Bamboo, 3 Star Fragment
Cherry-Blossom Wand: 3 Cherry-Blossom Petal, 3 Star Fragment
Bunny Day Wand: (Completion of Bunny Day event) 1 Wobbling Zipper Toy, 3 Star Fragment
Ice Wand: (perfect snowman in winter event) 1 Large Snowflake, 3 Star Fragment
Wedding Wand: (received from Cyrus during Wedding Season) 1 Wedding Flower Stand, 3 Star Fragment
Mushroom Wand: (shoot balloons during mushroom growing season) 3 Skinny Mushroom, 3 Star Fragment
Shell Wand: (shoots balloons in summer) 3 Summer Shell, 3 Star Fragment
Tree-branch Wand: (received from Celeste) 5 Tree Branch, 3 Star Fragment
Iron Wand: (received from Celeste) 3 Iron Nugget, 3 Star Fragment
Golden Wand: (received from Celeste) 3 Gold Nugget, 3 Star Fragment
Cosmos Wand: (received from Celeste) 1 White Cosmos, 3 Star Fragment
Hyacinth Wand: (received from Celeste) 1 Pink Hyacinth, 3 Star Fragment
Lily Wand: (received from Celeste) 1 White Lily, 3 Star Fragment
Mums Wand: (received from Celeste) 1 Yellow Mum, 3 Star Fragment
Pansy Wand: (received from Celeste) 1 Yellow Pansy, 3 Star Fragment
Rose Wand: (received from Celeste) 1 Red Rose, 3 Star Fragment
Tulip Wand: (received from Celeste) 1 Red Tulip, 3 Star Fragment
Windflower Wand: (received from Celeste) 1 Orange Windflower, 3 Star Fragment
Zodiac Furniture
All of these DIY Star Fragment Animal Crossing recipes are from Celeste. They are inspired items from the 12 Zodiacs with beautiful white (stone) tones and gold inlays.

Aries Rocking Chair: 3 Star Fragment, 2 Aries Fragment, 1 Gold Nugget, 5 Stone
Cancer Table: 3 Star Fragment, 2 Cancer Fragment, 2 Gold Nugget, 3 Stones
Capricorn Ornament: 3 Star Fragment, 2 Capricorn Fragment, 2 Gold Nugget, 12 Stone
Gemini Closet: 3 Star Fragment, 2 Gemini Fragment, 2 Gold Nugget, 6 Stone
Leo Sculpture: 3 Star Fragment, 2 Leo Fragment, 2 Gold Nugget, 3 Stone
Libra Scale: 3 Star Fragment, 2 Libra Fragment, 2 Gold Nugget
Pisces Lamp: 3 Star Fragment, 2 Pisces Fragment, 2 Gold Nugget, 4 Stone
Saggitarius Arrow: 3 Star Fragment, 2 Saggitarius Fragment, 2 Gold Nugget
Scorpio Lamp: 3 Star Fragment, 2 Scorpio Fragment, 2 Gold Nugget, 5 Stone
Taurus Bathtub: 3 Star Fragment, 2 Taurus Fragments, 1 Gold Nugget, 8 Stone
Virgo Harp: 3 Star Fragment, 2 Virgo Fragment, 2 Gold Nugget, 4 Stone
Aquarius Urn: 3 Star Fragment, 2 Aquarius Fragment, 2 Gold Nugget, 5 Stone
Other recipes
All of these DIY Star Fragment Animal Crossing recipes are from Celeste. The main content of these items revolves around space, universe, moon and stars. Many really beautiful things like Galaxy Flooring give you a star background at your feet, or Sci-fi Wall that turns your room into a spaceship with stars drifting through the glass, or the Moon pattern. Large and magical shine …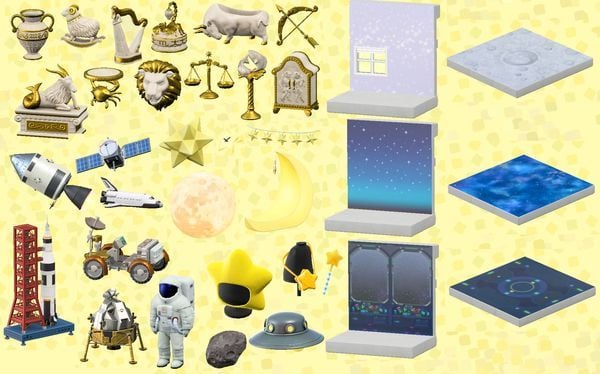 Lunar Surface: 1 Large Star Fragment, 5 Star Fragment
Galaxy Flooring: 1 Large Star Fragment, 5 Star Fragment
Starry Wall: 1 Large Star Fragment, 5 Star Fragment
Starry-Sky Wall: 1 Large Star Fragment, 5 Star Fragment
Sci-fi Wall: 1 Large Star Fragment, 1 Star Fragment
Sci-fi Flooring : 1 Large Star Fragment, 5 Star Fragment
Nova Light: 5 Star Fragment
Star Clock: 1 Large Star Fragment, 3 Star Fragment
Moon: 1 Large Star Fragment, 15 Star Fragment
Asteroid: 10 Stone, 5 Star Fragment
Astronaut Suit: 5 Iron Nugget, 5 Star Fragment
Lunar Rover: 10 Iron Nugget, 4 Old Tire, 10 Star Fragment
Crewed Spaceship: 20 Iron Nugget, 10 Star Fragment
Lunar Lander: 15 Iron Nugget, 10 Star Fragment
Crescent-Moon Chair: 1 Large Star Fragment, 7 Star Fragment
Flying Saucer: 10 Iron Nugget, 15 Star Fragment
Rocket: 20 Iron Nugget, 10 Star Fragment
Satellite: 15 Iron Nugget, 10 Star Fragment
Space Shuttle: 10 Iron Nugget, 5 Star Fragment
Starry Garland: 10 Star Fragment
Star Head: 5 Star Fragment
Star Pochette: 6 Star Fragment
Maybe you are interested: Distinguish Redd's fake real paintings in Animal Crossing New Horizons


Source link: What does Star Fragment Animal Crossing New Horizons do?
– https://emergenceingames.com/