Many customers often ask: In addition to the ability to play 3DS games, what else can this device do for more entertainment?
Of course when Compared with specialized entertainment devices such as iPhone, iPad or Galaxy Tablet, the 3DS cannot match because the device is intended to specialize only in games.But today Game n Shop would like to share you a little bit about the extra features so that you can make the most of the features of the game console. (New) Nintendo 2DS / 3DS. For gamers preparing to buy a device, this is also the same "motivation" For you to easily make the decision to buy your own handheld game console to enjoy the ultimate entertainment!
In the framework of the article, the shop will be based on the configuration of the Nintendo 3DS and 2DS to make it easier for you to follow. The App supports speed increases, New shop features will add notes. So you can rest assured whether you choose to buy an Old or New game console, you can still use those App!
Listen to MP3 music easily with the built-in program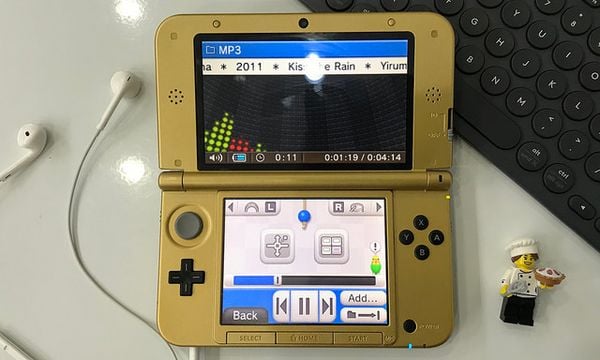 It is flawed without mentioning this feature of the 2DS / 3DS game console. This program is built "Goverment" Nintendo and integrated right inside the system with the name Nintendo 3DS Sound. You can listen to two popular formats that are Mp3 and AAC (M4A) high quality. Transferring music to 3DS is also simpler than ever: remove the memory card and plug it into the computer, copy the file and then put it back in the 3DS.

The interesting feature of this program is that you can adjust the music to increase or decrease the tempo, the music speed is quite similar to the old Winamp program used on Windows. Sometimes boring, the male singer's voice can be adjusted slightly so that the song is played according to the voice "effeminate" little for relaxation.
In addition, the program also integrates recording, although limited to only 10 seconds, but also interesting because you can fine-tune it like listening to music to store impromptu singing moments or simple imitations. "Chau Tinh Tri" to amuse your friends!
Youtube App for 3DS / 2DS – World entertainment in hand

Youtube is almost an indispensable App for any handset or entertainment including phone. Youtube's popularity makes almost every entertainment video posted here. Youtube App is not directly integrated into the device, but you can easily download it through the Nintendo eShop (Need to create a Nintendo ID Network account – very easy, you can contact Game n Shop staff to help you if you don't know how to do it.).
Youtube App on 3DS, though not 100% complete as on mobile due to the difference in configuration and operating system of Nintendo, if you use New life, the speed of the App is greatly improved. The image quality rating is okay, the speaker is just right.
*** Tip: If you use New Nintendo 3DS or New Nintendo 2DS, you can use the built-in web browser to go to Youtube without downloading the App, the quality on the web is quite good.
Show off your artistic skills with App Colors! 3D

Derived from a little-known homebrew on DS, Colors! 3D is invested more seriously and officially posted on eShop.

This is a pretty cool App that you should spend money to buy – for only $ 6.99 you can take advantage of the touch screen and pen of the machine to draw professionally like a real artist. App supports multi-layer drawing, 3D drawing, uploading photos to Gallery, rating comments … Try it once and you will feel that you don't regret any money.
Take photos and record Videos with Nintendo 3DS Camera

It is undeniable that the resolution of 640×480 of 2DS and 3DS is very outdated compared to today's phones and tablets. Since it was designed to play AR Card-enabled games only, Nintendo hardly focused on increasing the resolution or improving the camera image quality in later models.
However, if not so, you are ready to forget the camera's camera or video capture feature because when you accept the above defect, there are also many very interesting features for you such as:
Take 3D photos with depth
Edit add effects questions and favorite notes
3D video recording
Shoot stop motion to create a creative short movie according to your own ideas
Surf the web with the built-in 3DS browser

When trying through the built-in web browser on 2DS / 3DS, the first defect you realize is the font. The machine does not support Vietnamese fonts, so it will be difficult for anyone who wants to read Vietnamese news newspapers. The web browser is also very slow and fussy, heavy pages will fail to load (If you use New life, the quality will be significantly better). If you use New 2DS XL and New 3DS XL then the web browser will be better and faster, with HTML5 support. However, compared with smartphone devices, tablets are still not equal.
However, basically we can still take advantage of it to search google, read information, news foreign sites, and watch game instructions at an acceptable level.
> See more: NEW SUPER ULTIMATE INJECTOR – DIY CIA CLASSIC GAME FILE NES, SNES, GB, GBC, GBA … IN 3DS
So we have 5 useful features on 2DS and 3DS. Hope it will help you when you have played bored with old games and are still waiting for Pokemon Ultra Sun, Ultra Moon release and November this year. Are there any missing features that Game n Shop has not listed? Please comment below so the shop can add to the following articles!

Source link: What can 2DS / 3DS machines do outside of 3DS gaming?
– https://emergenceingames.com/