Deleting sent email content helps users proactively "prevent" timely emails sent by mistake, fix mistakes made in the sending process… Here's how to automatically cancel sent email content by convenient useful Dmail, invite you to follow and implement.
In previous articles, Emergenceingames.com has guided users with tips when using Email such as: sending timer, sending script, how to check new mail… from then on, users already know how to send emails. Timer to send Email both time saving and convenient. In this article, we will show you how to automatically cancel all sent emails so you can cancel emails that you don't like, don't want to send it to the recipient or you simply sent it by mistake… in the most professional manner.
Cancel the content of the email sent, set the time to destroy the content of the sent email
With Email services like Gmail, Yahoo!Hotmail… most of them have built-in functions that allow users to choose to cancel the Emails they have sent before, but this time period is usually quite short (with Gmail, it's only 30 seconds) like that. Most users won't make it in time.
Here is how to set the time to cancel Sent Emails on Chrome that Emergenceingames.com chooses to share with readers. As you all know Chrome is one of the very popular Web browsers today, using Email on it helps users to be more secure.
Step 1: Start Chrome, find and install the Dmail extension
After starting Chrome, users can search for Dmail on the application store or choose to download it to their device.
– Download Dmail for Chrome: Dmail
You can also visit the Dmail homepage Here. After entering the Dmail homepage, press Get the Chrome Extension (1) to proceed further Dmail
– Click Add to Chrome (2)
– Config New Extension dialog box pops up select Add (3) to proceed further Dmail
– Press Accept (4)
So the user has successfully added Dmail on Chrome
Step 2: Set up automatic cancellation of Mail, set the time to destroy Mail content
– After adding the Dmail extension successfully, you access your Email with the browser installed Dmail as Chrome to perform the setup. Cancel Sent Email convenient and easy to do.
+ At the Compose interface, enter all the information of an Email as usual
+ Select Destroy (5) with different modes such as: Cancel after 1 hour, say 1 day or after 1 week or Never
+ Press Send (6) to send my Email
Attention

You should pay attention to whether Dmail has been activated or not, if they are not, please turn them on for successful implementation. Email will be completely destroyed, the subject, sender, recipient, attachments will be preserved.
– This is the content of the Email sent and using Dmail to destroy the content 1 hour after sending.
Immediately cancel the content of the email sent
Besides setting the cancellation time, deleting the sent email, the user can completely destroy the content of the sent Email by the following way:
– Tap the icon Dmail (1)
– Choose Revoke Email (2)
– Press Ok (3) To confirm
– Then go to Sent Mail to check, and you see that the content of the Email has been completely destroyed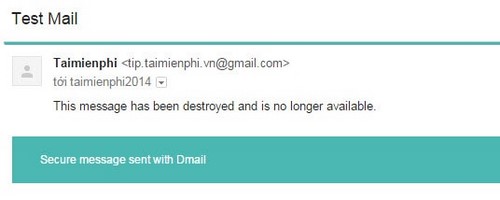 Attention

Just like setting the time to destroy email content, with this method, you can cancel or delete the entire email content after sending it immediately. The rest is just the Title, sender, receiver, attachments only.
https://thuthuat.Emergenceingames.com/meo-xoa-noi-dung-email-da-gui-tren-mail-nguoi-gui-va-nguoi-nhan-4857n.aspx
Thus, Emergenceingames.com has shown you how to set up automatic cancellation of email content after sending, how to cancel sent email content immediately; With the above implementation, you can apply it to most popular email services such as Gmail, Yahoo, Hotmail… Currently Gmail is one of the most popular Email services, users do not have an account. or problems in the registration process, you can refer to how Gmail sign up on Emergenceingames.com
Related keywords:
Automatically cancel Sent Email
set email cancellation time, email recovery,
Source link: Tips to delete sent email content on sender and recipient's mail
– Emergenceingames.com