There are many tactics that need to be applied if you want to win in a survival shooter like Free Fire like landing locations or loot locations. In this article, Taimienphi.vn will share with you some good tips to help you climb the rank effectively on the Military Island map in Free Fire.
Each survival shooter game has a unique map, a map that is popular with all gaming objects, both new and old players. In Free Fire, Bermuda aka Military Island is that map. The map has been in the game since day one and is accessible to everyone, while other maps require players to have a higher level to access. Therefore, the Military Island map is always crowded and bustling.
How to climb rank Free Fire Map military island
Due to the fact that Bermuda is Free Fire's most popular map, you'll need to capture ideal landing and loot locations if you want to get off to a good start in the game. The following article will share with you everything about the Bermuda map and the most important tips to conquer this map.
Link to download Garena Free Fire for the latest PC, Android phone, iPhone:
=> Link to download Garena Free Fire for PC


=> Link to download Garena Free Fire for Android

=> Link to download Garena Free Fire for iPhone

Tips and tricks to play the Free Fire Military Island map to climb the rank effectively
1. Landing location when jumping out of the plane
First, you'll need to decide where to jump off the plane. This depends on your playing style – whether you are an aggressive player or a survivalist. On the heat map below, the hottest locations have been highlighted for you to choose where to land.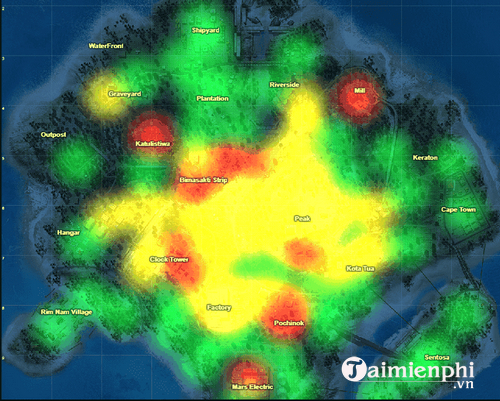 1.1 – 3 most ideal positions for aggressive style players
– The Factory
This is probably one of the hardest locations to land as many players will want to wipe out the loot in this place. The main benefits of this region are its large number of weapons, its small size, and its location on the large map.
Although it is packed with weapons, due to its small size, it is best to try to pick up something strong for close combat like a shotgun or an SMG. You can always pick up an AR from an enemy corpse later. After sweeping the factory, you can camp here or move out. It's not too far from the center of the map, so you might even be one of the first to go to the safe zones.
* Mill
Mill is located opposite the Factory and while the Factory is suitable for close range combat, Mill focuses mainly on ranged combat. If you're good at sniping, this would be one of the coolest spots to land, with plenty of sniper rifles to pick up in the first place. It is also an open area and has varying elevations and lows, creating an ideal place for sniping.
The weakness of this place is that the amount of loot is quite meager. If you're not the first to arrive, there's almost nothing left for you to pick up. Warehouses are where the most loot is found.
* Bimasakti Strip
This is a rather large war zone on the map. You'll witness a brutal battle to the death every time you land at this location – sometimes you can die before you even touch the ground. However, high risk comes with great rewards, if you manage to survive and camp somewhere here you should be able to hang on until the game is over as the last circle is usually at this position.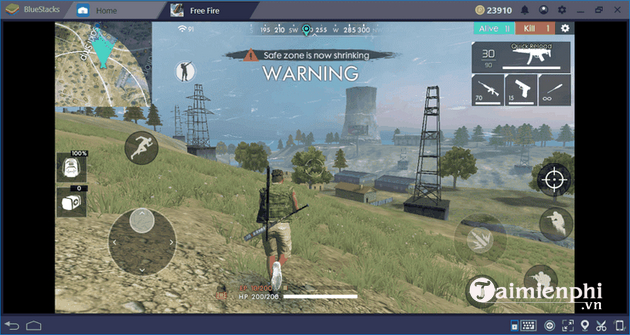 1.2 – Ideal location for survival style players
This is actually pretty easy – as there are so many greening locations to choose from. Kota Tuan and Cape Town are the two best locations in the South, while Rim Nam and Outpost are the best in the North. The best landing spot for survival-style players is Cape Town, as it has a great AR gun spawn rate.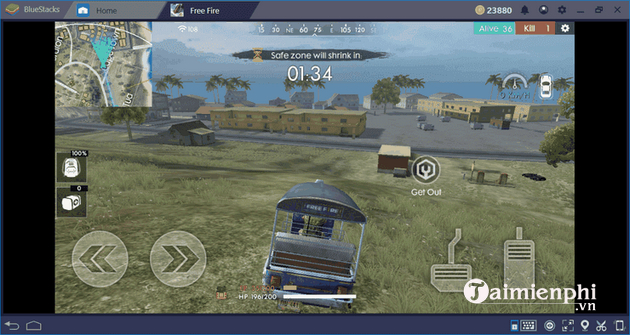 2. Top loot locations on Bermuda map
* Pochinok
Pochinok is located in the southern part of the map and consists of many complexes and buildings. Each building is a separate spawn location – the amount of equipment you can find here is quite large. You can pick up enough equipment for the whole team here. However, don't expect to find any high level loot as the entire area is low level spawn points. Relatively small distances between buildings ensure a quick completion of pick-ups.
* Mars Electric
Despite being at the edge of the map, the excellent quality of the loot that can be found in Mars Electric makes it a hot spot. Top loot items like sniper rifles can be easily found here. It will take you a long time to scan this area because it is very large, however, loot is everywhere. Moving out of this place is quite easy because there are many different vehicles appearing in the vicinity.
* Shipyard
Shipyard is another great loot location. It contains top-of-the-line equipment and some high-quality weapons. This place is located on the coast and is quite small – the pick up process will be quite simple and quite fast. Just beware of the snipers that often lurk on top of the 4 cranes.
* Sentosa
This is an ideal location if you play as a team. This area is practically cut off from the main island – a team with snipers will probably be able to hold out for a long time here. The only problem is that it is often out of the comfort zone.
However, the character in Free Fire is also a factor that helps you win the top 1 in the game. Explore more 5 characters climbing Garena Free Fire The most effective help you win the game offline.
https://thuthuat.taimienphi.vn/meo-va-thu-thuat-leo-rank-map-dao-quan-su-free-fire-hieu-qua-59633n.aspx
Above are useful tips and tricks to help you climb the rank effectively on the Military Island map in Free Fire. Basically, each map has its own risks and benefits. Low risk areas usually have few players and you can't seem to get high tier gear. In contrast, the high-risk multiplayer area pushes you into frequent skirmishes, but if you survive, you'll be able to bring with you a host of top-notch weapons to keep fighting.
Related keywords:
meow and fall to climb rank map dao quan su free fire
, How to climb the Bermuda map rank in Garena Free Fire, How to effectively rank up the military island map Free Fire,
Source link: Tips and tricks to climb the map rank of Military Island Free Fire effectively
– https://emergenceingames.com/