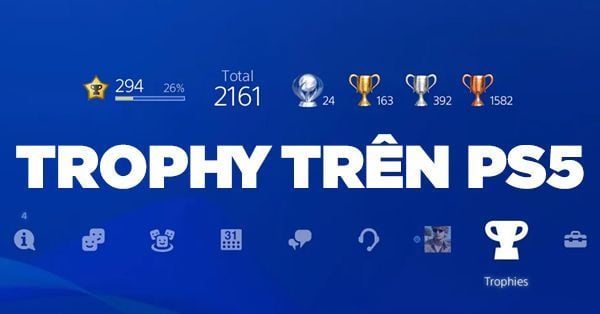 What is Trophy PS5? Changes have been made to start the new and more attractive Trophy PS5 system, giving players a much more satisfying feeling when working to plow Trophy PS5.
Features in the Trophy PS5 system
Trophy is an indispensable thing for the PlayStation community. It is an achievement board, which holds the achievements during the game, as well as provides additional motivation for players to overcome the challenges of the game.
New Trophy Level
Sony has increased the level of the Trophy since "1 to 100" becomes "1 to 999". Through this new update, A player's old Trophy Level will automatically recalibrate to match the new rank type. For example, your Trophy Level is 12, then the new type will be in the range below level 200, depending on the number and type of Trophy you have achieved. No changes are made to acquired Trophy or Trophy information (such as the requirements for obtaining it).
---
New Level calculation structure on Playstation 5
A new Trophy level calculation system has also been introduced, aiming to be more optimal and more rewarding. Players will level up faster at early levels, and level up more evenly. Platinum Trophy points earn higher points as you level up, making them even more valuable.
PS5 Gamers Level Trophy Icons
In addition to the extended Level, Level Icon has also been updated on the Trophy PS5, and also the PlayStation App. If before, the Trophy icon was just a gold star, now it has more versions, corresponding to the level ranges:
Bronze: Levels 1 to 299
Silver: Level 300 to 599
Gold: Level 600 to 998
Platinum: Level 999
These icons have additional variations to let you know if you're near the next level.
Trophy members follow you to PlayStation 5
The Trophy you have obtained from previous PlayStation systems will accompany you to your PS5. The new Level Trophy will reflect in all regions where Tophy is available, including Past System, PlayStation App and My PlayStation.
Maybe you are interested: Ripping hardware PS5

Source link: The new Sony's Trophy PS5 system is more appealing to players
– Emergenceingames.com