Change Gods, Forest Gods, Mages and Pioneers
In 4 seasons Pope Francis Recently, there is always a trick that when the queue for the reserve card is full that we pick up the hero from the market, it will add more cards to the battle formation. But in this version, Riot Game decided to remove this mechanism. Let's Funny game Find out the changes in the update Teamfight Tactics – TFT 10.25 Hey!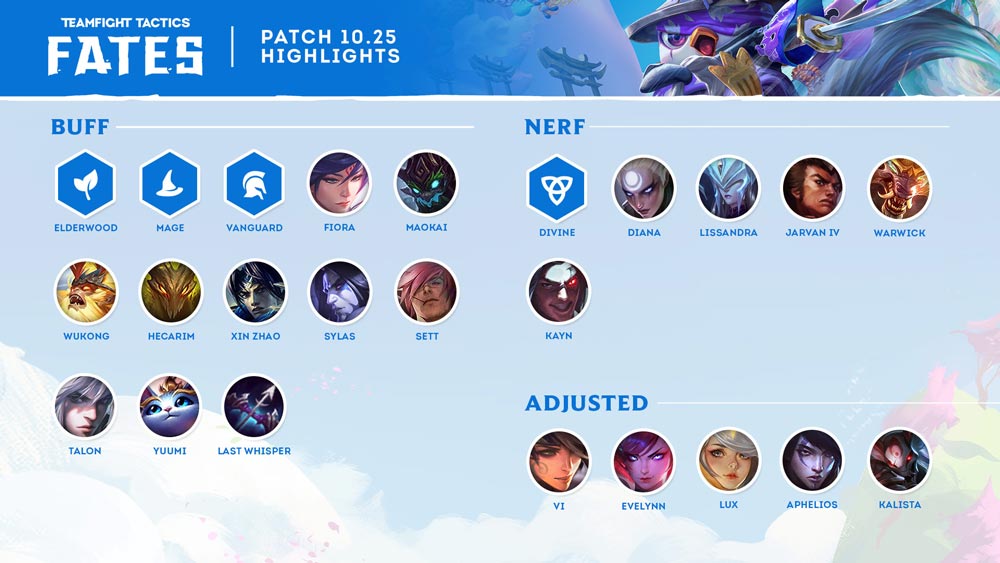 System changes, fix bug hack slot generals:
Champion roll ratio at level 7:
25/35/30/10/1 to 22/35/30/12/1.
If you pick up a hero at the market when the queue is full, there will be a warning, if you keep that champion, it will automatically sell when you enter the round (no more slots can be hacked).
Editing Teamfight Tactics – TFT 10.25 Tribe:
Gods – Nerf: Standard damage and reduced damage taken: 50% to 45%
Forest God – Buff: Armor and magic resist bonus: 15/25/40 to 20/30/40
Mage – Buff: Ability power ratio: 80/110/180% to 80/120/180%
Tien Phong – Buff: Bonus armor: 100/250/600/1500 to 120/300/750/2000
List of champions buffed in Teamfight Tactics – TFT 10.25
Fiora:
Mana cast: 0/85 to 0/75
Skill damage: 200/300/450 to 250/400/600
Maokai:
Base Armor: 35 to 40
Magic Resist: 20 to 30
Wukong:

Skill's Attack Damage Ratio: 225/250/275% to 250/265/280%
Hecarim:
Mana cast: 0/120 to 0/110
Sylas:
Skill damage: 250/400/600/1000 to 250/400/700/1111
Xinzhao:
Attack Speed: 0.8 to 0.85
Skill's Attack Damage Ratio: 300/325/350% to 330/340/350%
Yuumi:
Talon: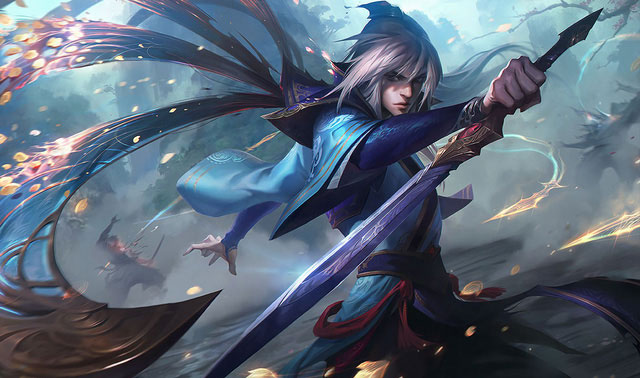 Base HP: 750 to 800
Skill's Attack Damage Ratio: 200/200/250% to 240/250/275%
Sett:
Skills of Sett Will not fall again if something happens to the intended target.
It will now steal damage to deal extra damage, but the original target will not be affected by the extra damage.
List of champions nerfed in Teamfight Tactics – TFT 10.25
Diana: number of spheres created: 4/5/6/9 to 4/5/6/8

Lissandra:
Skill damage: 350/450/600/800 to 350/450/550/750
Jarvan IV:
Warwick:
Bonus attack speed and lifesteal bonus: 50/50/200% to 40/40/200%
Kayn:
Skill damage: 400/600/6666 to 375/575/6666
List of champions edited, changed in Teamfight Tactics – TFT 10.25
Aphelios – Change:
Base damage: 50 => 45
Fixed a bug that prevented gun emplacements Aphelios Activate the hunter
Vi – Change:
Energy: 0/60 to 0/50
Ability armor reduction ratio: 50/75/100% to 40/60/80%
Evelyn – Change:
Damage ratio when the enemy is below 50% health: 3x to 2.5x
Skill damage: 350/500/1400 => 350/600/1500
Kalista – Change:
Base Attack Speed: 1.0 to 0.9
Fix 1 error kalista jerking the spears too soon or too late
Lux – Change:
Energy converted to true damage
Editing equipment Teamfight Tactics – TFT 10.25:
Green Palace – Buff:
Armor minus ratio: 75% increased to 80%
Fix some other bugs in the game:
The camcorder will now reset the zoom level to default whenever the player changes (both on PC and Mobile).
Galio In some cases the buff's passive will be enjoyed Flag Zeke and Ionic Lightning
Fixed a bug that caused Gongsang to hit targets at very far distances
Lissandra The image will be altered slightly so that her hair sticks out on the side of her head like a bread
Fix the error Kalista She did too much damage compared to the normal level she could do
Fix the error Warwick many times are frozen in one place when the target is finished
Fix the error Warwick Does not activate hunter-type buffs during fights
Thursday, December 10, 2020 09:39
Source link: Teamfight Tactics – TFT 10.25 – Fixed serious bug in hacking slot generals
– https://emergenceingames.com/