Account security Nintendo Switch is always a top concern for players who regularly buy games on eShop. Fear of losing your account, or someone else entering miscellaneous shopping with credit cards etc … will be limited by the new Nintendo security feature!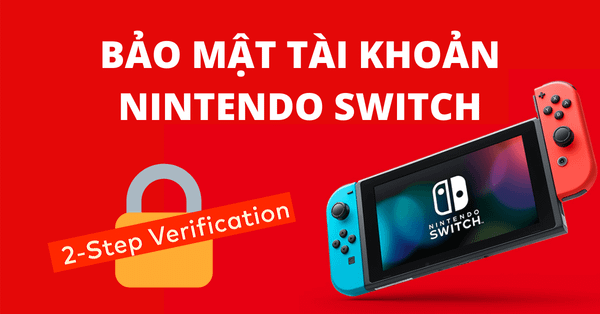 Can you guarantee that account Nintendo Switch and money in eShop will be sure safe? What if someone used it machine Nintendo Switch How about changing your account information or using your balance to buy miscellaneous goods? You will probably need Nintendo's new security features.
See more: How to create a Nintendo Switch account is super easy.
2 layers security feature for Nintendo Switch
Nintendo sent messages and encouraged users Nintnedo Switch Use two-factor security for your accounts Nintendo their. This feature will ensure that all login and account use need authentication through a personal device such as a mobile phone, making it difficult for hackers to access your account from a page. other.
How to secure Nintendo Account
Access website Nintendo Account, login to your Nintendo account.
Select item Sign-in and security settings -> 2-Step Verification -> Edit.
Choose 2-Step Verification settings.
Choose Send email to receive the confirmation code in the email.
– If your email address is incorrect, please go to the section User Info -> Email Address to change back.
Enter the confirmation code from the email, select Submit.
Install apps Google Authenticator on phone or tablet.
– Google Authenticator is a free app that can be downloaded directly on Google Play (Android) and App Store (iOS).
Use the QR Code scanner app on your phone to scan the QR code on the screen Nintendo Account.
The application on the phone will display 6 confirmation numbers, enter the code in the box in step 3, select Submit.
List backup code will be displayed. Copy all those codes and save them somewhere else.
– Backup Code Use to login in case you cannot connect to the application Google Authenticator. MAKE SURE TO SAVE YOUR BACKUP CODE IN A SAFE PLACE.
– Every Backup Code can be used only once.
Choose I have saved the backup codes, then press OK.
– Once it's installed, you can go back to the section 2-step verification settings to review the backup codes and remove the limitation of double validation.



Source link: Secure your Nintendo Switch account with this updated feature
– https://emergenceingames.com/