Rovio has released the games Angry Birds With a variety of colors over the years and after a series of ball shooting or match-3 games with the theme of angry birds, the game developer has finally returned to the "coordinate shooting" formula that creates its reputation with the latest Angry Birds Journey game.
Developed by Rovio Entertainment, Angry Birds Journey is a fun game with style Coordinate shooting game Game familiar with the famous Angry Birds series. Who doesn't love Angry Birds? Perhaps Rovio got lost somewhere with the ball shooting games, match-3 not receiving a warm welcome from players and too many ads. However, the developer has returned, but I don't know if it's better than before, with the latest game Angry Birds Journey.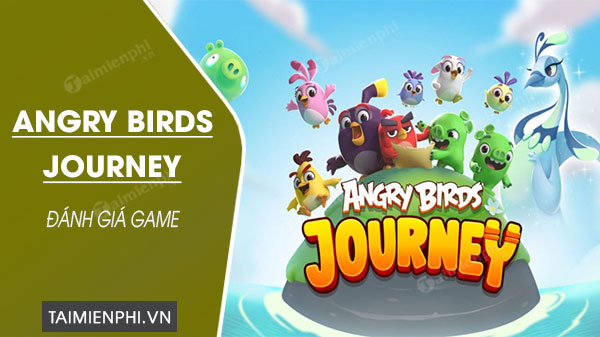 Review of game Angry Birds Journey
Is Angry Birds Journey a good game? In this article, Taimienphi.vn will Reviews on Angry Birds Journey and share your first impressions of this game.
Reviews on Angry Birds Journey
1. Return to the roots with coordinate shooting gameplay
Starting with the Angry Birds Journey review, like its predecessors, the game has the familiar coordinate shooting or slingshot gameplay. You need to lead the angry birds to complete suicide missions, break a series of structures, that is, "wipe out" the green pig and rescue the trapped birds.
While doing that, keep in mind that you have a limited number of birds and you must strategize to attack the weak points of the structures ahead, in order to maximize the damage each bird does. . During the gameplay, you can strengthen your birds to launch more brutal and powerful attacks on the enemies.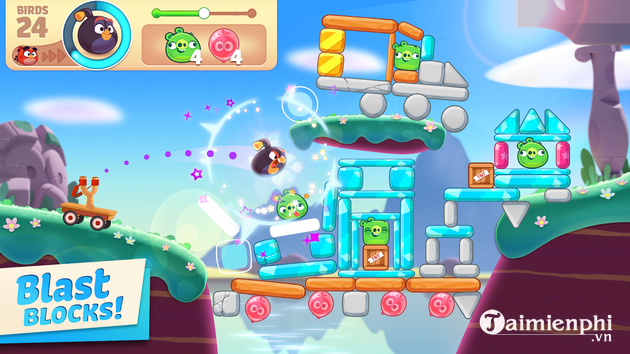 In each level, you have to destroy 3 structures and eliminate some pig opponents hiding in them. In Angry Birds Journey, instead of tapping to activate special powers like other games in the series, the birds' powers will be activated automatically. The game also has a Stamina (network) system and you will lose one life for each defeat.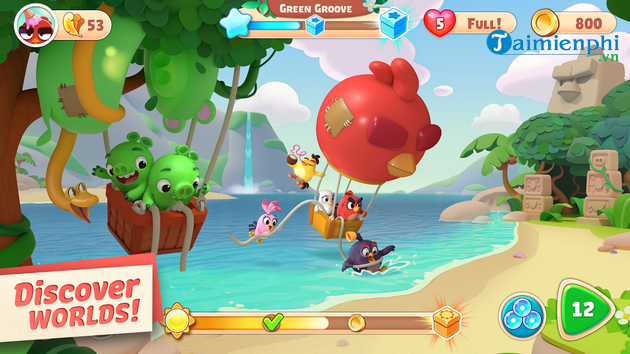 Overall, Angry Birds Journey has a very familiar but easier gameplay than previous games. You have many birds with different skills in your hand, so as the difficulty of the game increases as you level up, you can take advantage of the different birds to assess the situation and complete the level. for the most efficiency. Angry Birds Journey also has a leveling up feature where you can get some items after earning enough XP with each successful level up.
2. Colorful graphics and smooth controls
The game has colorful cartoon-style graphics, catchy music and sounds. When compared to other Angry Birds games, the graphics of Angry Birds Journey seem to be a bit more polished literally and the green pigs have a more square appearance, which many players will probably not like. .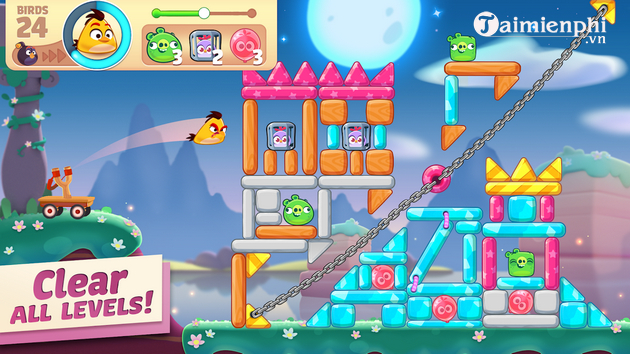 The control mechanism is no different. You pull the slingshot, adjust the direction and power, then aim the pig opponent's structure to break it. The user interface is quite simple and easy to understand. You will be introduced to the game mechanics and what to do when you first enter the game.
3. In-app purchases
The game offers a multitude of paid items. With real money, you can buy in-game currency packs, game turns, and various items. These purchases can cause the game to lose a lot of players because they cost up to 99.99 USD. Surely those who are willing to spend money playing games will want to buy "broken" games in a single time rather than buying sporadic packages that cost nearly 100 USD.
Final rating:
– Gameplay: 8/10
– Graphics and music: 7.5/10
– Control: 8/10
– Free element: 5/10
https://thuthuat.taimienphi.vn/danh-gia-angry-birds-journey-62319n.aspx
Overall, Angry Birds Journey is not a great game, but it is still worth playing, especially if you are a hardcore fan of the angry birds series. Except for the limited Stamina system and expensive IAP, you will have a great time with this game. If you do not know how to download Angry Birds Journey, you can refer to the detailed instructions in the article below:
See also: How to download Angry Birds Journey
Related keywords:
angry birds journey
, review game Angry Birds Journey, comments about game Angry Birds Journey,
Source link: Reviews on Angry Birds Journey
– https://emergenceingames.com/