Genshin Impact Tier List, a collection of characters from the strongest to the weakest, is used by many gamers. With the Genshin Impact Tier List compiled by taimienphi, readers can refer to, build a strong squad and defeat all opponents more easily.
Genshin Impact Tier List is a list of characters compiled based on the win rate and player's perception. The chart below will divide the characters in Genshin Impact by different levels, you will have an overview and clearer view of the strength of each character.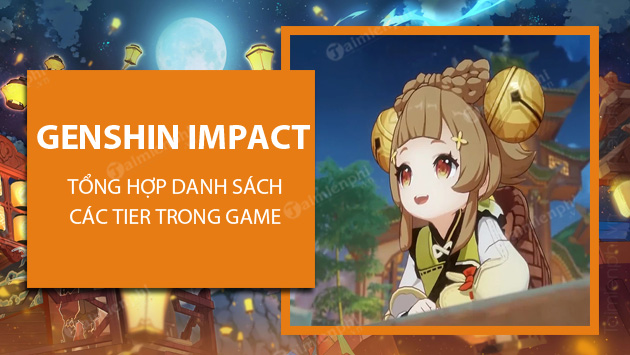 Latest Genshin Impact Tier List
Character ranking in Genshin Impact 3.3
1. List of SS+ tier characters
This is a list of characters with a high win rate, absolute power, and the ability to change the game. However, each character has a different important role in the squad. If a team consisting only of the best DPS warriors will not be able to function as effectively as a squad consisting of the best members in different positions, gamers need to know how to take advantage of the abilities of these characters. right way. SS+ tier warriors include:
– Ayaka
– Bennett
– Hu Tao
– Kazuha
– Kokomi
– Nahida
– Raiden
– Xiangling
– Xingqiu
– Yelan
– Zhongli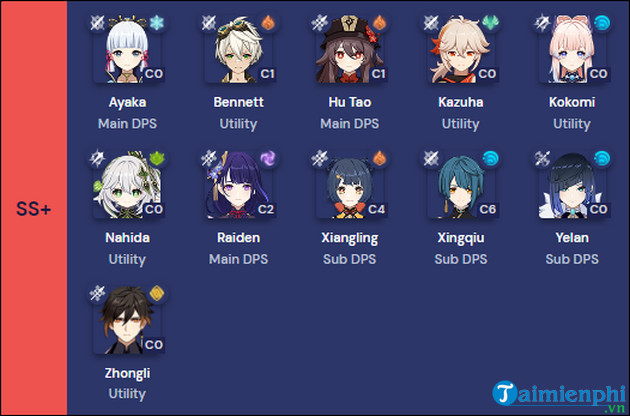 2. Rank S+ Floor Warrior
S+ tier characters also have a pretty high win rate. In terms of strength, they are still inferior to SS+, but these are all great warriors, you won't waste a lot of resources upgrading them. Tier S+ is used by many top server gamers, they include:
– Albedo
– Ayato
– Childe
– Diona
– Fischl
– Ganyu
– Gorou
– Itto
– Kuki Shinobu
– Mona
– Nilou
– Sara
– Shenhe
– Tighnari
– Wanderer
– Yae Miko
– Yoimiya
– Yun Jin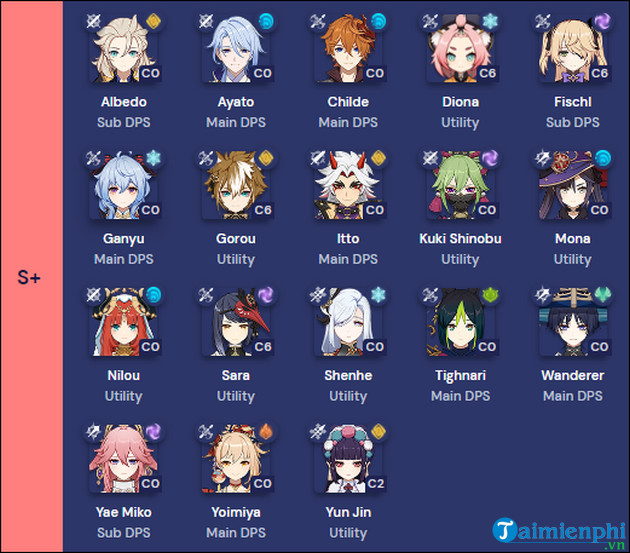 Refer to the latest Genshin Impact Giftcode here to redeem attractive rewards before they expire
.
See also: Code Genshin Impact
3. List of SUPER-class characters
Tier S is not the perfect top choice, compared to 2 tiers SS+ and S+. If you know how to make the most of your abilities, these characters are extremely useful. The S-layer warriors have great power, making them worthy units to have. The ability to trigger basic reactions or benefit from these members is just amazing.
– Beidou
– Candace
– Collei
– Cyno
– Dori
– Eula
– Jean
– Keqing
– Layla
– Sayu
– Sucrose
– Traveler (Dendro)
– Venti
– Xiao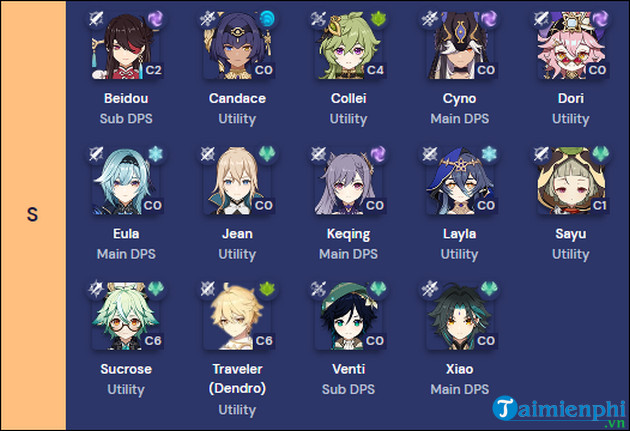 4. Summary of tier A members
They are excellent warriors, not far from S rank. However, these warriors have a less decisive role. To get the most out of them, you need to put them in a proper formation with higher-tier support members.
– Barbara
– Chongyun
– Diluc
– Faruzan
– Heizou
– Klee
– Lisa
– Noelle
– Qiqi
– Rosaria
– Thomas
– Yanfei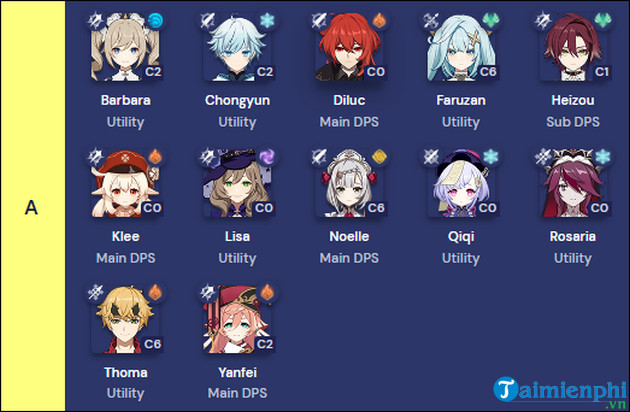 5. Character Rank B and C
Ranks B and C aren't really for the winning lineup. Although, they can act as supports and healers, but will be used as a second option for A-rank warriors you don't have yet. But for new players, they are very useful and worth considering.
– Kaeya
– Ningguang
– Razor
– Traveler (Electro)
– Xinyan
– Hello
– Amber
– Traveler (Anemo)
– Traveler (Geo)
Thus, with the Genshin Impact Tier List, you can confidently build yourself a strong squad and win every opponent. Readers can also learn more about What is Genshin Impact Map? to help players find materials and quest information easier.
https://thuthuat.Emergenceingames.com/genshin-impact-tier-list-74067n.aspx

Related keywords:
List of characters Genshin Impact Tier List 3.3
Genshin Impact character ranking, Top best Genshin Impact characters,
Source link: Ranking of characters in the latest Genshin Impact Tier List 3.3
– https://emergenceingames.com/