Thanh Y Cac
​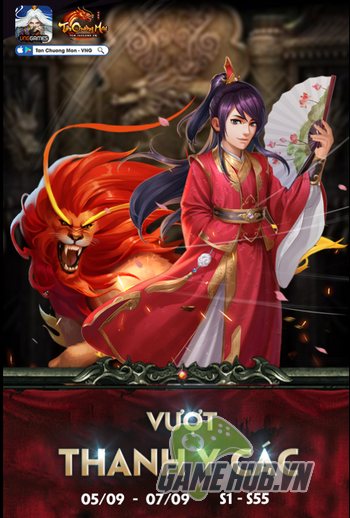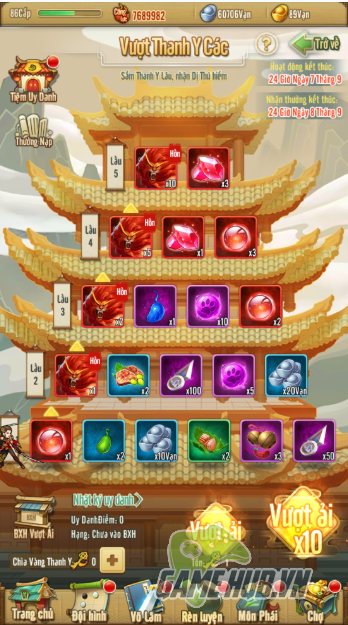 ​
Event time: September 5 – September 7
End time to receive rewards: 23:59 on September 8 (for Grandmasters with at least 750 points)
Event content:
– During the event, the Grand Master participates in overcoming Thanh Y Cac to receive extremely attractive rewards.
– Each time you pass Thanh Y Cac, you need to spend a Golden Key of Thanh Y, and the Grand Master will randomly receive a reward of the current floor.
+ 1st floor: 1 key/time
+ 2nd floor: 2 keys/time
+ 3rd floor: 3 keys/time
+ 4th floor: 4 keys/time
+ 5th floor: 5 keys/time
– When the Grand Master receives the reward located on the leftmost of this floor, he will be able to proceed to the next floor.
– When passing the last floor, the Grandmaster who passes the stage one more time will receive a random reward then will return to the starting point to clear the level from the beginning.
– Each time you pass the stage, in addition to receiving the Grandmaster's reward, you can also receive Fame Points.
The rewards are calculated according to the number of floors and are extremely attractive with Soul Beasts, Materials, Silver and Dark Essence.
Dragon Boat Club
​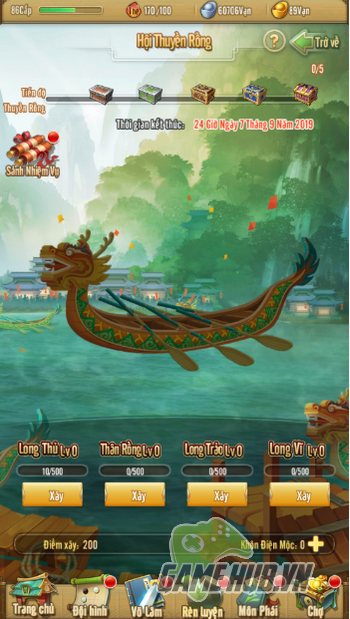 ​
Event time: September 5 – September 7
Event content:
– During the event, the Grand Master participated in sweeping activities of Vo Lam, Luan Kiem and Dat Bao to collect the Woods of the Temple.
– In addition to receiving the Dien Moc Khon through activities, the Grand Master also buys the Dien Moc Khon for 50knb for 1 piece.
– Dragon Boat consists of 4 parts, each part will have EXP and level, the whole server will build together, when all the parts are level enough, the whole server will be rewarded.
Scoring method:
– 1 Kun Dien Moc will get 1 part EXP and 20 Construction points.
– 1 Part will have 500 EXP
– A total of 2000 EXP points will be obtained for completing 1 dragon boat and will increase 1 Server-wide progress level.
When reaching the specified Building point, you will receive a reward, in addition, you can also receive additional rewards according to the progress of the Whole Server.
Dynamic Missions
​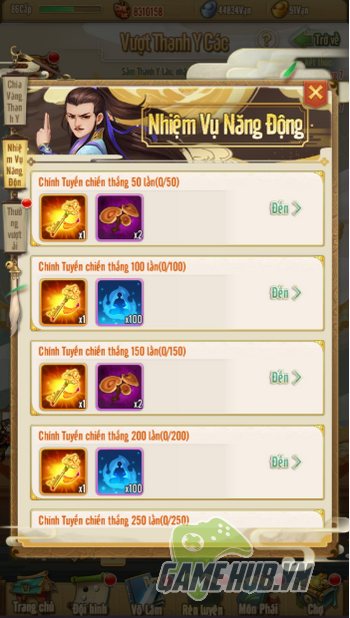 ​
During the event period, Grand Master participates in conquering dynamic missions as assigned such as participating in Main Line, Extra Line, Luan Kiem, Doo Bao missions to receive Thanh Y Golden Key and similar rewards. response. Missions do not reset every day.
This is a great opportunity for Grandmasters to collect a lot of materials and spirit beasts. Do not miss it!
Find out more information New Grand Master VNG at:​
​
Source link: New Grand Master VNG: Gamers are excited about Thanh Y Cac event and Dragon Boat Festival
– Emergenceingames.com