Final match Winter Arena of Fame 2020 of the Arena of valor will take place at 14:30 on November 8. Besides watching the thrilling developments of the match, gamers also have the opportunity to own attractive gifts in the accompanying event.
Event 1: Receive a free hero when completing 3 missions
Visit the Grand Finals event homepage first and complete the following 3 quests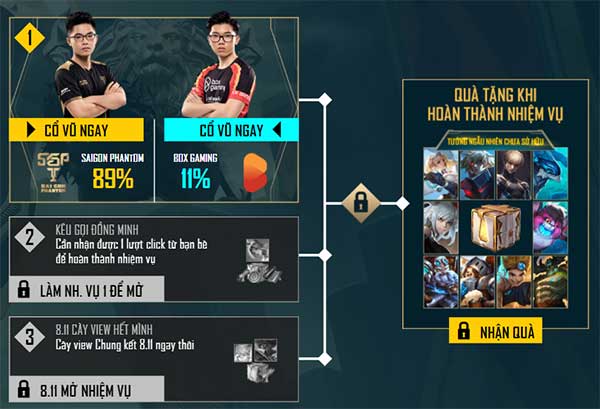 Mission 1: Cheer on one of the 2 teams to compete in the finals, Saigon Phantom or Box Gaming (You must complete mission 1 to unlock mission 2)
Mission 2: Call on your friends to cheer for you and when you complete the mission, you will receive 1 Lucky Gift Chest (You will only be counted if you receive 1 click from a friend).
Mission 3: Plowing the livestream view of the final on November 8 This quest will be opened on November 8 and upon completion of the mission, you will also receive a Lucky Gift Chest and when opened, you will own 1 of 10 random generals.
In addition, if you are lucky, you will also receive a random gift for the person sharing the event final page.
1 Special Prize: 1 Vsmart Aris phone
10 Consolation prizes: Each Austrian Finals combo is limited to 1 outfit for sale in the shop up to 399QH.
Event 2: Watch the livestream receive the perpetually limited costume giftcode
Limited giftcodes will appear randomly during the finale livestream, the most significant of which are limited perpetual outfits.
Good luck!
Source link: Lien Quan Mobile: Get free generals with event 8/11 final
– https://emergenceingames.com/