On the 15th anniversary of the game's release Age of Empires III or Empire 3, version Age of Empires III Definitive Edition or AOE 3 DE will be released on October 15th on Steam and with Xbox Game Pass for PC as the final chapter of the remastered Age of Empire version – a classic of the real-time strategy game genre. meticulously modernized.
Age of Empires III: Definitive Edition like version Age I & II Definitive Editions recently released, has returned to the original RTS game to polish and refine what made it a legend and bring its visual quality to the modern era of PC gaming. That means 4K graphics (from which the name Empire 4k released), accessibility features and general quality improvements, as well as the inclusion of 2 expansion packs (Asian Dynasties and The War Chiefs), plus 2 new modes (Historical Battles and Art of War) – all of which will make up the most complete version of this admired RTS game.
The latest information about the game Age of Empires III: Definitive Edition coming out in the near future
In terms of graphics, the game is significantly improved when compared to AOE 3 root. Structures, units, and creatures all have new textures, resulting in a much more detailed look. The architectural features of the building and the tiled roof are more distinguishable, the animals are more recognizable, and some smaller details such as spears, shields, and guns are significantly improved. In addition, there are a number of other improvements to the graphics engine, such as a new lighting system, particle effects, and improved destruction technology, all of which help modernize the look and feel of the game.
One of the unique features of Age of Empires III is its card system, which is also present in Age of Empires III: Definitive Edition. With this feature, you create pre-built decks that you can access as a source of power in battle, to supply resources or units to the battlefield. As you move deeper into Age of Empires III: Definitive Edition's campaign, more cards will unlock, allowing you to customize your tactical design while in battle.
For Multiplayer, all cards will be unlocked with the available deck, to ensure fairness on the battlefield in online battles. Speaking of which, several improvements have come to the multiplayer, such as dedicated servers and Xbox Live support, new clan features, and brand new leaderboards and achievements to create. An incredible strategy game pack.
The gameplay is varied but not discrete, large groups of units easily switch formations, good pathfinding and story-based elements including all-new cutscenes, redesigned from the ground up , and in-game cutscenes all use newly created in-game assets. And if you need reminders on how to build a settlement, plan an attack, and win, Art of War presents a great tutorial/refresher course that's both entertaining and competitive, rewarding Medals are based on how fast you complete each situation.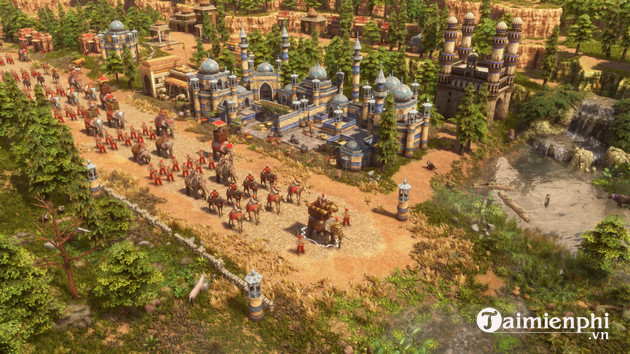 One of the more impressive enhancements to the game is the revised narrative and description of Native American and First Nations civilizations. Because the core of .'s campaign Empire III involves exploring the New World and being able to play as these civilizations so there is a better perception today to realistically represent the culture and people depicted in the game. To achieve that in Age III: DE, the team at World's Edge worked directly with consultants to get information about their people in a more respectful and accurate way.
It's great to see that not only the gameplay and graphics are gaining attention, but also the willingness to improve these cultural depictions. This is especially true in today's situation, when we have a renewed focus on enhancing our understanding of other nations, races and beliefs.
You can pre-order Age of Empires III: Definitive Edition right now on the Microsoft Store and Steam, as well as pre-install with Xbox Game Pass for PC. Additionally, Age of Empires III: Complete Collection owners on Steam can pre-order or purchase the Definitive Edition with a 25% discount. You can also pay before purchasing the Age of Empires Definitive Collection bundle on the Microsoft Store and Steam that includes all 3 DE versions. Choosing the Definitive Collection bundle is a great deal that includes all three Definitive Editions as it saves you $15 compared to buying each game separately.
=> Link Download Age of Empires III Definitive Edition For PC

And if you want to experience the Age of Empires II Definitive Edition, you can go here:
=> Link Download Age of Empires II Definitive Edition for PC

https://thuthuat.taimienphi.vn/tim-hieu-them-ve-age-of-empires-iii-definitive-edition-ra-mat-ngay-15-10-60762n.aspx
See more: Call of Duty: Black Ops Cold War sees an impressive return of Zombies
Related keywords:
Learn Age of Empires III Definitive Edition
, explore history in AOE 3 DE, Age of Empires III Definitive Edition due out October 15,
Source link: Learn more about Age of Empires III Definitive Edition, out October 15
– https://emergenceingames.com/