Apex Legends has gained in popularity rapidly after its release in 2019 with the above players Xbox One, PS4 and PC Each has one most important goal: win the war of survival. Unlike most survival battle games, Apex Ask the player to choose a character to join the battle. It is similar to style games Overwatch Each character, called heroes, has its own abilities, strengths, and weaknesses.
Present Apex Lengends currently has 14 different character classes and will continue to receive more characters.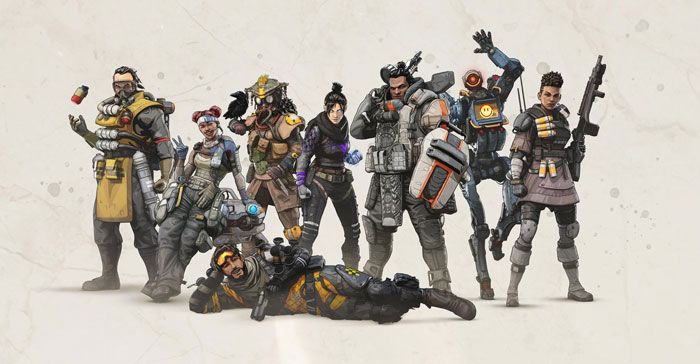 Apex Legends 2020 has all 14 character classes for players to choose from
There are 6 free characters that players can choose from, while 7 other characters can be purchased with in-game currency or cash you earn.
Depending on your gameplay or preferred settings, there's definitely a character that will suit you. Let GameVi go through all the Apex Legends character classes below to see which option will suit you best.
1. Bloodhound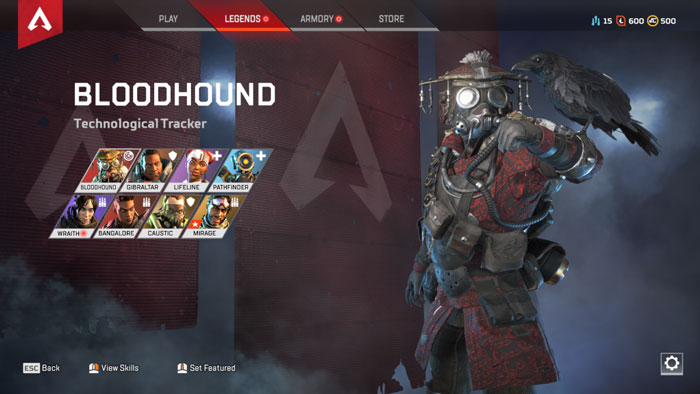 BloodHound in Apex Legends
Intrinsic:
Tracker: Detects traces of enemies left behind.
Tactic:
Eye of the Allfather: Detect complete data of enemies, traps and clues in works near you.
Ultimate:
Beast of the Hunter: Strengthens the senses, helps to move faster.
2. Gibraltar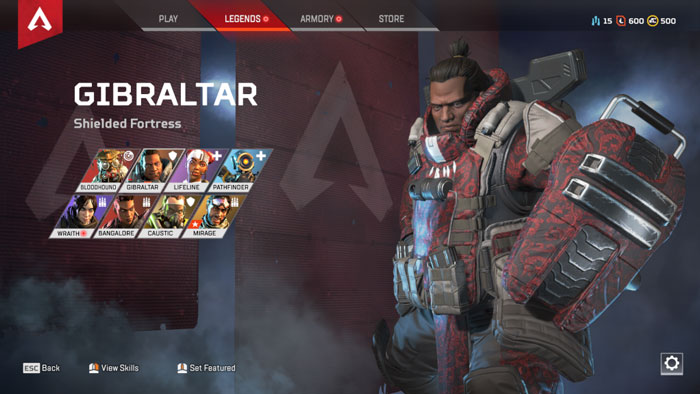 Gibraltar from Apex Legends
Intrinsic:
Gun Shield: Aiming down the sights will deploy a gun shield to block the firepower of the oncoming enemy.
Tactic:
Dome of Protection: Throws a dome-shaped shield to block all attacks for 15 seconds.
Ultimate:
Shoot defense: Deploy mortar to marked position.
3. Lifeline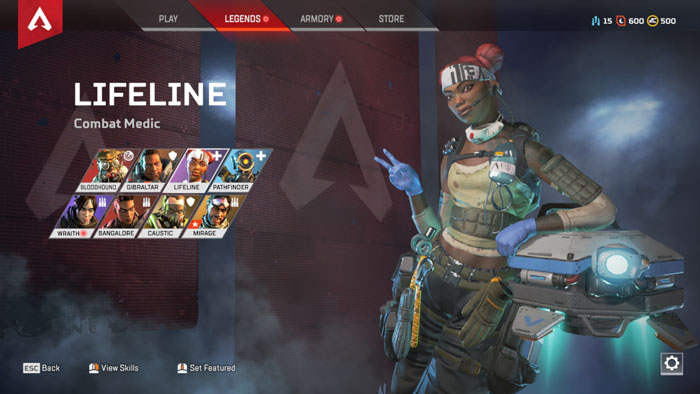 Lifeline in Apex Legends
Intrinsic:
Combat Medic: Revive kills faster, healing items are used 25% faster.
Tactic:
DOC Heal Drone: Call a drone to automatically heal nearby teammates from time to time.
Ultimate:
Care Package: Call relief aircraft filled with high quality items.
4. Wraith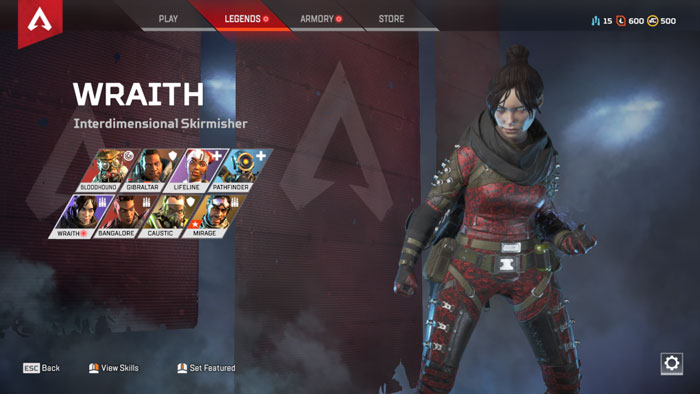 Wraith in Apex Legends
Intrinsic:
Voice from nowhere: A voice will warn you when danger approaches.
Tactic:
Into the Void: Warp and reposition yourself without worrying about damage.
Ultimate:
Dimensional Rift: Creates a portal in 60 seconds between two locations. Can be used by the entire group.
5. Pathfinder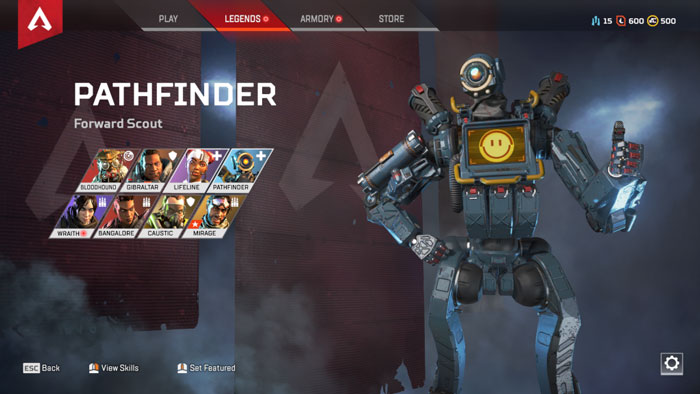 Pathfinder in Apex Legends
Intrinsic:
Internal knowledge: Scan signaling survey to reveal the next location of the ring's.
Tactic:
Grappling Hook: Helps you to quickly leave the venue.
Ultimate:
Zipline Gun: Create a zipline that anyone can use.
6. Bangalore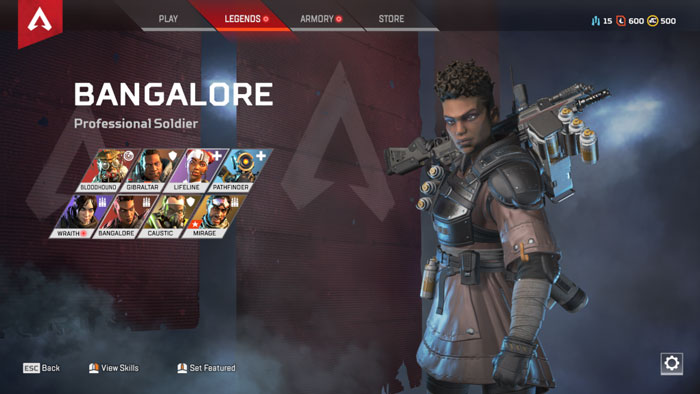 Bangalore in Apex Legends
Intrinsic:
Double Time: Causes you to move faster for a short period of time.
Tactic:
Smoke shot: Fire the high-speed chimney from the launcher creating a wall of smoke.
Ultimate:
Rolling Thunder: Deploy a cannon attack that moves slowly in the air.
7. Caustic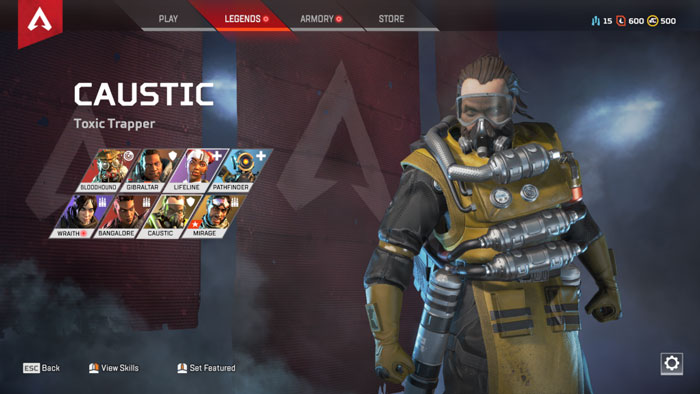 Caustic from Apex Legends
Intrinsic:
Nox Vision: You can see enemies through the gas.
Tactic:
Nox Gas Trap: You can release deadly gas boxes that explode when shot or activated by an enemy.
Ultimate:
Nox Gas Grenade: Creates a large zone of toxic gas.
8. Mirage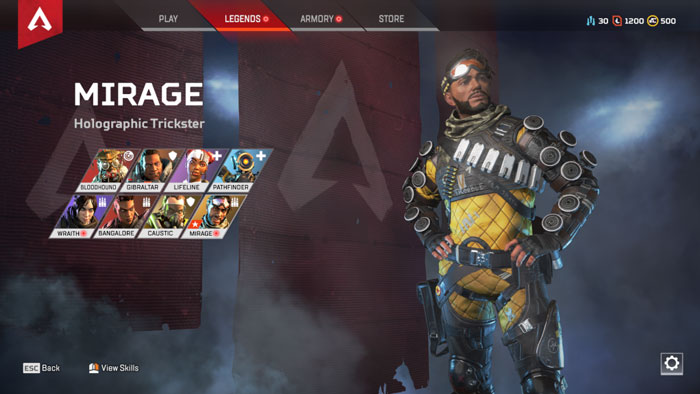 Mirage in Apex Legends
Intrinsic:
Now You See Me: Automatically release bait and cloak for 5 seconds upon defeat.
Tactic:
Psyche Out: Send a prey running across the map, confusing enemies.
Ultimate:
Life of the Party: Deploy a squad of decoys while you wear cloak to distract your enemies.
9. Octane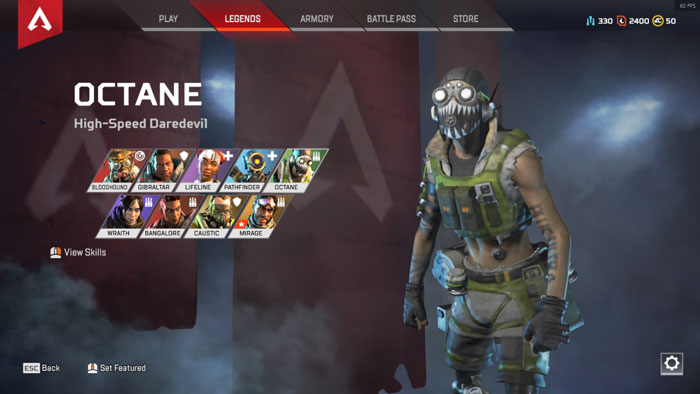 Octane in Apex Legends
Intrinsic:
Swift Mend: When not taking damage, Octane recovers blood over time.
Tactic:
Arouse: Move 30 percent faster for six seconds at a cost of health.
Ultimate:
Launch Pad – Jump Pad: deployable to launch users in the air.
10. Wattson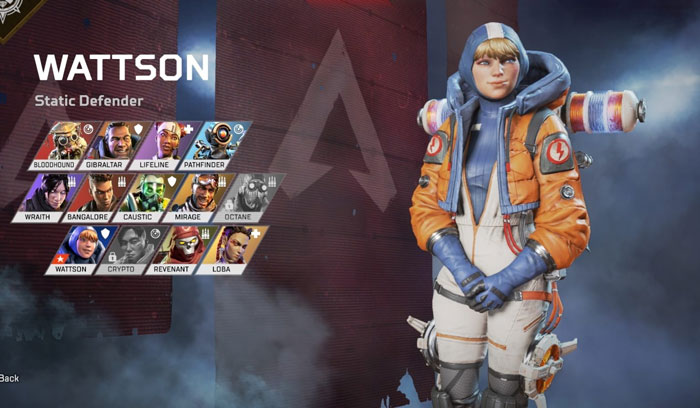 Wattson from Apex Legends
Intrinsic:
Sparks of Genius: Standing near Intercept turrets increases your tactical load rate Wattson.
Tactic:
Peripheral security: Create an electrified fence by connecting nodes. Barrier damages and slows enemies.
Ultimate:
Interception Pylon: Place a power pole that destroys mines and mines and repairs damaged shields. (Maximum: 1 stack)
11. Crypto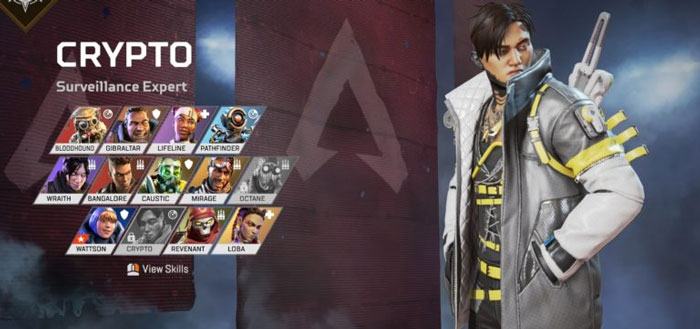 Crypto in Apex Legends
Intrinsic:
Neurolink – Crypto and his teammates saw what his Surveillance Station detected at a distance of 30 meters.
Tactic:
Surveillance drones – Deploying the drone to observe in the air. Cooldown 40 seconds if destroyed.
Ultimate:
Drone EMP – Charge the EMP from your drone. The explosion deals 50 damage, slows players down and destroys traps.
12. Revenant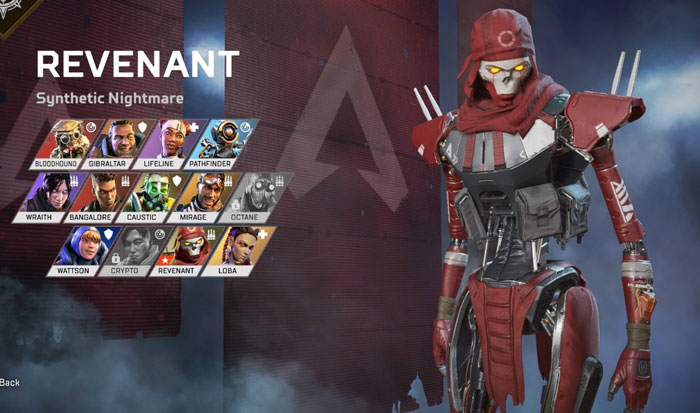 Revenant in Apex Legends
Intrinsic:
Stalker: You bend faster and can climb higher walls.
Tactic:
Silent: Throws a device that damages and disables enemy abilities for 20 seconds.
Ultimate:
Death Totem: Drop a totem that protects the user from death. Instead of being killed or killed, you'll be back to the totem. Armor deactivated during death protection.
13. Loba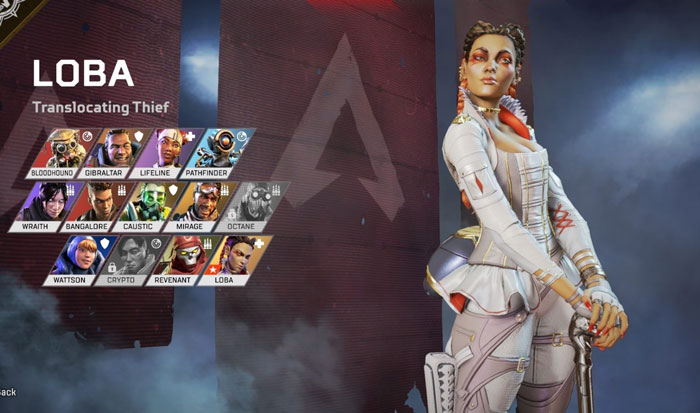 Loba from Apex Legends
Intrinsic:
Eye for Quality: Legendary and epic loot nearby can be seen through the walls. The range is like Black Market Boutique.
Tactic:
The Thief's best friend: Teleport to hard to reach places or get out of trouble quickly by throwing your jump drive arms.
Ultimate:
Black Market Boutique: Placing a mobile device nearby allows you to teleport nearby loot to your inventory. Each Legendary friendly enemy can receive up to two items.
14. Rampart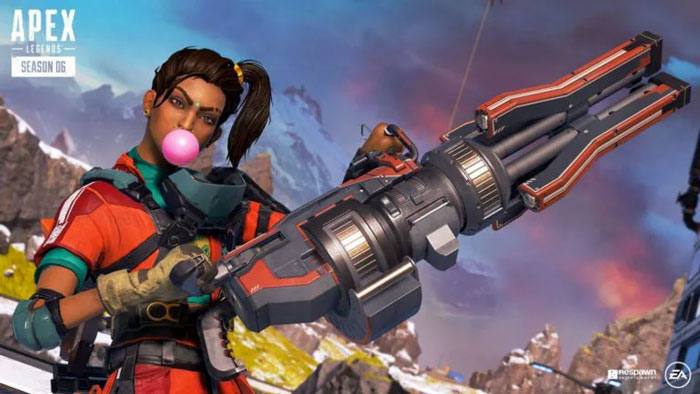 Rampart in Apex Legends
Intrinsic:
Modded Loader: Increase magazine capacity and reload faster when using LMG and Minigun.
Tactic:
Amped Cover: Build a concealed wall, deploy an amped wall for shielding.
Ultimate:
Emplaced Minigun "Sheila": Putting a mounted machine gun that anyone can use. High ammo capacity, long ammo change time.
Source link: Introducing Apex Legends character classes and skill sets
– https://emergenceingames.com/