Acts like hacking to increase rank, cheat game, sharing personal accounts
When adding email addresses and social networks to tie in user data, sharing accounts with each other becomes very easy. Riot has declared this action illegal as it violates the terms and conditions, privacy policy, etc.Breaching these will result in the in-game account being permanently banned in League of Legends (LoL: Wild Rift). Along with that, Riot Games has come up with various practices that are believed to be in violation of their terms and conditions. Find out with us how to avoid account ban in League of Legends and have a great gaming experience.
The following actions will result in being banned from League of Legends
1. Using currency offers from third party websites
Currencies are an essential part of the game as it gives you access to the game's premium and paid features. There are many 3rd party websites that claim to offer free Wild Cores along with other great discounts. Remember to stay away from these. These sites are basically spam.
All they do is ask for your ID and password and some other personal information and of course payment information. And after you give them all the information they need and you successfully execute the transaction, they are gone. Yes, they won't give you anything and take away your personal information. To purchase legal Wild Core, you can visit the official Wild Core website.
2. Illegal ranking increase
There is always a rush to rank up quickly and many players even want to speed up the actual process. They often use hacking software from outside companies.
Those hacking software allow you to increase your rankings pretty quickly by charging a certain amount. But game publishers are completely against this approach. Gamers should follow the rules and climb the ranks according to their skill and experience. Doing this will result in an account being banned and taking undue risk.
3. Share account details
Lots of players share their account information with others, which is also against the terms of use. Riot Games monitors device IDs and gives alerts when the device changes or is logged on to another device. While transferring data from multiple devices, there is a possibility of data loss and Riot Games does not assume such responsibility.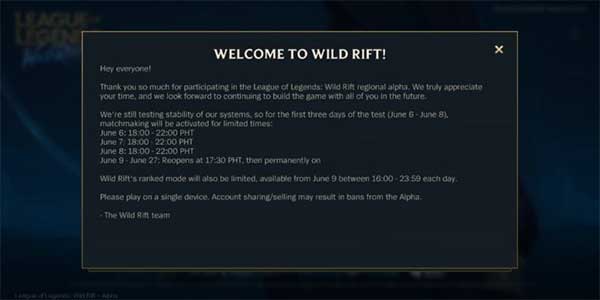 4. Account transactions
Publishers are completely against buying and selling accounts. There are various risk factors involved in this. Often players buy and sell accounts to make money. But the account transaction also contains login information that other buyers or sellers could overdo it. Riot has stated that they will not take any responsibility for this.
5. Use Cheat and Mod
Players who use cheats to increase their stats in the game will suffer heavy consequences. Riot Games has an in-game Anti-Cheat Engine that can detect cheating usage and modified game files. Discovered players will be banned for a period or permanently. Riot Games may also ban the person's device.
Epilogue
Riot from the very beginning of the testing phase in certain regions was determined to eliminate cheating in the game. So, if you are playing the game honestly, please rest assured about your account.
Source link: If you do not want to be banned by Riot account, avoid these 5 behaviors
– https://emergenceingames.com/