How to install keyboard shortcuts in AutoCAD helps users to manipulate faster, save more working time. Not only that, installing shortcuts in AutoCAD helps you use the software more professionally. However, if you do not know how to install AutoCAD shortcuts, readers can refer to the instructions in the article below and follow them.
AutoCAD is a famous CAD software, used to design 2D technical drawings or build 3D models. With a huge command list with about 150 commands, setting keyboard shortcuts in AutoCAD is very important because it helps you execute commands faster and save a lot of time. In this article, we will learn together how to create shortcuts in AutoCAD.
How to set keyboard shortcuts in AutoCAD
See also: List of keyboard shortcuts in AutoCAD
Instructions for creating shortcuts in AutoCAD
This is easily done through AutoCAD's Customize User Interface (CUI) feature. You follow these steps:
Step 1: To access CUI, you enter cui in the command line and press Enter or go to tab Manage and click the . button User Interface below the table Customization.
Step 2: In the list of commands panel, enter the command for which you want to assign a keyboard shortcut. For example, type Hatch. Find it on the menu below and left click to see the button image and its properties. As you can see from the properties panel on the left as shown below, there is no keyboard shortcut assigned to this command.
Step 3: In the table Customization in All Filesyou expand the last item in the list as Partial Customization Files. Then, expand this list in the following order: Custom > Keyboard Shortcuts > Shortcut Keys.
Step 4: Click and drag the desired command from the menu Command List go to folder Shortcut Keys under. You should see your command displayed in the properties menu at the bottom right.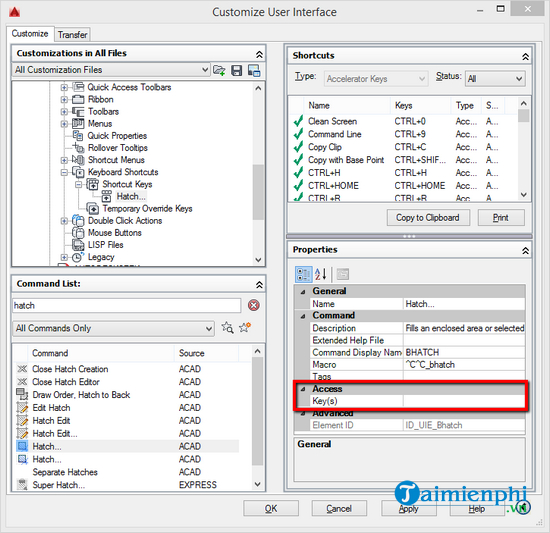 Step 5: As you can see, there is a command Access and under there is a box Key(s). Click on it and then click on three dots will appear on the right. You can now assign a keyboard shortcut to this command. Finally, click on Apply > OK.
https://thuthuat.Emergenceingames.com/cach-cai-phim-tat-trong-autocad-60166n.aspx
Above are the steps to set keyboard shortcuts in AutoCAD. Besides assigning custom keyboard shortcuts to existing commands, you can even create your own custom commands and macros and assign them to your favorite shortcuts. If you have not installed AutoCad on your computer, you can download and install the latest version of AutoCAD 2021.
Reference: Instructions for downloading and installing AutoCAD 2021
Related keywords:
how to set keyboard shortcuts in Autocad
setting shortcuts in Autocad, creating shortcuts in Autocad,
Source link: How to set keyboard shortcuts in AutoCAD
– Emergenceingames.com