The first day of the new 2021, PUBG Mobile created an opportunity for Esports players to start their journey by registering for PUBG Mobile Club Open Spring 2021, the PMCO tournament opened on January 1, 2021 and will end on January 24, 2021 .
PUBG Mobile Club Open (PMCO) is the first stage in PUBG Mobile's Esports division. It aims to bring all the semi-pro players to prominence, finding many outstanding talents. The PUBG Mobile Club Open Spring 2021 prize pool is also huge.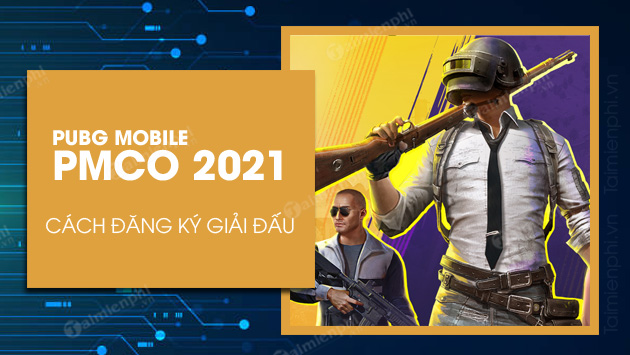 PMCO – PUBG Mobile's first tournament in 2021
Conditions to participate in PUBG Mobile Club Open Spring 2021
– Players must be 16 years or older.
– There must be at least 3 players of the same nationality in the team
– All players must be rated Platinum or higher at the time of registration.
– Team roster must have a minimum of four players and a maximum of five players (one substitute)
– Only one mobile device is allowed during the tournament. Players using tablets or PC emulators will be excluded from PMCO Spring 2021
How to register for PUBG Mobile Club Open Spring 2021
Step 1: Visit the link here.
Step 2: Select language English => click Registration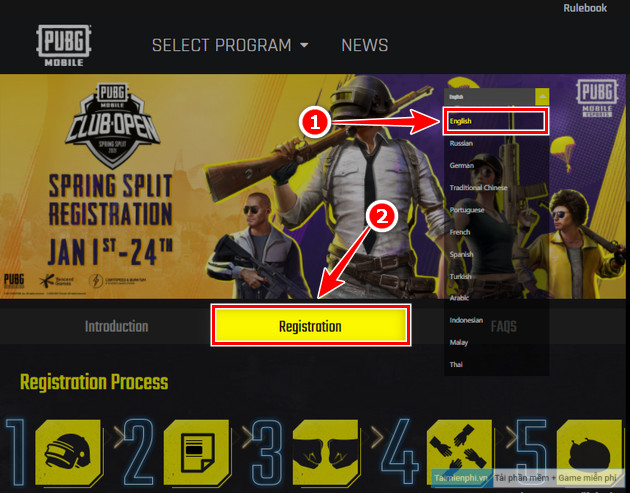 Step 3: Enter all the information in the blank boxes below including:
– Team Name: Team Name
– Register Region: Registered Region/Country
– Name: Name players
– Email: Personal Email Account
– Character ID: PUBG Mobile character ID information
– Nationality/Residency: Player's current nationality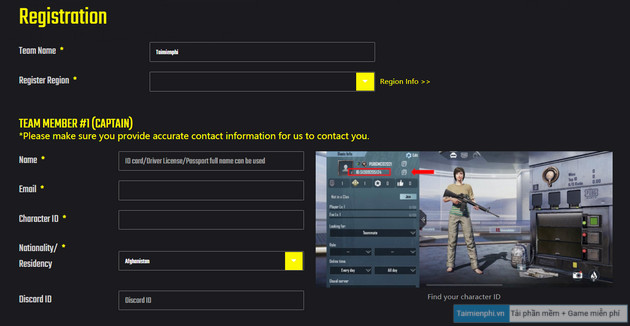 Step 4: After entering all the information, tick to agree to the terms and conditions of the PUBG Mobile Club Open Spring 2021 tournament => click Sumit.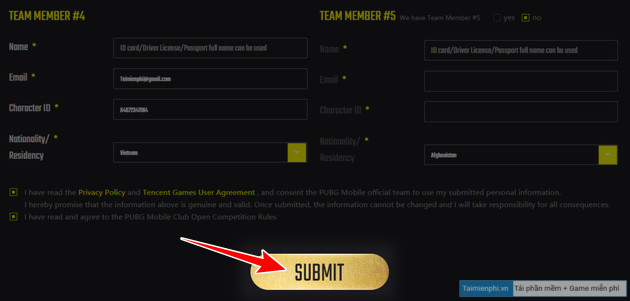 PUBG Mobile Club Open Spring 2021 tournament schedule
– After the registration period ends, the tournament will begin specifically as follows:
+ The knockout round starts from February 1, 2021 to February 7, 2021
+ Regional group stage starts from February 16, 2021 and ends on February 21, 2021
+ The Regional Finals will be held from February 24, 2021 to February 28, 2021.
What's new in the PMCO Spring 2021 tournament?
PUBG Mobile's esports scene is growing rapidly every year, and this season, the total number of regions that are allowed to participate in registration for the PUBG Mobile Club Open Spring 2021 tournament has also increased. The total prize pool for PMCO Spring 2021 is currently $1,642,400 (equivalent to VND 38 billion).

The expansion of the PUBG Mobile Club Open Spring 2021 tournament will be the biggest opportunity for players who want to start their professional Esports scene, teams from professional organizations will also be directly invited to participate. compete at regional stages. This allows more players to come in and show off their skills against some of the biggest names in the industry.
https://thuthuat.taimienphi.vn/cach-dang-ky-pubg-mobile-club-open-mua-xuan-2021-62093n.aspx
Currently, the gamer community is passing on an extremely interesting PUBG Mobile trick, players can hide the character's name by using special characters, please refer to the link below. Please.
Reference: How to name a blank PUBG Mobile character
Related keywords:
How to register for PUBG Mobile Club Open Spring 2021
, registration for the PMCO Spring 2021 tournament, registrations for the PMCO PUBG Mobile Club Open 2021,
Source link: How to register for PUBG Mobile Club Open Spring 2021, PMCO tournament
– https://emergenceingames.com/