Good game also known Gems are the most important resource in Rise of Kingdoms. With Gems, you can do anything like upgrade VIPs, use them to recruit new champions, buy teleports… and more. Taimienphi would like to share some Gems in Rise of Kingdoms for free.
The problem you will need a lot of Gems to use but they are very hard to find, there are many ways to earn Gems in Rise of Kingdoms such as doing events, completing quests, raising Barbarians/Forts, opening League Chests smart, buy packages …. Because this item is very valuable, you need to spend it wisely.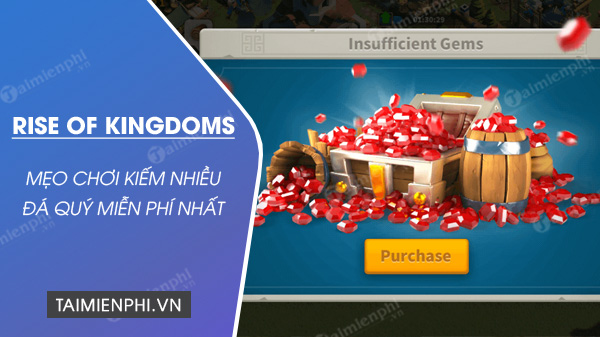 Rise of Kingdoms game tips to get free Gems
How to get free Gems in Rise of Kingdoms
1. Link your Rise of Kingdoms account to Facebook
The game doesn't explicitly tell you that you can link your Rise of Kingdoms account to Facebook, you will get 200 free Gems for doing this. This also helps you keep your account secure.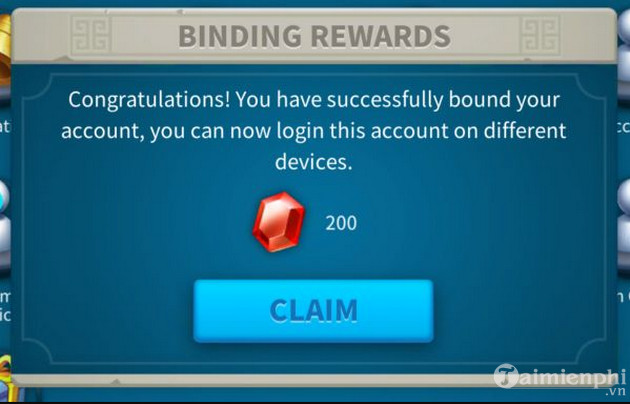 To connect your Rise of Kingdoms account to Facebook, tap Avatar your character in the upper left corner of the screen, then tap Setting. Here, tap the button Facebook to link your account and get rewards.
2. Complete the quest
Completing the main story quests will reward you with Gems, sometimes the least but lots of Gems. So make sure you keep track of these quests and complete them as soon as possible to get some free gems quickly.
3. Accomplish daily goals
If you complete all the daily goals by reaching 100 points, you will unlock the final chest reward in the tab Daily Goals, that gives you Gems in Rise of Kingdoms for free, so do it everyday.
4. Defeat the Barbarians
Defeating barbarians on the world map gives you a chance to earn some free Gems, you won't get much (usually around 10 gems) but it's worth it in the long run so make sure Always attack the highest level barbarians you can beat, increasing your chances of getting more free gifts.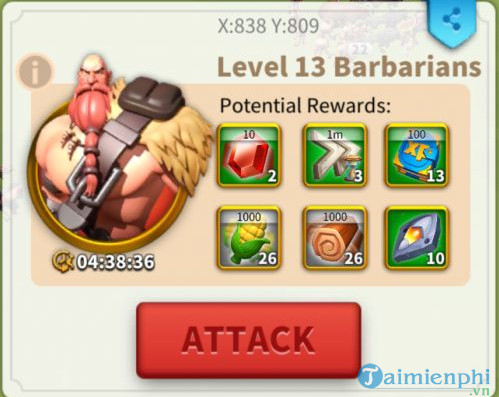 5. Special events
The game will always have some special events happening regularly, many of which will reward you with different Gem packs. So just keep an eye on all the events and make sure you get all the freebies. Also keep an eye on your Correspondence system as the developers will reward you with some free Gems after the downtime, maintenance updates.
6. Gem Mining
Finally, you will be allowed to unlock Gems research in the Academy. After studying this technology, you will be able to mine gems on the map. These are scarce and in abundance, only 10 gems a mine and you need 20 minutes to collect them all, but they are free and can be mined by regular occupation so make sure to take advantage Use this as soon as you have the technology.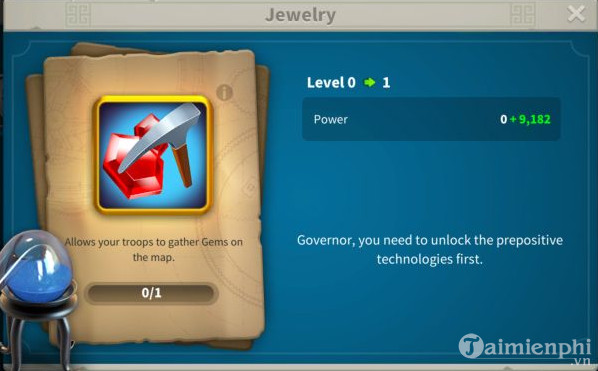 7. Get bonus from buying Gems
Finally, although this is not completely free as you have to spend some money, it still has to be mentioned. Usually, making real money purchases in Rise of Kingdoms will give you the opportunity to earn some great bonuses, in the form of free Gems or other extremely valuable items.
https://thuthuat.taimienphi.vn/cach-nhan-da-quy-trong-rise-of-kingdoms-gem-mien-phi-61744n.aspx
Above are all the ways to get Gems in Rise of Kingdoms, free Gems that you need to know if "Hough Bao" is limited. Also, if you find any other way to earn more Gems without breaking the rules or doing shady things, don't hesitate to let us know by commenting below.
Reference: Guide to play Rise of Kingdoms on BlueStacks 4
=> Link Download Rise of Kingdoms for Android


=> Link Download Rise of Kingdoms for iPhone


Related keywords:
How to get Gems in Rise of Kingdoms
, Rise of Kingdoms Free Gems, Rise of Kingdoms Tips to earn Free Gems,
Source link: How to get Gems in Rise of Kingdoms, Gems for free
– https://emergenceingames.com/