Pucca Puzzle Adventure – Puzzle game inspired by the famous Pucca cartoon, with many different game modes from easy to difficult to challenge the player's thinking ability, has match-3 gameplay like Cookie Jam Blast. If you love this game genre, do not hesitate to download and play Pucca Puzzle Adventure and explore.
Coming to the world of Pucca Puzzle Adventure, players will experience the puzzle game in a completely new style, besides passing the levels, you can also collect gold coins and earn prizes. An interesting thing that not all puzzle games have. Download and play Pucca Puzzle Adventure right now.
Download Pucca Puzzle Adventure Android, iPhone
I. How to download and install Pucca Puzzle Adventure on your phone
1. Quick Guide

Step 1: Install Kiwi VPN on your phone and change IP to Korea.
Step 2: Go to Google Play or App Store, download Pucca Puzzle Adventure.
Step 3: Open play Pucca Puzzle Adventure
2. Detailed instructions
Step 1: First you need to FAKE IP or roam on your phone.
– For Android: You install and use Kiwi VPN IP transfer to Korea.
– For iOS/iPhone: You need AppStore roaming to Japan to install the game.
Step 2: Open Google Play or AppStoresearch keyword "Pucca Puzzle Adventure".
– Link to download Pucca Puzzle Adventure for Android HERE.
– Link to download Pucca Puzzle Adventure for iPhone HERE.
Step 3: Press Setting Pucca Puzzle Adventure => Choose Phat.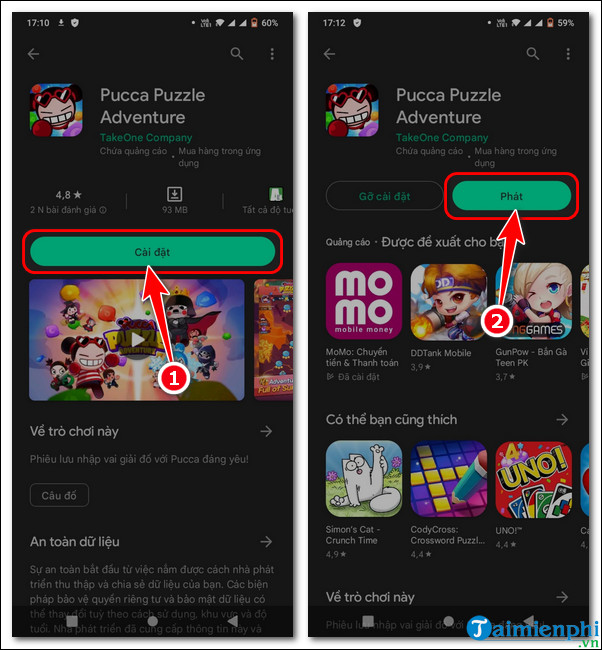 II. Tutorial to play Pucca Puzzle Adventure for newbies
Step 1: Select Agree all and get started to agree to terms.
Step 2: Setting Date of birth => Press Confirm.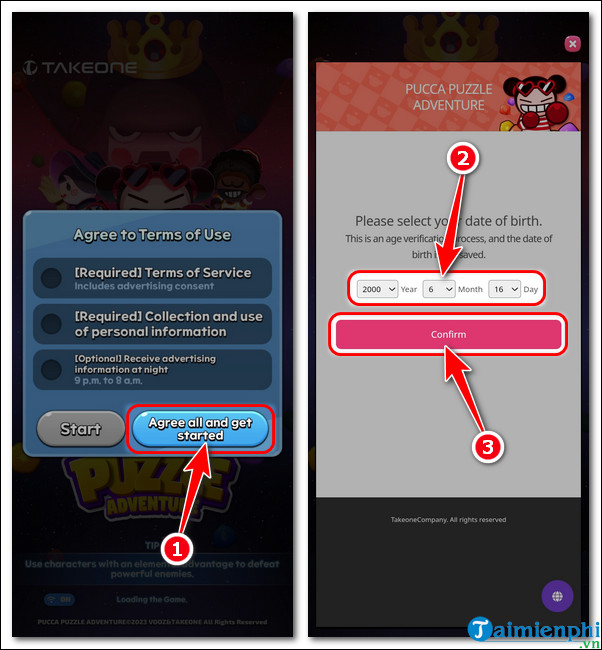 Step 3: Wait for the data update to complete.
Step 4: You then complete the beginner's guide.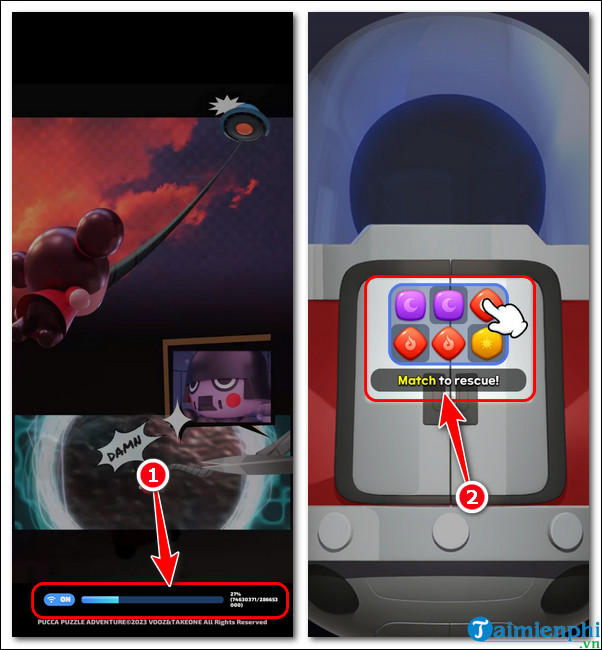 Step 5: Put account name => Press OK.
Step 6: Enter the journey to conquer Pucca Puzzle Adventure.
– Arrange 3, 4 or 5 diamonds of the same color horizontally or vertically to turn them into weapons to destroy enemies.
– Note location of the enemy To arrange diamonds, knock down the opponent as fast as you can. For example, the enemy is in the center position, you will need to focus on arranging 3 vertical diamonds in the middle.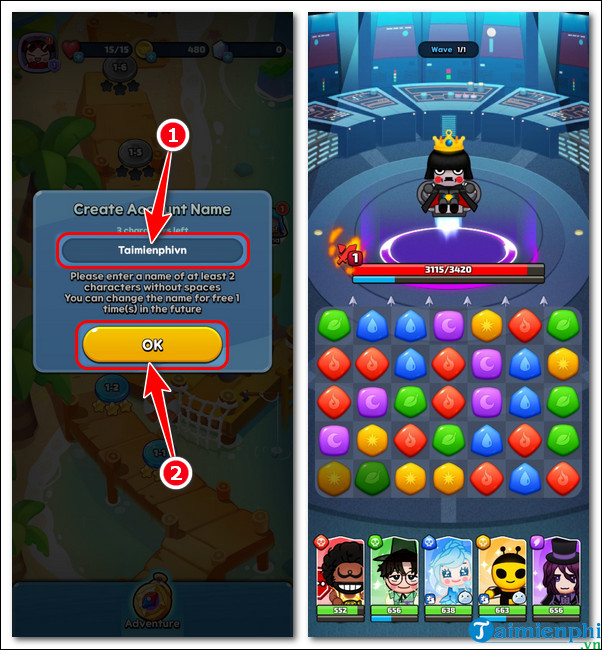 – The color of the diamond that can be arranged will correspond to the skill points 5 characters (1) below, when you have enough power you can use the ultimate to destroy enemy (2).
– Each game screen will have wave of enemies (3) different, you should calculate and arrange the diamond so that it is reasonable.
– There will be 15-18 lives for you to try, each new level will lose one life. New network will add itself after 10 minutes.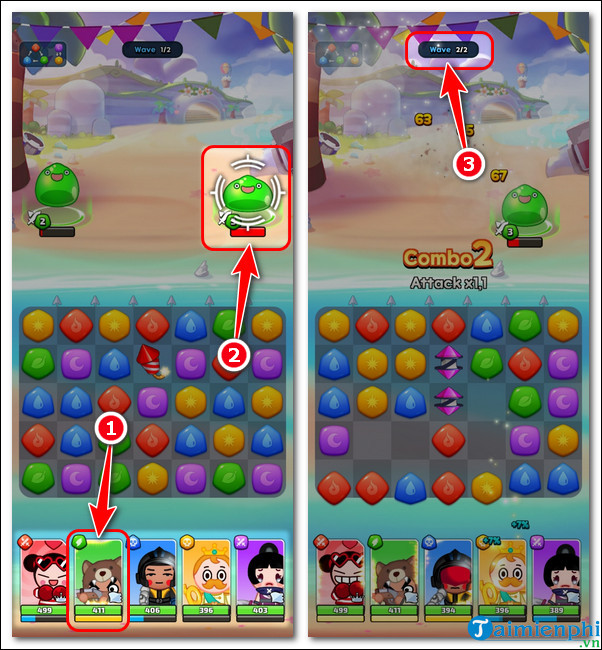 Step 7: Defeating all enemies is considered a victory, you will gain gold and experience points after each level.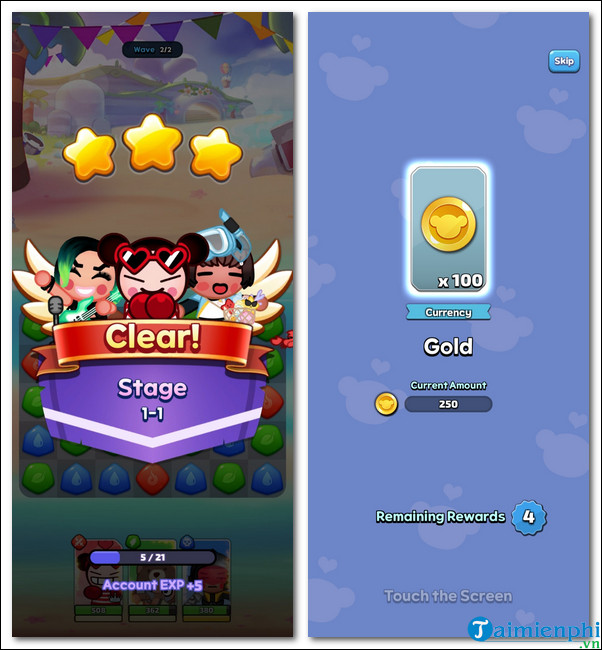 https://thuthuat.Emergenceingames.com/cach-tai-va-choi-pucca-puzzle-adventure-74906n.aspx
Conquering higher levels will unlock and upgrade your character's strength, thereby building a strong character lineup to easily defeat the enemy. Download and play Pucca Puzzle Adventure to discover interesting things. Don't forget to check out more Top Puzzle Gamesanother cool puzzle.
Related keywords:
How to download and play Pucca Puzzle Adventure on your phone
instructions for downloading and installing Pucca Puzzle on Android, tips for playing Pucca Puzzle Adventure on iOS,
Source link: How to download and play Pucca Puzzle Adventure on Android and iPhone phones
– https://emergenceingames.com/