Free Fire special characters, naming instructions and synthesizing good game nicknames, unique characters in the game
Creating catchy, outstanding character names in the game by Vietnamese name, write special characters … will help you get more attention while playing games like Garena Free Fire, Lien Quan Mobile, Pubg … Please join EmergenceInGame refer to the list of good game names, good game nicknames, especially … so you can choose for yourself the name of the character in the game that you like.
1. How to write special characters, beautiful characters to name game characters?
Application to create names, special characters
Using Create special characters software This is relatively simple, please enter the nickname of the character you want to create in the box Enter name (Example: Anh Sai Then for example), then select more letters to be inserted on the left, middle or right and finally press the blue button below.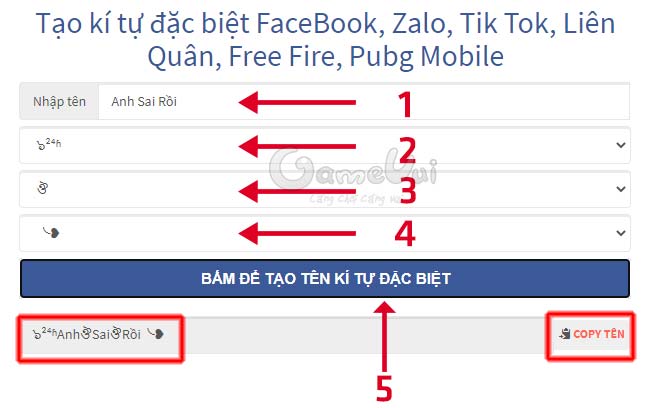 Then you press the button COPY NAME and name and change the characters in your game!
2. Synthesize the best and most unique game names, game nicknames in 2020:
Below is a list of the best, most unique, most special game nicknames for you to put in your character Free Fire game, FF corps, Lien Quan Mobile… Please:
Synthesize the latest Free Fire game characters 2020
| | | |
| --- | --- | --- |
| ꧁ ༺ ₦ Ї ₦ ℑ ₳ ༻ ꧂ | ๖ ۣۜ Evil☼๖ ۣۜ Devil | ๖ ۣۜ Ҩž 乡 Á?↭??Ỷ ★ 彡 |
| ꧁ ༺༺ ꧂ | ➻❥vir̫u̫scr̫o̫n̫a̫ ࿐ | ࿐ ツ Ǥ Ꮎ Ɗ⁀ᶦᵈᵒᶫp̠l̠a̠y̠b̠o̠y̠ ༻ ꧂ |
| ꧁꧁ | ꧁ ༺ teacher ༻ ꧂ | ꧁ ༺ ☪ô-ℳ¡ų ༻ ꧂ |
| ꧁ ༺ ɦɦ☪☠Áℳ ༻ ꧂ | ™ Life 's in the past ™ | • ´¯` • .cнa☠garəna ♡ ¸. • * |
| ★ 彡 Ꭾ ​​T 彡 ★ | • ´¯ • .мèσ ๛. • ´¯ • | ꧁ ༺ ςôς_ςɧúα ༻ ꧂ |
| ミ ★ нԍ.Due ๛ тù ★ 彡 | ¸ ".- • ~ ¹ °" ˆ˜¨20✿ イ イ 刀 ✿ ム 乇 ✿ イ ん á ノ ✿ 刀 gu リ ê 刀 ¨˜ˆ "° ¹ ~ • -." ¸ á ノ ✿ 刀 gu リ ê 刀 ¨˜ˆ "° ¹ ~ • -. | • .¸ ♡ GR •? ¸. • |
| ᴾᴿᴼ シ кнóι︵⁹⁹ | Šmįɫę㋡ | ༄ ༂ ßαϮ • Mαη ༉ |
| ✎ ༉ ᒍᔕ 丶 ôTIê ᑎ︵❣ | ︵⁹¹ⒶN⃒ⓗ✦ơɪ… m̘͈̺̪͓ͩ͂̾ͪ̀̋á✦ է нɣ✦ⓚì ค ︵❻❾ | ✞ঔৣ ۝? à ??ị? ۝ ঔৣ✞ |
| ꧁ ༺ 18 • ???? ༻ ꧂ | ★ 彡 çá օ❦ղհ ღ | ᴾᴿᴼ シ De ༻ ꧂ |
| ༺ ɧÁɱ ༻ ꧂ | ꧁ ༺ ɠɠυ❤ƙɑ ༻ ꧂ | ✿Çɦ✿Çɦmtí✿ |
| ™ є๓๖ ۣۜ ơ เ ๖ ۣۜ ς ย | ꧁H҉A҉C҉K҉E҉R҉꧂ | ★ ôηɠ ツ degree |
| ꧁(Nick name)꧂ | ミ ★ 47 • baby • ńhíí ★ 彡 | ︵Ci |
| ღℳ ųų ۣۜ☪ ų Շℯ ღ | Ⓝⓨ✿ⓣạ✿︵²⁰⁰⁰ | ᗪєάŤħ |
| ヅ ViruSs | ᏟᏒᎪᏃᎽ ᏢᎬᎾᏢᏞᎬ | βєs է Ňαkɾσtɦ |
| ♚ℒã ท ջ ღ Շ ➻ | ︵⁹⁷✎ ༉ J꙰Ⓢ 丶 ʂօ á¡ ღ ζ billion ۩ | ★ Šu Ꭾ εr ★ |
| ♚ℒã ท ջ ღ Շ ➻ | ミ ★ ლʊ ¡¡ ☆ ղ è ッ | Number ジ ۵ |
| .¸ ♡ ?????? ♡ ¸. • | ❥︵ ₣ σrεvëɾ ™ | ☆》 Hãčķěř 《☆ |
| ♚мeᴅaɴcaɴмᴀᴘ☠ | ๖²⁴ʱƴêʋ | ₣ r เ εηɗŽσиɘ ࿐ |
| ♔〘Ł € Ꮆ € ŇĐ〙♔ | ꧁ ༒ • TheKing • ༒ ꧂ | ゚ ° ☆ Šuβ เ η ☆ ° ゚ |
| 彡 ⇢Ɓᶐᶁ ƁȭY | ミ ★ Hєll ๏ ★ 彡 | Ťɧε⚡ ₣ lαsɧ |
| ❂Pinky | ≥ ° ◑ω◐ ° ≤ | ❥๖ۣۜ Danßo |
| ➻Mum²º | ︵√éo₉₆ | ♫ Ŧam |
| LaVie❋iɭlimite | G | Little ° T |
| ♔Ly… 廴 | Ҩuɣθuonς | ✰Sɑy |
| ♔Hair # 7 # ︵✰90 | SO Cs | Munn_123 |
| ☞ℑɪи | I'AM-Nicolas | V ¥ |
| ❶❾❾❹ | Shrimp | ✿Sɑʳɑ |
| Lazy cat | I'AM-Ngoc | ♛By |
| ♔King‿ | Êɳ MOM | ๖ ۣۜ Cent |
| I'AM☞ 廴 oυis | ℳȃʏ ♡ | ๑йʓơ⁔ |
| Hmtí | ❖CanCan | B. |
| ☞HAиɧ | Tako ● Nguyen | ➻❥✘ʊ﹏﹎﹍ |
| ✎BCS♛ℳika | IM Huonggg | ឈ្មោះ |
| ♚ 廴 'ɑɱoųɾ | ۞ Chip ۞ | ℑѻ⁹³ |
| ❥๖ۣۜ Eѵą | ℱʀ⋆ | ℳʂ✰ℇli﹏ |
| ✿︵✘à ლ | ﹊﹉﹊﹉ | CК✵ʆiɳђ‿ ღ |
| ℜɨωσи. | That number | ๑Ba๑Na๑Na๑ |
| ℬiɳŽ✷ξlɛ۶ | Mount G | 芳 莲 |
| ✎﹏ωǐʄε | ➻❥ 廴 ɣռ | 『⊙NightRain |
| ✿Cheɾy | ๑She | Ќεll ‿ ✭ |
Source link: How to create special characters, good game names, good game nick, unique in the game Free Fire, Lien Quan Mobile, Pubg …
– https://emergenceingames.com/