The father of Splitgate, 1047 Games announced the reduction of new content support for the game to move to developing a next game on Unreal Engine 5. Specifically, Splitgate – the groundbreaking blockbuster that combines Halo and Portal, will no longer update new features in the future. Although this marks the end of one game, it is also the beginning of another. In the Twitter post, 1047 Games explained their decision to discontinue Splitgate, while reassuring fans that their next game will also be a shooter with portal.
​
​
"After careful discussion and deliberation, the 1047 Games team determined that to build a fan-worthy game and not develop it by applying technology from an existing product – we come to decided to end Splitgate feature development."
The post goes on to share that instead of making "repetitive and smaller" updates, the developers at 1047 Games want to focus entirely on a new game in the Splitgate universe. It will be a shooter, still have portals, and will be made using Unreal Engine 5. The game will be released for free."
​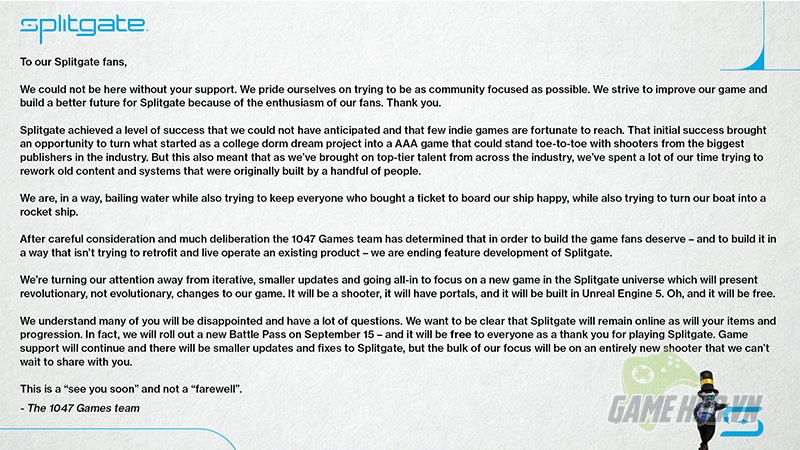 ​
Splitgate's new Battle Pass is set to launch on September 15 and is completely free for all players. The game still works normally, players can still log in and continue their game progress.
​
Source link: Developer 1047 Games announced to reduce Splitgate support to make new games
– Emergenceingames.com