Samira was immediately nerfed for being too strong, followed by 7 other champions
Riot Games are "teasing" on the information of the update League of Legends 10.20 is expected to be updated September 29, 2020 Upcoming. When the game meta changes a lot, the upcoming modifications and balances of Riot will affect the player's ranking up progress. Let's Funny game Check out the hot news before they get it official update LOL 10.20 Please.
See more Truth Arena 10.20 update info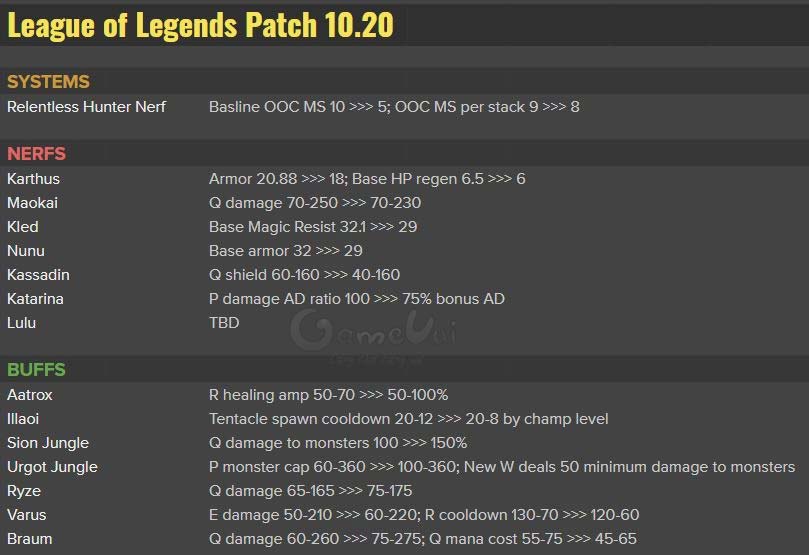 League of Legends world finals will start this weekend, the update League of Legends 10.19 Just now there hasn't been much change to keep the tournament stable Final.
1. Changes to the system, supplementary gems
Supplementary Gem – Ruthless Hunter will be nerfed (nerf) after Riot Games It feels like it has slightly more strength than other jewels of the same level.
2. The generals are buffed
Because there are a few champions that are always present and are the most powerful cards in World Championship so the 10.19 update does not have any modifications. They are Ryze, Aatrox and Varus, All are the terror of the pro league but there will be changes in the new update.
7 League of Legends champions buffed, buffed:
Aatrox: Cooldown R heals 50% – 70% to 50% – 100%
Illaoi: Octopus tap cooldown reduced from 20s – 12s to 20% – 8% based on champion rank.
Sion in the jungle: Q damage to monsters increased by 100% to 150%.
Jungle Urgot: W addition deals at least 50 bonus damage to monsters.
Ryze: Q damage increased from 65 – 165 to 75 – 175.
Varus: E attack damage increased from 50 – 210 to 60 – 220, R cooldown decreased from 130 – 70 to 120 – 60.
Braum: Q damage increased from 60 – 260 to 75 – 275, Q's mana cost decreased from 55 – 75 to 45 – 65.
3. The champions are nerfed
The champions have a high win rate in the rankings Platinum and up at the present time included Lulu (52.19% win rate), Nunu (53.37%) and Karthus go to the forest (51.83%). All three will be nerfed in the daily update 29/09 Upcoming.
8 champions nerfed, nerfed:
Karthus: Armor reduced by 20.88 to 18, base health restored from 6.5 to 6.
Maokai: Q damage reduced from 70 – 250 to 70 – 230.
Kled: Base armor reduced from 32.1 to 29.
Nunu: Base armor reduced from 32 to 29.
Kassadin: Q armor cost decreased from 60 – 160 to 40 – 160.
Katarina: Passive bonus damage reduced from 100% to 75%
Lulu: W attack speed from 25% – 45% to 20% – 35%
Samira: Base health reduced by 600 to 530, R total damage reduced from 100 – 300 (+ 600% bonus damage) to 0 – 200 (+ 500% bonus damage)
4. League of Legends outfits will be officially included in patch 10.20
For detailed information, please see directly at the link below:
Riot has released the legendary skin of Trieu Long Su – Dragon Warrior
Source link: Details of League of Legends 10.20 update at the end of September 2020
– https://emergenceingames.com/