Pre-registration at: https://play.google.com/store/apps/details?id=com.gosu.cdtc
Cuu Duong Truyen Ky – Games Sword hero 9 Cards of NPH GOSU is set to launch on September 19 after a short time of opening a Fanpage. However, from today, the community of tens of thousands of gamers have registered early to receive valuable orange treasures. So, what does Cuu Duong Truyen Ky have that people expect so much?
​
Opened Alpha Test on September 17, the game officially launched on September 19
​
Unity 3D graphics technology
The first point that impresses players is the excellent 360-degree rotation of Unity 3D graphics technology, making anyone who sees the ingame image have to whisper. Each miniature scene, character, skill is carefully polished, evoking a feeling of both classic and fresh and modern.
​
​
It is known that Cuu Duong Truyen Ky is a cross-platform game, both Mobile or PC have the appropriate installation. Players do not need to use emulator software to play on PC. Regardless of the installation version, the graphics quality is always guaranteed to be the best. The followers of "virtual life" will not be able to miss the opportunity to travel in the world of Cuu Duong Truyen Ky swordplay at legendary maps such as Tuong Duong Thanh, Ba Lang Huyen, Nguu Gia Thon, etc.
​
​
Standard character class Kim Dung
If anyone falls in love with the swordplay game Kim Dung, they can't miss Cuu Duong Truyen Ky. From Cai Bang's "dragon master" to Shaolin's 72 famous skills, all are recreated surprisingly realistically. Cuu Duong Truyen Ky will have 10 character classes, but 5 absolute classes including Cai Bang, Shaolin, Nga My, Duong Mon, and Wudang will appear first.
​
​
Another plus point for Cuu Duong Truyen Ky is the attractiveness of the extremely beautiful skill system. According to reviews from gamers at the game Fanpage, 9/10 players are fascinated by each skill launch of each character class. Whether it's a male character or a female character, the skill always "cuts the heart" of the gamer, making PK matches never so fierce and beautiful.
​
​
Gameplay could not be more attractive
Cuu Duong Truyen Ky fully converges the "spike" features of a "genuine" swordplay game. The first thing that must be mentioned is the Five Elements System of the character classes. If in other market games, this system is just like "riding a horse to see flowers", then Cuu Duong Truyen Ky is extremely "serious" when building this five-element system. Because if you are a hard fan of the old swordplay game, you can't forget, in times of state war, siege warfare, going to the Tong – Kim battlefield, building tactics and allocating squads to take full advantage of the world. The strength of the five elements is something that gamers love very much, both showing their intelligence and connecting with brothers.
​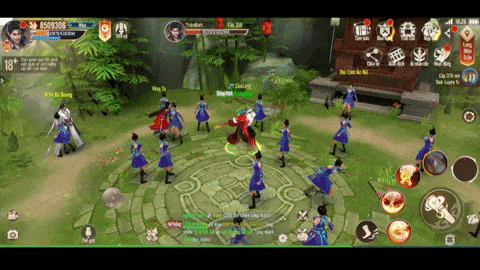 ​
The fierce battles are indispensable in Cuu Duong Truyen Ky. At the game Fanpage, players burst with joy because of the image of the Tong – Kim battlefield PK, Bang Chien, PK 1vs1, train monsters to pick up items, …
Inheriting the predecessors, the voice chat system makes playing the game easier. Free trade of unlocked items, auction fairs are an opportunity to get rich for real farmers.
Fashion, unique mounts
In addition to attractive gameplay, fashion – mounts in Cuu Duong Truyen Ky attract the attention of gamers. In addition to familiar mounts such as horses, unicorns, etc., there are also "golden boys" and "teacher" in the game.
​
​
In addition, Cuu Duong Truyen Ky also has features such as Sword Box (Flying Wind), Pulse Circuit, Companion, … and a series of Events to receive rewards, Giftcode. In particular, although the graphics are "messed up", but the capacity of the game is still light compared to the intrinsic of the product, compatible with low-profile phones like the iPhone 5S still plowing well. This is probably information that many players are interested in.
​
​
In short, Cuu Duong Truyen Ky will be a quality game worth experiencing in September, because here, the standard swordplay world only once again recreates the young and handsome youth of many people. Let's wait for this "super product" to be released on September 19 to embark on the path of philanthropy.​
​
Source link: Cuu Duong Truyen Ky – Game Sword Hiep 9 Tong is set to release on September 19 – Open early registration from today!
– Emergenceingames.com