Zombies are making a spectacular comeback in Call of Duty Black Ops Cold War to open "a whole new chapter in our universe". This time players will face off against the undead in the early 1980s, but the story will be rooted in the original Zombies mode in the past.
Black Ops Cold War Zombies is set to take experienced players and newcomers alike on a daring and terrifying journey that expands on an iconic part of the series. Call of Duty. This 4-player co-op includes new ways, classic Perks and an arsenal of Cold War Zombies that will help survivors wipe out legions of the undead.
Zombies are making a spectacular comeback in CALL OF DUTY: Black Ops Cold War
A brand new chapter of Zombies – Die Maschine
As part of Requiem – a CIA-backed international response team led by Grigori Weaver from the original Black Ops saga, agents will explore a World War II bunker that has not only been ravaged by time. ..
While fighting to stop the unnatural phenomena at this bunker, the Requiem team members investigate what lies beneath the crumbling structure after decades of destruction.
At the same time, a division led by the Soviet Union and rival of Requiem, the Omega Corporation, entered the fray. The Omega Group is also deeply interested in the study and elucidation of unexplained events, as well as anomalies around the globe.
Between Requiem and the Omega corporation, there are many characters that can aid or hinder your journey, while others have distinct, unspecified roles that players will need to explore. Among this cast of characters, there is one contact specifically Sam – who seems eager to share information he has gathered from deep within the KGB.
Underpinned by the various pieces of information that players can follow in the game, this incredible Zombies story will begin to unfold in mysterious and unexpected ways…
An incredible experience, connected across modes and platforms
Whether you're a Call of Duty newbie or a veteran Zombie hunter who's often into multiplayer wars, enjoy the ultimate fun like never before with your friends, no matter what platform you play on. or any system. Here are just some updates to Zombies in Black Ops Cold War mode:
* Cross-play on multiple platforms
Like Multiplayer, teams in Zombies can be formed across multiple platforms and generations, marking the first time in the series' history that the co-op mode is available through crossplay.
* Weapons and Battle Pass
Players will now be able to progress through the Battle Pass with playing time in Zombies, similar to Multiplayer and Call of Duty: Warzone. Requiem team members can also start the battle with a Gunsmith-made weapon of their choice via the loadout assist.
* Perk
The classic Zombies Perk is back with an all-new Cold War visual, featuring Juggernog and the beloved Speed ​​Cola. There's no longer a limit to how many different Perks you can use, so go ahead and open a 6-seater box, if you have enough points to do so.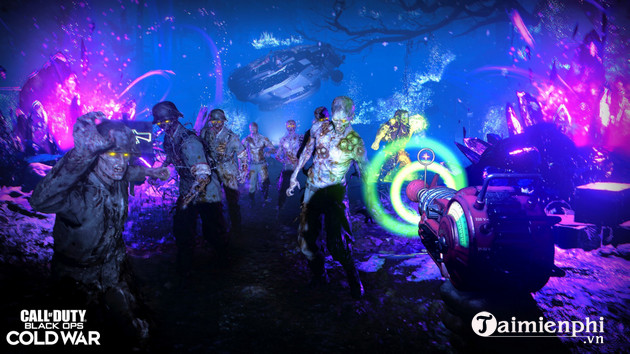 * Weapon rarity
Besides the return of the Pack-a-Punch machine to transform your weapons, all weapons will now have rarity associated with them. The higher the rarity, the greater the damage dealt and the more accessories for the weapon. For the first time, the player can continue to use any weapon in later rounds. This also makes finding new weapons more varied and interesting through Wall Buys and Mystery Boxes.
* Withdraw
Instead of dying in the crowd, Black Ops Cold War Zombies offers a new escape option to save your life when you're feeling trampled…if you dare. If the whole team is in trouble, you can choose to withdraw from the battle area by helicopter
Pre-order
Zombies is just one part of the full Black Ops Cold War experience, scheduled to launch on November 13. You can experience the next-generation global war early in the Multiplayer Beta by pre-ordering on the Microsoft Store. for Xbox and start playing October 15-16. Players without pre-orders can join the Multiplayer Open Beta from October 17-19.
Beta Access
– October 15-16 – Xbox Early Access for those who have pre-ordered
– October 17-19 – Xbox Open Beta for All Players
Pre-order the digital version now and get rewards like the Woods Operator Pack for immediate use in Modern Warfare and Warzone. Many options for the game are available to choose from, including Standard Edition, Cross-Gen Bundle or Ultimate Edition.
=> Link Download Call of Duty Black Ops Cold War for PC

=> Link Download Call of Duty Black Ops Cold War for Xbox One

=> Link Download Call of Duty Black Ops Cold War for PlayStation 4

https://thuthuat.taimienphi.vn/call-of-duty-black-ops-cold-war-chung-kien-su-tro-lai-an-tuong-cua-zombies-60760n.aspx
See more: Game Grounded continues to expand content with 2nd update nhật
Related keywords:
Zombies mode in Call of Duty Black Ops Cold War revealed
, Call of Duty Black Ops Cold War sees the impressive return of Zombies, explores Call of Duty Black Ops Cold War Zombies mode,
Source link: Call of Duty Black Ops Cold War sees an impressive return of Zombies
– https://emergenceingames.com/